Mantis Four-Day Rhino Conservation Experience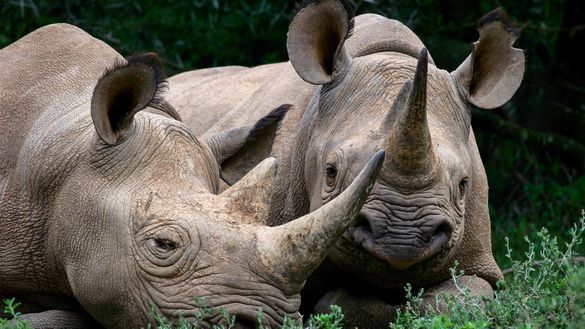 Fully immersive nature activity to educate and inspire eco-conscious travellers to tackle conservation issues through hands-on encounter
"This is travel out of the ordinary. We offer the adventurous traveller, seeking an immersive experience,  the opportunity to make a real impact for conservation and community." 
(London, 22 September 2021) Mantis, a leading conservation-focused hotel group with luxury hotels, eco-lodges, waterways and impact experiences located across the globe has announced its new Rhino Conservation Experience, which offers travellers a four-day immersion into the world of rhino conservation at Mantis Founders Lodge in South Africa.
The new experience runs from 26 – 29 October 2021, with further selected dates throughout 2022 available to book now. The immersive experience includes walking safaris and game drives with Mantis guides, rhino conservation education sessions led by the onsite wildlife team, an introduction to bee conservation, carbon offset tree planting and conservation talks led by a panel of revolving expert guests including Dr Andrew Muir; one of South Africa's most influential conservationists and social entrepreneurs, and also the CEO of Wilderness Foundation Africa and Wilderness Foundation Global. The whole conservation experience centres around a rhino health check, led by a qualified wildlife veterinary surgeon, where guests can get an up close, hands-on encounter.
Paul Gardiner, CEO, Mantis Collection explains: "Instead of doing these checks quietly behind the scenes, we are inviting guests to have an intimate, immersive experience. When you get close to an animal like that, its life changing. You get a whole new appreciation for rhinos."
As part of the Rhino Conservation Experience, guests will meet the family of white rhinos at Mantis Founders Lodge and learn more about their species as well as join a (usually) behind the scenes rhino veterinary health check. Guests will have the opportunity to get close to the rhino after the wildlife veterinary surgeon and his team are comfortable with the rhino's vitals, and it is safe to do so. The entire procedure will take around thirty minutes from start to finish and guests will then be able to watch the rhino's recovery after the procedure from game viewing vehicles.
The rhinos receive regular scheduled health check-ups to ensure they are at optimal health for possible future breeding of their species and the selected dates for the experience coincide with this. Check-ups include blood sampling, ultrasound if pregnancy is suspected in a female, dental checks, checking of tracking devices and dehorning if necessary. Rhinos are normally dehorned every two years to assure their chances of survival due to the poaching crisis in Africa. The rhinos are sedated to ensure the procedure is as stress and pain free as possible.
Great emphasis is placed around rhino conservation at Mantis Founders Lodge – which is also home to Munu, a male black rhino permanently blinded due to territorial fights with other rhinos. The south-western black rhinoceros is a subspecies of black rhino. It is estimated that around 250 of these rare, precious animals remain alive in South Africa today.
The Rhino Conservation Experience is part of the 'Mantis Impact Experiences'. These are a series of fully immersive nature activities, expertly designed to educate and inspire eco-conscious  travellers to tackle conservation issues through hands-on encounters which are all curated by a small group of passionate conservationists with a collective experience of over 20 years.
Paul Gardiner adds: "Mantis Impact Experiences were inspired from a desire we saw in our guests wanting to  recalibrate their place in the world through fresh experiences and authentic connections with nature and others. We felt the best way to do this was to create an alternative, conservation-focused travel experience. Anyone; young, old, inexperienced, experienced, and from near or far can participate and not only learn about the current global conservation issues, but also better equip themselves to create awareness and educate others in their own communities. This is travel out of the ordinary. We offer the adventurous traveller, seeking an immersive experience, the opportunity to make a real impact for conservation and community."
The location for the experience – Mantis Founders Lodge – is a celebration of sustainable tourism, culture, conservation and community inclusion. It is where conservationist and founder of Mantis, Adrian Gardiner pioneered the re-wilding of the Shamwari Game Reserve; the first Big Five reserve in the Eastern Cape. The six-suite wildlife safari lodge is in the Eastern Cape, just one hour from Gqeberha (formerly Port Elizabeth).
Inclusions & Rates:
The Rhino Conservation Experience is available to book from 26 – 29 October 2021 and 2022 dates include 19 – 22 April,  20 – 23 July, 20 – 23 September 2022. The package includes:
·       All-inclusive (accommodation, meals and local beverages)
·       Immersive rhino health check veterinary procedure
·       Interactive conservation presentations with expert guest speakers
·       An introduction to the white rhinos at Mantis Founder Lodge and rhino feeding experience
·       Big 5 experience (game drives within the Founder's concession and neighbouring Shamwari Game Reserve)
·       Guided walking safari with track and sign workshop
·       Carbon off set tree planting and an introduction to the CCFA bee conservation project
·       Interactive drumming session
Rates start from $2,645/ £1,930 per person, per night (based on double occupancy). For reservations and more information call: +27 41 404 9300 or email: impact@mantiscollection.com

Follow and Share with Jetsettersblog.