Mantis In Masai Mara, Kenya,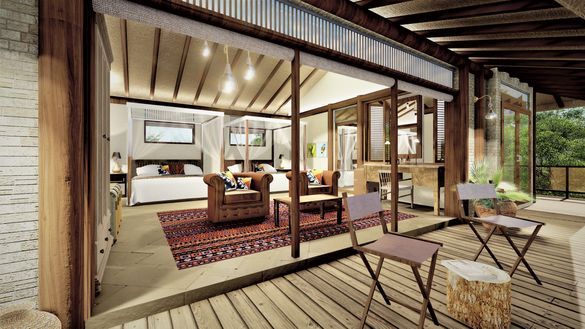 Accor Signs First Mantis In Masai Mara, Kenya
Mantis Masai Mara Eco-Lodge will be located in Enonkishu Conservancy
(London, 7 December 2021) Accor, a world-leading hospitality group with over 400 hotels across India, Middle East, Africa and Turkey is expanding its footprint in Eastern Africa with the opening of the first Mantis property in Kenya. The Mantis Masai Mara Eco-Lodge is set to become a highlight property for the brand and the group, offering direct access to the Mara-Serengeti game reserve: the ideal location for unique safari experiences.
Mantis was founded in 2000 by global entrepreneur and conservationist Adrian Gardiner and features a diverse collection of extraordinary destinations around the globe. Since joining forces in 2018, Accor and Mantis have worked together to take on new opportunities to welcome guests in authentic curated hotels, eco-lodges and waterways, while prioritising the cause of sustainability and to promote further appreciation of the natural environment across every unique destination.
The group is partnering with Rakam Investment Ltd, a limited company engaged in investment, focusing on real estate since its inception in 2016, and which has developed commercial and residential properties in the Greater Nairobi Metropolitan Area.
This partnership is a result of a tender process amongst top international hospitality companies. Global leader in real estate and hospitality advisory services, JLL Hotels & Hospitality, managed the competitive process.
Ann Rutere, CEO Rakam Investment Ltd stated: "We are pleased to bring Accor's brand, Mantis, to one of the most distinct and exclusive locations in Masai Mara. In addition to the brand's uniqueness and awareness in the market, our confidence in this project comes from the high focus to sustainability and preservation of natural heritage offered by the Enonkishu Conservancy and Mantis expertise in the industry. We are excited to open our doors in 2024 and look forward to offering a combination of authentic, unique, and curated experiences to our guests visiting from all parts of the world."
Mantis Masai Mara Eco-Lodge will be strategically located in the Enonkishu Conservancy, on the Northern boundary of the Mara-Serengeti game reserve, and will feature 20 tented suites, one restaurant and bar, events space, a sauna and a wellness facility.
As with every Mantis across the world, guests staying at Mantis Masai Mara Eco-Lodge will be immersed in an environment celebrating: conservation, locality and sustainability, with activities varying from educational talks about the Masai people and the history of the land or evening 'story-telling' around the boma.
Paul Gardiner, CEO of the Mantis Collection said: "The Masai Mara is one of the most renown wildlife conservation and wilderness areas in Africa, and we are excited to offer guests sustainable adventures which celebrate the region's culture and stay true to the roots of safari. We will provide fresh experiences which enable guests to make authentic connections with both nature and the people, all whilst supporting sustainability, conservation and community empowerment and upliftment – the founding core pillars of Mantis."
Once open, the lodge will be ready to welcome safari enthusiasts, offering them the opportunity to discover wildlife in their environment as well as nature lovers, whom enjoy stargazing at night, birding or photographic tours, all of which will be available at the property.
"This is a great opportunity for Accor and Mantis to expand our portfolio in Kenya and to introduce the first Mantis property in the country" said Mark Willis, CEO of Accor India, Middle East, Africa & Turkey. "This new addition illustrates our key focus on developing and implementing sustainable business practices and tourism products that are respectful of the surrounding environment and communities while meeting the changing and growing expectations of travellers.
The lodge will feature meeting facilities, catering to small board and executive meetings, as well as dedicated outdoor event areas, which can cater to weddings, social events and outdoor events for special occasions.
In addition, leisure and recreational facilities will be available for guests to enjoy, including a small curio shop for guest to purchase basic amenities, Kenyan art, and designer items.
Accor currently operates 156 properties (26,598 keys) in Africa with 84 properties (17,739 keys) in the pipeline.
-ENDS-
www.mantiscollection.com
www.ccfa.africa

Caroline Bondy
caroline.bondy@spotlightcoms.com
M: +4‌4 (0‌) 7‌946 5‌19 2‌54
Notes to Editor
About Mantis
Mantis is a leading conservation-focused hotel group with luxury hotels, eco-lodges and waterways experiences located across the globe. Sustainable travellers have been enjoying eco-tourism, safaris and adventure travel with Mantis since 2000. Rooted in conservation, Mantis pursues sustainable business practices and develops tourism products that are respectful of the environment and communities in which they operate. Acclaimed for its pioneering work in development, management, marketing, education and conservation, Mantis's business model successfully combines responsible tourism, conservation and adventure, which translates to one-of-a-kind travel experiences. Whether small and intimate or vast and complex, on a sweeping African plain, in a bustling city, or in the midst of a forest, each is an exceptional place for guests to find themselves. While uniquely different in the experiences they offer, all are linked through a collective ambition to be extraordinary; to be rare in a world that mass-produces sameness.  Mantis consistently curates, collects and discovers destinations and experiences that stir the soul, defy expectation and live in the heart forever. Sustainability goals are achieved through the Mantis Impact division, as well as through the Mantis and Accor foundation, Community Conservation Fund Africa (CCFA). Mantis is part of Accor, a world leading hospitality group consisting of more than 5,200 properties and 10,000 food and beverage venues throughout 110 countries. For more information visit: www.mantiscollection.com and www.ccfa.africa
mantiscollection.com | all.accor.com | group.accor.com
About Accor
Accor is a world leading hospitality group consisting of more than 5,200 properties and 10,000 food and beverage venues throughout 110 countries. The group has one of the industry's most diverse and fully-integrated hospitality ecosystems encompassing more than 40 luxury, premium, midscale and economy hotel brands, entertainment and nightlife venues, restaurants and bars, branded private residences, shared accommodation properties, concierge services, co-working spaces and more. Accor's unmatched position in lifestyle hospitality – one of the fastest growing categories in the industry – is led by Ennismore, a creative hospitality company with a global portfolio of entrepreneurial and founder-built brands with purpose at their heart. Accor boasts an unrivalled portfolio of distinctive brands and approximately 260,000 team members worldwide. 68 million members benefit from the company's comprehensive loyalty program – ALL – Accor Live Limitless – a daily lifestyle companion that provides access to a wide variety of rewards, services and experiences. Through its Planet 21 – Acting Here, Accor Solidarity, RiiSE and ALL Heartist Fund initiatives, the Group is focused on driving positive action through business ethics, responsible tourism, environmental sustainability, community engagement, diversity and inclusivity. Founded in 1967, Accor SA is headquartered in France and publicly listed on the Euronext Paris Stock Exchange (ISIN code: FR0000120404) and on the OTC Market (Ticker: ACCYY) in the United States. For more information visit group.accor.com, or follow Accor on Twitter, Facebook, LinkedIn, and Instagram.
Follow and Share with Jetsettersblog.