Marigot Bay Resort Spa Partnership With Skincare Line VOYA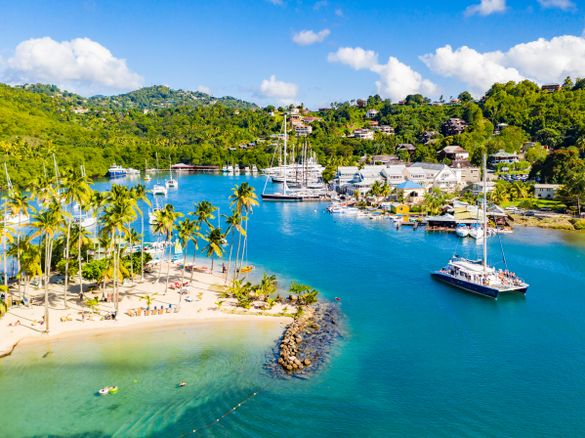 ---
Nestled in the heart of a bay described as "the most beautiful in Caribbean" by novelist James A Michener, Marigot Bay's Spa Village has introduced a new range of signature treatments and rituals utilising award-winning Irish spa brand, VOYA.
Founded by husband and wife team, Mark and Kira Walton in County Sligo in 2006, the wholly organic skincare line, VOYA, utilises wild, sustainable seaweed in a range of face and body treatments and remedies that harness the restorative powers of the sea.
The strong connection with the healing traditions of indigenous seaweed bathing and the marine environment, coupled with the proven effectiveness of collagen-boosting VOYA treatments, resonated with spa consultant Tricia-lee Moutett Marhue and provided a meaningful affinity with the Marigot Bay Resort and Marina Spa Village when she was looking for the perfect international partner brand.
"It was important for us to partner with a company that has a shared vision of values and beliefs, not only in a deep respect for nature but in harnessing its benefits to offer a menu of treatments that deliver restoration, relaxation and results," Ms Moutett Marhue said.
"Given Marigot Bay's historical connection to the seafaring traditions of the region and the international yachting set, and with the Caribbean Sea literally on our doorstep, we immediately saw a harmony between the Spa Village and the approach adopted by VOYA in the creation of their incredible, highly effective product line."
In fact, in much the same way as Marigot Bay Resort and Marina prides itself on the personalised service and attention to detail it offers to each and every guest, VOYA ensures the same level of authenticity, respect for the planet and the human connection at each and every stage of its product creation process.
"Not only did we see a number of synergies in the way we approach wellness and the spa experience, but we could also see how effective the products are in delivering tangible results that we know guests will enjoy," Ms Moutett Marhue said.
Commenting on the partnership, Cindy Childers, VOYA Sales and Business Development Manager USA, said: "VOYA organic luxury from the sea is proud to partner with the award-winning Marigot Bay Resort & Marina Spa Village in Saint Lucia.  A natural partnership, VOYA's unique seaweed treatments are a welcome addition to a paradise set in stunning Caribbean surroundings.  Both brands share a passion for green-living, integrity and respect for the sea. VOYA's sustainably hand-harvested seaweed (from the West Coast of Ireland) and certified organic ingredients means Marigot Bay guests can indulge in treatments and products that directly offer healing energies from the ocean."
Research confirms that seaweed, in particular the Laminaria Digitata and Fucus Serratus varieties uses in VOYA products, has a profound effect on skin's collagen production, increasing elasticity and suppleness.
Among the new treatments to be launched at the Spa Village is VOYA's Self Discovery Radiance Facial—a deeply nourishing and detoxifying skin specific facial adjusted to meet the needs of dry, combination, or oily skin types.
The Anti-ageing Restorative Facial is designed using VOYA's finest organic ingredients combined with anti-oxidant algae complexes with a restorative blend of aromatherapy oils. The mix of seaweed and botanical ingredients helps to stimulate collagen production and reduce the appearance of fine lines and wrinkles. This facial results in instantly firmed and tightened skin with a natural and more radiant glow.
Body treatments include a lavender and seaweed sugar glow scrub; organic seaweed leaf wrap; and a unique organic muslin bag massage—a real sensory treat where warm steamed bags of orange, clove, ginger and Fucus Serratus seaweed are gently massaged into the body releasing precious seaweed oils.
Local press and invited guests will be introduced to VOYA and the Spa Village's new menu of treatments at a special event on December 5 where therapists will explain the benefits of the new line and allow guests to sample a range of products.
The addition of the new VOYA rituals is just part of the story. The Spa Village continues to offer a range of indigenous treatments based on ancient Saint Lucian traditions, the bounty of the surrounding natural environment and the varying energies of the lunar cycle. Yoga, pilates and fitness classes ensure a holistic approach to overall wellness.
For more information visit https://www.marigotbayresort.com/resort/spa.
About Marigot Bay Resort, Spa and Marina
Nestled in St Lucia's Marigot Bay—described as "the most beautiful bay in the Caribbean" by novelist James A Michener—the Marigot Bay Resort and Marina is a luxury, all-suite getaway perfect for families and honeymooners alike. The resort's 124 suites feature spacious balconies and extensive views of the bay or lush tropical gardens. The Grill at 14°61° offers thoughtfully prepared farm to fork dining while guests enjoy breath taking views of Marigot Bay. An intimate Rum Cave houses specialty local rums and offers rum tasting classes in a space reminiscent of an authentic distillery, while the swim-up Pool Bar and Brut Bar serve fresh sushi and ceviche. Guests are afforded even more luxury at the world class Spa Village. Inspired by St Lucia's natural environment, the spa utilises organic VOYA products, and indigenous ingredients in innovative rituals based on the phases of the moon and speaking to the island's Amerindian heritage. The Spa Village features three couple's treatment rooms, steam room, sauna, outdoor jacuzzi, fitness centre and treehouse. Marigot Bay Marina accommodates some of the most luxurious mega yachts in the world, and guests of the resort are able to arrange exclusive charters. Proud members of the Preferred Hotels and Resorts' LVX Collection and American Express Fine Hotels and Resorts, the resort's magnificent setting places guests nearby St Lucia's majestic rainforests and iconic UNESCO World Heritage-listed Pitons, providing easy access to activities including water sports, horseback riding, fishing, diving and hiking.
Website: www.marigotbayresort.com
Instagram: www.instagram.com/marigotbayresort/
About VOYA
VOYA's award-winning products are available at all VOYA spas and online at voya.ie. Samples and images of each product are available upon request and the luxury organic spa treatments are available to review for press outlets, upon request. Contact the press office on pr@voya.ie for more information.
Follow and Share with Jetsettersblog.