MGallery Address in Singapore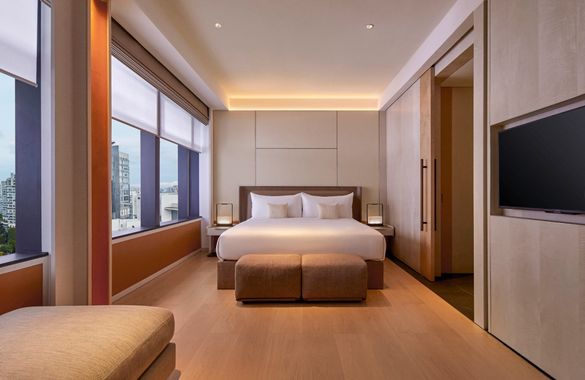 ---
INGAPORE – Orchard Hills Residences is set to make its debut as another emblematic address in the MGallery collection and will be located in the heart of Orchard Road, the world-renowned shopping and commercial district in Singapore. The 168 serviced residences, designed by award-winning Japanese studio, Nikken Sekkei, will take guests on a personal journey of self-discovery through immersive spaces, meticulous curation as well as thoughtful integration of luxury hospitality, healthcare and wellness.
This latest addition affirms Accor's position as the largest hotel operator in Singapore, bringing its total inventory to 7,797 rooms across 30 hotels – 3,932 rooms in the luxury and premium range; 1,437 in midscale; and 2,428 in economy.
"We are excited to collaborate with SIN Capital on our first urban wellness retreat in Singapore," said Garth Simmons, Chief Executive Officer, Accor Southeast Asia, Japan and South Korea. "The MGallery brand is one of our fastest-growing brands in the world and encompasses a gorgeous collection of boutique hotels, all with their own personality, design and rich storytelling. The opening of Orchard Hills Residences will certainly strengthen our luxury footprint in the region and consolidate our position as the leading operator in the country."
"We are delighted to partner with Accor at Orchard Hills Residences and we look forward to providing our guests with a truly unique experience that integrates luxury hospitality with comprehensive health and wellness, " said David Sin, Chairman of SIN Capital. "We believe that Accor is the ideal partner for us at our flagship development given their scale and depth of expertise in luxury hospitality and our shared goal of integrating health and wellness into a luxury hospitality experience."
Orchard Hills Residences will be located at Orchard Hills, Asia's first Grade A, fully-integrated luxury healthcare hospitality development. Within its iconic, modern architecture, Orchard Hills will deliver a seamless, one-of-a-kind experience that combines bespoke luxury hospitality services, carefully curated health and wellness services, modern and healthy cuisine options, and premium, best-in-class flexible workspaces all within one seamlessly integrated complex.
Importantly, Orchard Hills presents a unique opportunity for residents of Singapore and business and leisure travellers alike, to experience for the first-time-ever in Asia a fully-integrated human-centric approach to life. Orchard Hills is SIN Capital's flagship development, the first of a strong pipeline of integrated luxury healthcare hospitality developments in key gateway cities across Asia.
The design of Orchard Hills was inspired by a metaphorical ascent up a mountain, expressed through ample water and stone features, walking paths, lush open gardens and natural bamboo forests to enhance the ambience and create a calm, rejuvenating sanctuary for residents and visitors. Key highlights include the world's first cantilevered clear-bottomed swimming pool more than 100 meters above street level; a 9-by-9-metre digital art installation custom designed by teamLab, amongst other unique design features. The luxuriously-crafted rooms offer exquisite interiors accentuated by bespoke Giorgetti furniture and handcrafted decorative pieces from Japan.
Orchard Hills Residences Singapore MGallery is located along Orchard Road and within walking distance to some of the city's leading shopping malls such as Paragon and ION, which showcase both homegrown and international brands. Its prime location also offers easy access to leading hospitals and healthcare facilities, as well as a diverse range of dining and entertainment options. Orchard Hills Residences is ready to welcome guests staying a minimum of six nights from the first half of 2021.  For rates, information and reservations, please visit https://all.accor.com/B6Z7 or email: HB6Z7-rm@accor.com
ABOUT MGALLERY
MGallery is where captivating stories are lived and shared. With more than 100 storied boutique hotels around the world, each MGallery tells a unique story inspired by the destination. From bespoke design and sensorial mixology to wellbeing dedicated to women, MGallery hotels are places where guests can discover the very best the world has to offer. MGallery guests are inspired and enriched through their delightful visits to these stylish, thoughtful and decidedly singular hotels. Well-known properties in the MGallery collection include Hotel Molitor Paris, INK Hotel Amsterdam, Queens Hotel Cheltenham in England, Santa Teresa Hotel Rio de Janeiro, Hotel Lindrum Melbourne in Australia, Muse Bangkok Langsuan in Thailand, and Hotel des Arts Saigon in Vietnam. MGallery is part of Accor, a world leading hospitality group consisting of more than 5,000 properties and 10,000 food and beverage venues throughout 110 countries.
mgallery.com | all.accor.com | group.accor.com
ABOUT SIN CAPITAL
SIN Capital is a Pan-Asian multi-asset professional investment firm with offices in Singapore and Hong Kong. The firm focuses on private investments in healthcare and real estate sectors across key gateway cities in Asia.
Follow and Share with Jetsettersblog.