Mind, Body and Surf Retreat in the Maldives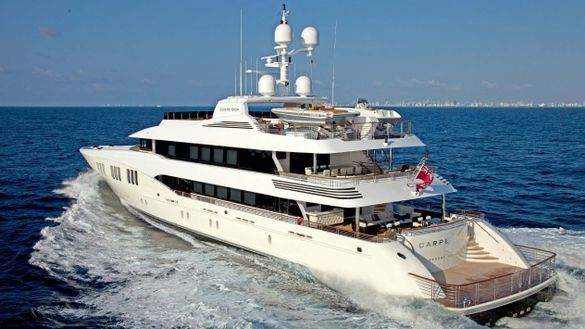 ---
Matt Griggs, ex-pro surfer turned holistic, high performance coach across elite business, sport and life, who has joined forces with Taylor Knox, USA pro-surfer to offer a once-in-a-lifetime mind, body and surf retreat in the Maldives this September.
Through his company 'The Nature of Success', Matt is offering surf-loving executives the chance to step away from their everyday stresses and build on their skills both on land and out at sea.
The 8-night retreat, held on the 10-cabin luxury 35-m long MV Carpe Diem yacht, includes daily elite surf coaching by Taylor Knox, group Kelee® Meditation sessions and personal and professional life coaching on-on-ones with Matt himself.
Over the course of the trip attendees will be taught the skills needed to ride the waves of the Maldives as well as those they face in their personal and professional lives. This is accomplished through understanding their intrinsic value, fostering an environment of health and fearlessness and implementing key performance tools to achieve success, based on World Champion methods.
Great news is the trip is tax deductible as it is 'personal development' so those who purchase the package before 30 June can claim back as part of this financial year. 
"As in life, when the surfer is calm and centered is when they access the best of their knowledge and skill. Easy when the ride is smooth and challenges are few, but the ones that can stay calm and centered in intense situations are the true masters in life, as they've learned how to master their mind. With the amazing waves of the Maldives as the backdrop, which is well-suited to intermediate level, this trip is really about developing your mind to have less stress and more awareness, with daily Meditation and mental mastery sessions. It just so happens there is a world champion surf coach and one of the best surfers that ever lived to help on the surfing side too!" Matt
"The tipping point in my life was being introduced to Kelee meditation and the impact it could have on my performance in the surf and in my everyday life. I learned the difference between motivation and inspiration, let go of fear of judgement and this freed me up to surf and live better. I can't wait to introduce Kelee Meditation to a new group of surf-loving individuals and showing them how looking inside can help improve their external performance." Taylor
Trip includes: 
9 days, 8 nights aboard luxury 35-m MV Carpe Diem yacht, inclusive of all meals prepared by fine dining chef and beverages (alcoholic and non-alcoholic).
Daily surf coaching by celebrity surf mentor Taylor Knox
Personal performance mastery sessions & Kelee meditation hosted by Matt Griggs
Personalised video and surf shots of your trip (perfect for lifting your social media game) taken by pro-surf photographer / videographer Andy Potts
Surf skills: Intermediate
Departure Dates: 10th & 16th September (departing from Maldives)
Cost: from $6,750 inclusive of all food and beverage on board (excluding flights) – Speak to your accountant in regards to Personal Development tax deduction 
To book visit mattgriggs.com.au
END
Notes to editor: 
Interview opportunities available on request
About Matt Griggs 
Matt's coaching experience and interest is at elite level – and anyone that wants to be there. Initially grounded with professional surfers, having worked with former ASP World Surfing Champions Mick Fanning and Stephanie Gilmore – and currently working with World title contender Owen Wright, Matt has an understanding of what it takes to live at that level. Matt also has experience with other athletes and has worked with first grade NRL players (on the mind and performance via Kelee Meditation), downhill skiers, white water canoeing at Olympic level, triathletes and many other sports.
About Kelee Meditation
Kelee meditation is a meditation practice focused on achieving stillness of the mind, thus, cultivating a true sense of peace and contentment in one's life. Kelee is a word to describe an energy field that is within everyone. Understanding the reference points within this energy field, the Kelee, can help you find it and guide you through Kelee meditation. When you start doing Kelee meditation, you will see an immediate calming effect on your life. As you continue, it will help you to release old patterns, stress, anxiety, and tension, allowing for emotional and physiological healing as well as increased performance and happiness.
About The Nature of Success 
Working with high calibre athletes and executives, Matt Griggs has built a holistic program called, 'The Nature of Success'. 'Nature' meaning your intrinsic value and 'Success' (from the Latin) "to go on well," or "to go after". 'The Nature of Success' corporate program provides a map to understanding your intrinsic value, creates an environment of health and fearlessness + teaches the performance tools to achieve success based on World Champion methods.
Follow and Share with Jetsettersblog.