'Moments' Exhibition of Modern Art, Bury St Edmunds until 30 September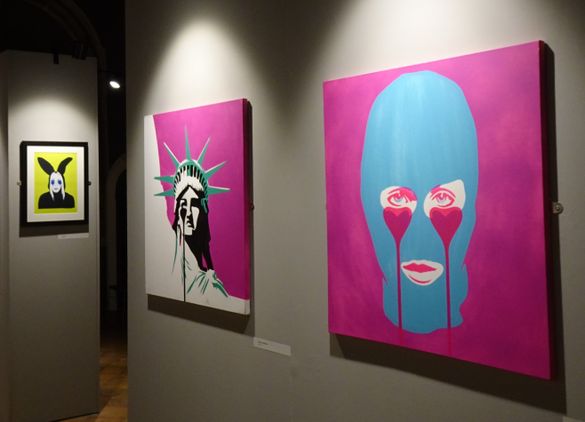 ---
Banksy comes to Bury St Edmunds
 'Moments' Exhibition of Modern Art, Bury St Edmunds
Until 30 September
Eight artworks by Bansky plus Connor Brothers, Tracy Emin, Damien Hirst, Rachel List, Bleck le Rat, Pure Evil, Kaws and more
Now open in Bury St Edmunds, Suffolk until Thursday, 30 September, the 'Moments' exhibition of modern art at Moyse's Hall Museum features 23 of the world's best-known contemporary artists including eight original works by the world's most exciting and controversial street artist, Banksy.
Organised in association with Brandler Galleries, featured artists in addition to Banksy will include Damien Hirst, Tracey Emin, Kaws, Pure Evil, Connor Brothers, Blek le Rat, My Dog Sighs and Rachel List with both original artworks and prints.
Amongst the highlights is Banksy's 'Hula-Hooping Girl', which originally appeared on the side of a building in residential Nottingham. Some of the artworks and prints will be available for purchase.
Renowned artist Rachel List, who gained prominence during the first lockdown with her painting 'NHS Angel', has created a new piece of work for inclusion in the exhibition, which will be kept on permanent display at Moyse's Hall Museum.
The exhibition, which will be of national importance and interest, is a major coup for West Suffolk Council which runs Moyse's Hall Museum. It will play a major role in helping the town's economic recovery, after the impact of the Covid-19 pandemic and subsequent lockdowns. Even with some restrictions, this exhibition could attract significant cultural tourism from outside of the West Suffolk area.
Private View venings
Moments will be supplemented by a range of workshops, pop-up activities, live art demonstrations and private view evenings when artists will be talking to guests about their work. The first special evening will be with Pure Evil on Saturday, 7 August; then it's the turn of My Dog Sighs on 21 August and the Connor Brothers on 11 September.  Starting at 7.30pm, each evening includes drinks, a Q&A session with the artists and the opportunity to view the full Moments exhibition. Places are strictly limited to create an intimate 'up close' environment. Tickets priced at £25 must be purchased in advance.
Other activities will take place at various locations around the town including The Apex entertainment centre. Where possible, 'Moments' will also link with local community art groups to offer workshops for all ages and levels of experience.
Together with support from West Suffolk College and University of Suffolk, Moyse's Hall Museum and Brandler Galleries will be seeking West Suffolk's next great artist through a
competition sponsored by the Friends of Moyse's Hall and Burnett Barker Solicitors. An art trail is also being planned to view installations around Bury St Edmunds such as in The Apex, Charter Square and Abbey Gardens.
Local businesses can sponsor various artworks and special events. Currently TREAT, the Angel Hotel and Outside Art as well as the Friends of Moyse's Hall and Burnett Barker Solicitors have offered support.
How to book
Admission into 'Moments' is £6 for adults, £4 concessions and children aged 5-16 years and £15 for a family (2+3). Moyse's Hall is open 10am-5pm Monday – Saturday and 12noon-4pm on Sundays.
Timed viewing slots of one hour must be pre-booked either online at www.moyseshall.org, in person at The Apex or by telephoning The Apex box office on 01284 758000. An optional £3 donation per transaction will be put towards staging future events at Moyse's Hall; there will also be donation points around the galleries. Covid-19 measures in place at the time will be followed including social distancing, track and trace and the wearing of masks.

Follow and Share with Jetsettersblog.