Monaco Hosts New Exhibition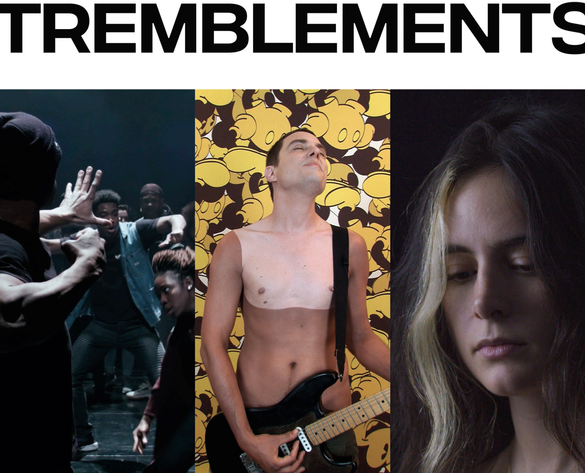 Direction du Tourisme et des Congrès de la Principauté de Monaco
Monaco Government Tourist and Convention Authority

Visions of a Fractured Society: The Principality of Monaco Hosts New Exhibition TREMBLINGS, Recent acquisitions by the Nouveau Musée National de Monaco
Visitors Can Enjoy Art Pieces from World Renowned Artists at Monaco's Nouveau Musée National de Monaco Museum
January 2022…// The Principality of Monaco and the Nouveau Musée National de Monaco are delighted to have launched TREMBLINGS, Recent acquisitions by the Nouveau Musée National de Monaco, on display until 15th May 2022. Curated by Célia Bernasconi, the new exhibition aims to bring together contemporary works of art that it has acquired over the last ten years from 17 different artists, to showcase and address issues related to visions of fractured society and the modern world, from a cross section of 12 different nationalities, including British icon, Steve McQueen.
The artists' work showcased at the new exhibition focuses on four main categories: processes of representation and the disappearance of the body; decolonising the gaze; identity-based foundations of popular cultures; and queer cultures. Key artists involved in the exhibition include:
Steve McQueen 
British film producer and screenwriter Steve McQueen's renowned Weight (2016) model will be showcased to focus on the processes of representation and the disappearance of the body. Inspired by his visit to the Reading Prison in 2016 and being exposed to the confined cells, the art piece consists of an empty prison bed draped in 24-carat gold mosquito netting to represent an apparition of release from confinement of the prison cell.
Candice Breitz
South African artist Candice Breitz's video installation, Alien (2002), questions the idea of identity in relation to popular cultures. Alien offers a series of short films in which the viewer enters a dark space with ten monitors producing a melodic cacophony of voices. Breitz' work is widely renowned for multi-channel moving image installations, with a focus on the "attention economy" of contemporary media and culture.
Arthur Jafa 
American artist Arthur Jafa's, whose work has long been characterised by music, will address issues around race through his renowned The White Album (2018), which offers a series of video clips, both historic and modern images, archive footage, articles and music videos, compiled in cinematic mosaics.
Other artists involved in the new exhibition include Brice Dellsperger, Pauline Boudry, Renate  Lorenz and more. All artists share the belief of poet Édouard Glissant's notion of "trembling thinking" who explains that this concept  "unites us in absolute diversity, in a whirlwind of encounters".
TREMBLINGS: Recent acquisitions by the Nouveau Musée National de Monaco is on display now till 15 May 2022 at 25 November 2021 – 15 may 2022 at Nouveau Musée National de Monaco.
For more information please visit www.nmnm.mc.
About the Monaco Government & Tourist Authority
The Monaco Government and Tourist Authority is a state organisation set up to promote and support the Principality and all of its touristic entities and stakeholders. As a government service, it offers free-of-charge global advice on the destination, highlighting the assets which make Monaco ideal for both business and leisure travel. The Authority, alongside its representative office in London, also offers a range of services for organisers of conferences, seminars, incentive travel, exhibitions, festivals and international trade fairs.
Website: www.visitmonaco.com
LinkedIn: Monaco Government Tourist Authority
Facebook: @VisitMonaco
Follow and Share with Jetsettersblog.