Moonfleet Manor Hotel Family Escape in UK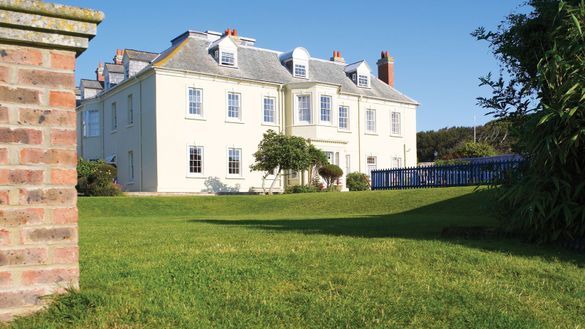 ---
Families heading to Moonfleet Manor in Dorset this summer have the chance to experience a new alternative way of entertainment full of fun.
Located on the stunning Jurassic Coast, the hotel is set to be the first in the UK to open a family Escape Room which its guests can take advantage of.  With one hour to find the clues, solve the puzzles, and locate the riddle that will unlock the door, families can join together to see if they will be able to escape in time.
Groups of two to six people are restrained in the thematic room and are given instructions to find a way to escape. The mission is simple yet challenging: using only your mind, imagination, logic and teamwork, find the clues, solve the puzzles and complete your mission. The challenges are created in such a way, so that every person can approach them. The game is exciting and appropriate for all ages from four-years-old to grandparents in their later years.
Adrian Burley of Luxury Family Hotels comments: "Escape rooms started in Asia, but soon spread throughout the world.  They have gained lots of fans since they offer exciting experiences to guests, not only the young ones, but the older ones too and we're delighted to be launching this family-focused one for all to enjoy."
The Escape Room, located in the hotel's Verandah large indoor play space, runs Monday through to Friday with slots available at 2pm, 3pm and 4pm and each session lasts an hour. There are 13 clues that need to be solved in order to come up with the nine-letter password to escape.  All the clues are linked to the hotel, its history and surrounding area.  Parties to pre-book the room ahead of their experience.
Moonfleet Manor is a handsome Georgian manor house magnificently situated overlooking Chesil Beach, so guests do not even have to leave the hotel to enjoy some of the most stunning scenery in the area. The region is rich in natural beauty, with its rolling hills and valleys contrasting with open coastline, huge beaches and magical light.
With views out over Chesil Beach, The Fleet and the open sea, the lovely Mediterranean stylerestaurant is a great setting to enjoy some of talented Head Chef Michael Culley's delicious food after a day exploring.
A member of the Luxury Family Hotels (www.luxuryfamilyhotels.co.uk) collection, this 36-bedroom property offers a warm welcome to families with children of any age. This is not the first time the hotel has had literary connections – many of the rooms are named after characters in J. Mead Faulkner's swashbuckling novel Moonfleet (1898) and the area was also used as a backdrop in the 2015 film Far From The Madding Crowd.
As with every Luxury Family Hotel, Moonfleet Manor offers an incredible array of facilities for families including a complimentary Ofsted registered crèche, bottle warmers, fridges, sterilisers, complimentary baby-listening service, an indoor play area with soft play, a trampoline, pool table, table football, table tennis and a Traversing Wall. The hotel's indoor heated pool is another firm favourite. Outdoors there are two tennis courts, boules and a play area with a climbing frame, swings and sandpit providing scope for plenty of outdoor play
Rooms start from £120 per night, based on two adults sharing on a room and breakfast basis. Children up to the age of 16 stay can stay free of charge in their parents' room, and pay for breakfast depending on their age.
To book call Moonfleet Manor on 0844 482 2152 or please visit www.moonfleetmanorhotel.co.uk
Follow Luxury Family Hotels on Twitter @LFHotels, Facebook and Instagram www.facebook.com/luxuryfamilyhotels
The rooms fulfil all security and safety requirements. A trained member of staff, the game master, monitors players during the whole game and offers help when the game gets more difficult by providing some clues.  Any player is able and allowed to leave the game, just by using the "Emergency exit" button.
Images available on request at Luxury Family Hotels media photo library. Please contact the PR team to request picture access to the online library.