More Canadians consider RVing this summer than ever before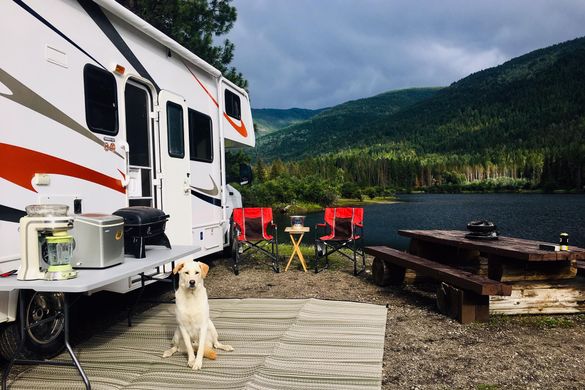 ---
Canadian-owned and operated RVezy.com, the country's first peer-to-peer RV rental marketplace, has seen a surge in reservations with an increase of over 800% in summer travel. As restrictions are slowly easing across Canada, households are looking for safe and practical travel options this summer.
"RVs are perfectly suited for vacation travel this summer" says RVezy Co-Founder, Michael McNaught. "In an RV you are in full control of your environment while in a self-contained RV. You have full access to cooking facilitates, washrooms, shower, air conditioning and best of all many come fully stocked with beddings, board games & camping supplies. Booking a campsite with an RV is ideal for maintaining social distancing while experiencing the great outdoors."
Based on an Abacus data survey of Canadians this May, Canadians are considering RV travel this summer more than ever before, seeing it as the least risky vacation option available. Some key findings of the survey include.
Almost half of Canadians are planning to take or are thinking about taking a summer vacation this year.
Canadians under 44yrs of age are more likely to be planning or thinking about a summer vacation (49%) than older Canadians (40%).
More Canadians than ever are considering going RVing this summer. 1 in 3 Canadians said they "never before thought RVing was right for them, but are open to it now. Another 1 in 5 Canadians say they had considered RVing before and are even more open to it now.
Canadians believe RVing is safe, family friendly, and allows them to explore different parts of  Canada.
85% believe RVing is family-friendly.
82% believe RVing allows them to get away and explore different parts of
the country.
80% believe RVing allows them to get away and find peace and quiet
77% believe RVing is convenient
61% believe RVing is affordable
Most importantly, given the need to distance themselves from others, 78% believe RVing "allows me to distance from other people safely."
RVing is the least risky vacation option for Canadians this summer.
81% felt flying on an airplane for summer vacation is somewhat risky or too risky (56% thought it is too risky).
80% felt going to a music festival or outdoor concert is risky, including 55%who thought it is too risky.
76% felt going to an amusement park or waterpark is risky, including 49% who thought it is too risky.
68% felt staying at a resort as part of a summer vacation is risky, including 36% who thought it is too risky.
61% felt staying in a hotel or motel as part of a summer vacation is risking, including 29% who thought it is too risky.
Risk perception of renting an RV, motorhome, or trailer was much lower as well, with 57% describing it as not risky or only a little risky. Only 19% describe it as too risky for them. Most important, among those "RV Curious" consumers, 63% felt there was little to no risk involved in renting an RV, motorhome, or trailer while at the same time feeling that hotels, resorts, or waterparks are quite risky in the current environment.
Having an RV delivered to a campground or location.
81% of RV curious Canadians say they are more likely to rent an RV this summer if the RV could be delivered and set up at the destination, so people don't have to hitch the trailer to a vehicle.
RV's come fully stocked: Bedding, Board Games & Camping Equipment
Over half of Canadians polled, found they liked the fact RV's came fully stocked with bedding, kitchen & camping and family supplies. This is especially relevant with the limits placed in in-store shopping.
As RVing becomes the travel option of choice for Canadians this summer RVezy is well positioned to provide a safe, affordable and convenient option for Canadians with over 7000 RVs available for rent across the country.
"Whether this is your first time in an RV or are an experienced RVer looking for a unique experience, RVezy has options for everyone" added McNaught. "Renting an RV from a private owner allows renters to leverage the knowledge and experience of the RV owner. We strongly encourage our renters to communicate directly with the RV owner themselves. Not only are you renting from an experienced RV owner, but owners love sharing their favorite attractions and destinations."
Launched in August of 2016 as Canada's first RV rental marketplace, RVezy has revolutionized RV travel across the country – whether it's having an RV delivered directly to your destination, or before setting out on a family road-trip. RVezy brings vacationers and RV owners together from around the country.
RVezy.com is headquartered in Ottawa, and recently appeared on Dragon's Den on CBC. RVezy has thousands of travel trailers and motorhomes to rent throughout every province of Canada. In additional to providing unique and memorable road trips, owners of RVs have the ability to generate extra income from their idle asset. RVezy employs exclusively Canadian employees and has a fully bilingual support team.
For more information contact:
RVezy –
Michael McNaught
Co-Founder,
Mike@RVezy.com,
613-761-2841
Social Media
Instagram: @myrvezy
Twitter: @myrvezy
Faceboo

k: @RVezy
Follow and Share with Jetsettersblog.