More Flights to The Palm Beaches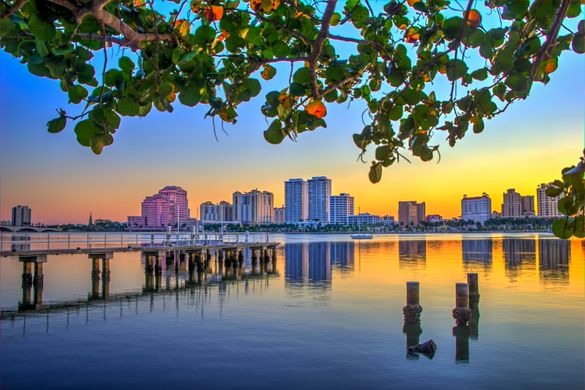 ---
New year-round and seasonal flights make The Palm Beaches' 39 diverse cities and towns even more accessible to travelers across the United States and Canada. Palm Beach International Airport (PBI), a partner of Discover The Palm Beaches (DTPB), the official tourism marketing organization for Palm Beach County, revealed its new service schedule while citing high demand and a 3.5% year-over-year rise in passenger traffic.
Beginning in winter 2019-2020, PBI will welcome Allegiant Air with year-round, non-stop flights to six destinations including Asheville, Cincinnati, Indianapolis, Pittsburgh, Knoxville and Charlotte/Concord. Additionally, longtime PBI partner United Airlines has added year-round, non-stop service to Washington Dulles airport.
Travelers looking to visit The Palm Beaches in winter 2019-2020 also can choose from new seasonal flights offered by Frontier Airlines – including non-stop service to Newark and resumed non-stop service to Philadelphia and Cleveland. The airline's existing flights to Long Island and Trenton will increase to once and twice per day, respectively (previously, these routes ran only three times per week).
Allegiant's six flight routes satisfy a demand for weekend travel between the destinations, with attractive features such as low fares and optimally timed schedules. Similarly, budget-friendly operator Frontier elevated its offerings due to strong ridership numbers. Service between Newark and West Palm Beach continues to grow in demand, particularly during the winter and spring months; United and JetBlue also offer flights to Newark.
For United, the new Washington Dulles service caters to the nation's preeminent hub for association meeting planners. The non-stop service enables meeting planners to get to The Palm Beaches in only approximately two hours and further supports DTPB's efforts to elevate the destination's meetings brand in the wake of record-breaking growth.
Additionally, demand generated by sports tourism in Palm Beach County was a driving force behind United's new route. The destination serves as the Spring Training home of the Washington Nationals Major League Baseball team – currently in the World Series against the Houston Astros, which also train in the destination. PBI also identified a need for service between The Palm Beaches and greater Washington D.C. from local businesses. From Washington Dulles, travelers can conveniently connect to nearly 270 domestic and more than 30 international flights.
Canadian travelers, meanwhile, can enjoy more flights to the destination from Toronto and Montreal, as Air Canada responds to higher year-round demand. Service from Toronto to The Palm Beaches will increase to once daily during the low/shoulder season (up from 5 times per week). Similarly, there will be three non-stop flights from Montreal per week (up from once weekly).
In The Palm Beaches' peak season – mid-December through mid-April – The Palm Beaches will see two daily non-stop flights from Toronto (up from 12 times per week). Those flying in from Montreal can continue to enjoy daily non-stop flights during the peak season, with two flights per day from December 16 to January 5. All Canadian service is offered on Air Canada Rouge, the airline's lower-cost carrier.
The newly added services are scheduled to begin on the following dates:
Allegiant
Pittsburgh: Nov. 14, 2019
Knoxville and Concord/Charlotte: Nov. 15, 2019
Asheville, Cincinnati and Indianapolis: Nov. 25, 2019
Frontier
Philadelphia: Nov. 14, 2019
Cleveland: Nov. 15, 2019
Newark: Dec. 10, 2019
United
Washington Dulles: Feb. 13, 2020
Increases in existing service will begin on the following dates:
Air Canada (via Air Canada Rouge)
Toronto: Oct. 27, 2019
Montreal: Oct. 28, 2019
Frontier
Long Island and Trenton: Nov. 14, 2019
Visit PBI's website for a complete list of non-stop flights.
PBI's increased service further elevates The Palm Beaches' ease of accessibility, with more than 200 daily non-stop flights on 12 airlines, from 34 cities.
"The Palm Beaches are more accessible than ever, said Jorge Pesquera, president and CEO of Discover The Palm Beaches. "We're thrilled to see PBI continue to flourish with new and increased flights, bringing even more travelers and meeting attendees directly into West Palm Beach. With only a five-minute, hassle-free drive from the airport to downtown, visitors buy themselves more time to enjoy all the beautiful assets that make our destination the best way to experience Florida."
Added Kelly Cavers, senior vice president of Group Sales and Destination Services at Discover The Palm Beaches: "Our accessibility is one of the most appealing factors, when it comes to hosting meetings and conventions in The Palm Beaches. While arriving into PBI is effortless thanks to its proximity to the Palm Beach County Convention Center and downtown, we also have the advantage of two other international airports and a high-speed train system that gets meeting attendees here just as quickly as – if not faster than – they would in many other major cities across the U.S."
Between the three international airports – PBI, Fort Lauderdale-Hollywood (45 minutes) and Miami (one hour) — South Florida welcomes more than 2,000 daily non-stop flights from nearly 350 domestic and international cities. Access to The Palm Beaches from its neighboring airports is made even easier with high-speed train service via Brightline (soon to be Virgin Trains USA) – which includes stops in West Palm Beach, Fort Lauderdale and Miami – and South Florida's Tri-Rail system.
In addition to accessibility, both leisure and business travelers continue to enjoy all the assets that have earned PBI multiple awards. Among them are ease of access from the ticket counter to gate, fast TSA checkpoints, complimentary highspeed Wi-Fi, ample charging stations and nursing suites.
PBI most recently was named the 8th Best Airport in the U.S. in the 2019 Conde Nast Traveler Readers' Choice Awards, the 5th Best Medium Airport in J.D. Power's 2019 North America Airport Satisfaction Study, and 8th Best Domestic Airport in Travel & Leisure's 2019 World's Best Awards.
Follow and Share with Jetsettersblog.