Most Underrated Adventure Destinations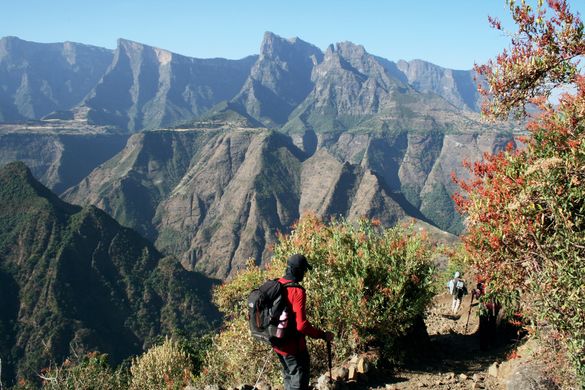 ---
As it gears up to celebrate its 45th year of pioneering adventure travel, World Expeditions chooses below seven of the most underrated destinations for an active holiday for 2020 – from remote and little-known treks to historic pilgrim trails.
Caucasus Mountains
On the borderlands between Europe and Asia, the new Transcaucasian Trail has been dubbed as "trekking's next big thing". Once complete, it will extend more than 1,800 miles/ 3,000 kilometres connecting more than 20 national parks, UNESCO listed sites and protected areas across the Southern Caucasus (Azerbaijan, Georgia and Armenia). Scenically stunning and uncrowded and is already gaining in popularity thanks to high praise from TIME and Forbes magazines.
Turkestan Range
Central Asia is emerging as an adventure traveller's paradise, and the Turkestan Range in Kyrgyzstan is a magnet for active adventurers seeking true wilderness, unspoilt beauty and a sense of isolation. Its stunning sheer rock formations have given the region the nickname of the 'Asian Patagonia', featuring crystal clear glacier-fed streams and lakes, lush fir tree forests and alpine meadows providing feed for herds of grazing yaks.
Simien Mountains
Ethiopia's fascinating history, dating back more than 3,000 years, is evident in its rock-hewn churches, medieval castles and ancient obelisks. Trekking through the imposing escarpments of the Simien Mountains offers the chance to spot unusual wildlife such as the Gelada baboons.
China's Rainbow Mountains
The Rainbow Mountains of Peru may have become an Instagram sensation. However, China's Rainbow Mountains display an equally astonishing range of colours, even though they remain internationally fairly unknown. The region combines striking natural landscapes with cultural and historical highlights, such as the fortresses of Southern Qilian Mountains, on the remote, western part of the Great Wall of China and the Mati temple carved in the Linsong Mountain.
Jordan Trail
Another new trail that loosely follows an ancient trade route, originally stretching from Egypt to Aqaba and on to Damascus in Syria, is the recently completed Jordan Trail. The recently completed, 400-mile / 650-kilometer Jordan Trail takes 40 days to complete, and crosses the entire country through diverse landscapes and terrain, from striking cliffs and rugged 'wadis' to archaeological monuments that showcase an illustrious past.
Gokyo Lakes
The widely distributed images of crowds of trekkers on trails above Everest Base Camp in Nepal earlier in the year has stimulated fresh interest in alternative treks in the Everest region. World Expeditions has been operating trips in Nepal since 1975 and has always proclaimed that the trails around the Gokyo Lakes remain the region's biggest secret. The very few trekkers you will meet is a reminder that what you will find here is a sense of isolation and sensational views of Mount Everest.
Japan's pilgrim trails
The Dual Pilgrim Certificate, available in conjunction with the widely known Spanish Camino de Santiago pilgrim trail, is helping spread the word about Japan's World Heritage Kumano Kodo pilgrim trails, a series of ancient routes. As yet, these trails remain largely off most international visitors' itineraries in the country. Approx. 200,000 people walk the Kumano Kodo trail each year but, despite its increasing popularity, most of them are Japanese.
World Expeditions crafts creative itineraries for its travelers' unique needs and style. For detailed information, bookings, or tailored private departures, visit https://www.worldexpeditions.com  or call 1-800-567-2216.
For more details and high-quality images, please don't hesitate to contact me: Caroline Mongrain via email caroline@worldexpeditions.com or at 1-800-567-2216.
About World Expeditions

Since its inception in 1975, World Expeditions has earned an outstanding reputation as an innovator and world leader in quality, small group adventure holidays. Offering ground-breaking itineraries escorted by expert local leaders, World Expeditions meticulously designs each trip with an emphasis on facilitating one-of-a-kind experiences in fascinating destinations, supporting true sustainability in the protection of local communities, natural environments and wildlife.
Follow and Share with Jetsettersblog.