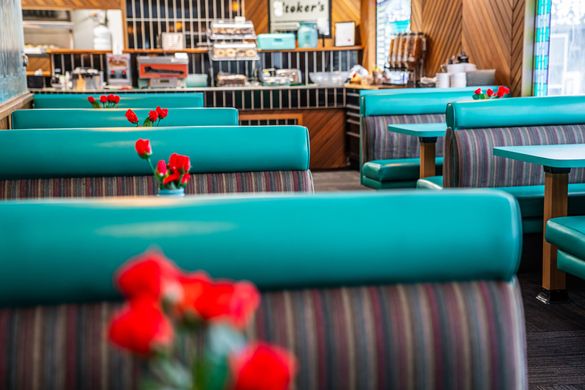 ---
Trending: Motel Revival
What's the buzz?
This past autumn, the rural Hockley Motel in Monto, Ontario – notably cast as the Rosebud Motel in hit TV series Schitt's Creek – was listed for sale at a cool $2 million following the show's historic sweep at the Emmy Awards. What's old is new again: But it's not just Schitt's Creek fans who are casting their attention to the retro property. Motels have made a powerful cultural comeback, particularly at a time when safety, hygiene and physical distancing have skyrocketed in importance. Marked by guest room entrances accessible directly from the parking lot, along with a one- or two-floor layout that assures smaller capacities than sprawling hotels (and avoids elevators), motels also evoke nostalgia for a lost era – one of simpler times, where kitsch reigned supreme, parking was free, and passage to the great outdoors lay just outside the door. These coming years, travel trends predict that motels will experience a sizzling revival – and entrepreneurs across Canada are swiftly leveraging the opportunity to rehab roadside inns of yore to appeal to a new generation of travellers. A few to consider:
Play station: The Drake Motor Inn – parked just down the street from sister inn Drake Devonshire in Prince Edward County, Ontario – plays up the retro nostalgia of classic roadside motels with flamboyant hues and assorted knickknacks. Just a stone's throw from the stunning lakefront of Wellington, the motel is surrounded by Prince Edward County's picturesque wine country (the perfect setting for an alfresco feast, with fully stocked picnic baskets available for purchase). Twelve playful guest rooms brim with art and photography installations, while an attention-grabbing vending machine serves Canadiana shoppables and, yes, edibles (cannabis). Guests can borrow vintage Polaroids to document their trip, or play a hand of cards at the outdoor terrace and firepit. In the winter, a pretty skating rink welcomes visitors to take a spin. 6
Classic chillout: The owners of Toronto's millennial hotspot The June Motel opened a second, larger iteration of their chic motel in Sauble Beach, Ontario – and though the pandemic delayed opening, the motel achieved a spectacular debut during Labour Day weekend and has stayed nearly sold-out ever since. Part of the property's success is due to creative marketing – for example, opening weekend featured a socially distanced launch party, including poolside DJs, goodie bags and bottles of bubbly for every guest. Closed for the winter, the laidback property reopens in April 2021.
Natural backdrop: Canmore, Alberta's newly renovated Lamphouse Hotel modernizes the motel experience with a dramatic backdrop of the snow capped Rocky Mountains. Guest health and comfort remain paramount, with virtual check-in allowing guests to bypass contact with staff and fellow guests. Inside, the spacious rooms are light-years away from motel accommodations of the past, with light flooding through massive windows, self-serve martini stations, Nespresso machines and bath products made locally by Rocky Mountain Soap. Emphasis is (safely) placed on communal spaces, including a shared patio in each dwelling and an outdoor hot tub boasting mountain and creekside views – the perfect spot to stargaze after an invigorating day on the slopes.
Inviting the outdoors in: Tossing convention out the window, The Stoke in Revelstoke, British Columbia  is sure to thrill outdoor adventurers with a vintage mountain style that invites the outdoors in. Once a classic motor inn, the new design livens up rooms with bright accent walls, wall-mounted flatscreen TVs and private access via the outdoor corridor. Communal spaces feature wood-slab tables and handcrafted timber furniture, while outside sprawls the Columbia River, funky eateries and watering holes, and some of the most incredible skiing and snowboard slopes in the world.
Psychedlic  style: In Tofino, British Columbia , Hotel Zed has opened the doors to 1970s swank, with a psychedelic space housing the world's first bike-through lobby, a secret arcade jam-packed with retro games, a psychic's den complete with tarot card reader and a light-up mini disco. The property is Hotel Zed's third endeavour: others – just as punchy and rebellious – are situated in Kelowna and Victoria.
Conveniences galore: Throughout British Columbia , Accent Inns – cousin brand to Hotel Zed – reimagines the motel experience with free parking and in-room WiFi enhanced by complimentary bike rentals, elevators designed as hot air balloons and rubber duckies awaiting in bathtubs. Guests need not travel for sustenance or an invigorating workout, thanks to onsite eateries, fitness rooms and hot tubs – in fact, the property is ideal for hunkering down and enjoying a restful escape.
Creature comforts: Lighthouse Motel & Cottages near Bridgwater, Nova Scotia, offers a newly renovated, picturesque getaway along the placid LaHave River. Visitors nostalgic for the past will find retro-style motel rooms, though waterview and garden suites, as well as a riverfront cottage, are also available. Site amenities invite outdoor play, thanks to a private beach, boat dock, firepit, barbecues, picnic tables and expansive green space complete with children's play area. The motel is open between May 1 and October 1, 2021.
Readers wanting more information on Canada  : www.explore-canada.co.uk
Image Credit : Stoke Motel, British Columbia
Location : Stoke Motel, Revelstoke, British Columbia

Follow and Share with Jetsettersblog.