Mussolini's Granddaughter To Make Private Appearance During Historical Trips Tour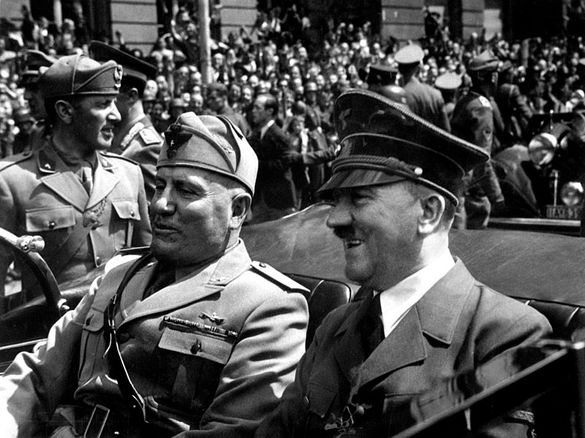 ---
One of Historical Trips' most popular tours, 'Duce! The Rise and Fall of Italian Fascism', now has a very special addition to its itinerary. Rachele Mussolini, the youngest grandchild of Italian dictator Benito Mussolini, will be making very special private appearances on the 2018 and 2019 departures of this unique Italian tour.
Rachele, 43, herself a politician for the right-wing Fratelli d'Italia ('Brothers of Italy') party, will meet the tour in Predappio, the Mussolini family's hometown. Here, she will address the tour group and answer questions on living with the legacy of her infamous forebear. She will also open the family crypt in Predappio, which holds the remains of Benito Mussolini and other family members, for the group to visit.
Historical Trips' co-founder Nigel Jones said: "We believe that this is the first time since the dictator's downfall and death in 1945 that a member of the Mussolini family has spoken to a British tour group, and this is in keeping with Historical Trips' pioneering ethos. We look forward to welcoming guests on this ground-breaking tour."
The 2018 'Duce!' tour has now sold out, but the 2019 offering has availability and will run from 2nd – 9th April. A second 2019 departure will be announced in due course.
What's included?
£2,895 per person for the eight-day tour, with a single supplement of £289
Services of a tour manager and expert guide lecturer
Seven breakfasts, seven lunches and six dinners
Return flights and all local travel
Hand-picked hotels throughout the tour
To find out more about the tour, click here:
https://www.historicaltrips.com/tour/78/Italy/Duce-The-Rise-and-Fall-of-Italian-Fascism.html
Special Access
Open the door of Mussolini's bedroom during a visit to Villa Carpena and see it furnished exactly as it once was
An exclusive private appearance and talk by Rachele Mussolini, the dictator's youngest grandchild
Visit Mussolini's birthplace museum and family tomb, where his body was interred back in 1957
Gaze in awe at the fantastical Vittoriale degli Italiani, an opulent and eccentric lakeside villa
Expert Guides
This unique tour of Italy has two guides, namely writer Nick Farrell and Historical Trips' co-founder Nigel Jones. Nick Farrell spent nine years as a journalist for The Telegraph, but has since joined the team over at The Spectator. He is known for his famous interview with Silvio Berlusconi, which saw him extract controversial statements from the then Italian prime minister, which provoked widespread criticism in the politician's home country. Nick's extensive biography of Benito Mussolini, Mussolini: A New Life, was published in 2003.
Nigel Jones is a specialist in 20th century history and has written for a number of national publications, such as The Sunday Telegraph, The Guardian, The Spectator and Literary Review. He was an editor on both History Today and BBC History, and he has published eight non-fiction books. Nigel is also the co-founder of Historical Trips.
– ends –
Notes to editors 
Historical Trips was founded in 2010 by historians Nigel Jones, Roger Moorhouse and Michael Ivey. Their mission was to take small groups of interested (and interesting) guests to places in both the UK and around the world where history happened. More than a holiday in history, top historians like Dr. David Starkey, Dr. Suzannah Lipscomb and Prof. Gary Sheffield put the places they visit in context, giving guests an unrivalled expert picture of the past and – to quote the company's motto – the "history that shaped us".
For more information, call Historical Trips on 01722 713820 or visit https://www.historicaltrips.com/
Follow and Share with Jetsettersblog.