Natural Sea Lion Adventures on a Nostalgic Seaside Holiday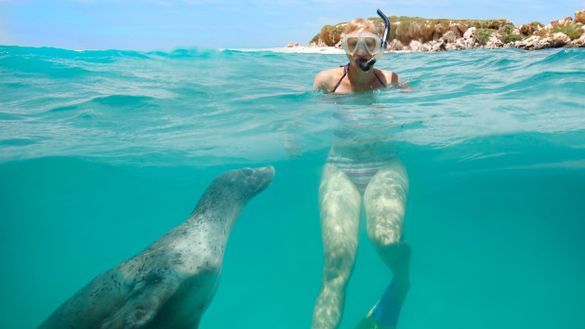 ---
Sea lion tour operators in Jurien Bay continue to run impressive sea lion tours, now with the aid of new state-of-the-art boats. Thanks to the rise of social media, chiefly Instagram, sea lions have consistently drawn positive attention, with many visitors wishing to meet the creatures. Their puppy-like nature and unreserved curiosity towards swimmers often result in impressive underwater footage. Turquoise Safaris' new boat, Sound Waves, has been touring from early November and will continue to operate year-round. The vessel is a custom built, ten metre long fibreglass catamaran, which can carry up to 12 passengers and is universally accessible with on board facilities.
J-Bay (named by the locals) offers fantastic fishing, snorkelling and 4WD conditions. Additionally, only a stone's throw from Jurien Bay is Nambung National Park, home to the iconic Pinnacles Desert – a favourite pit-stop for road trippers.
Sea lion tours continue to rise in popularity among visitors to the Indian Ocean Drive area, and depart daily from Jurien Bay and Green Head. The Australian sea lion is one of the most endangered pinnipeds across the globe; it's believed there are less than 12,000 remaining along the country's southern coastline. Large colonies inhabit areas off the coast of Jurien Bay, leading to an increased chance of spotting the creatures whilst on tour. Hundreds of sea lions live on the isolated Buller and North Fisherman islands, as well as Essex Rocks only a few kilometres off the coastline.
The addition to Turquoise Safaris' fleet ensures both sea lion tours and fishing charters can operate daily, with Here Fishy Fishy becoming the designated fishing craft. "We are beyond excited for what's to come and look forward to a successful future." said owner of Turquoise Safaris, Kane Krollig. It's hoped that this addition will allow Turquoise Safaris to offer more frequent and higher quality tours. Fellow sea lion tour operator, Sea Lion Charters, have also upgraded their tour boat, lifting the standard of tour operations in Jurien Bay.
Jurien Bay has firmly established itself as a family-favourite destination, and continues to be a short break destination of choice – especially among Perthites. An easy 2.5 hour drive north of Perth, Jurien Bay boasts affordable accommodation options embracing a nostalgic seaside getaway where minimal effort is required.
Turquoise Safaris' sea lion tours are a thrilling, yet affordable and family-friendly experience, with children under 12 snorkelling for $60, and adults snorkelling for $90. The three-hour sea lion tour operates every day (weather permitting).
Visit australiascoralcoast.com for more information regarding Jurien Bay sea lion tours, Turquoise Safaris or planning your next getaway to J-Bay.
Follow and Share with Jetsettersblog.