#NatureNeverStops Stories from the Field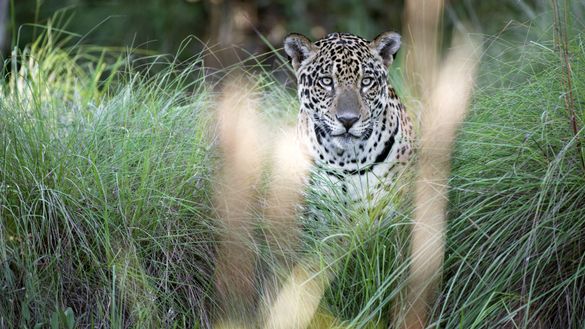 ---
While humans stay safe at home, for now, nature never stops, and we need its soothing continuity more than ever. We may not be able to soak up every sensory morsel of the forest, bush, beach or savanna for now, but we can connect with it from afar.
Even a glimpse of shifting seasons can provide a sense of continuum and comfort; as Europe blossoms into Spring, Autumn's golden light pours across Australia, and rain brings new growth to Eastern Africa's dusty plains.
There's another incentive to connect with nature, too. While the tourism industry is temporarily paused, hundreds of tour guides, rangers and committed team members remain out in the field. For them, home is where we long to be. Without guests to entertain and operations to run, they have time on their hands; some are fearful of livelihoods, and others are struggling with morale. Most importantly, critical community and conservation projects are left with dwindling funds and an increasingly uncertain future.
Staying connected provides hope during these difficult times, and so The Long Run's campaign #NatureNeverStops – supported by Senderos – hopes to join the dots by encouraging those left in the field to share their stories.
Whether taking the time to observe a lesser-known species, getting stuck into community projects, or reflecting on how nature adapts to the stillness, there are endless stories to be told. In Indonesia, eco-luxe resort Cempedak is using the downtime to help local reforestation efforts, while in Kenya, Borana Conservancy and Lodge are prioritising its mobile clinic, which treats on average 690 patients per month. While guests stay at home, tour guides are perfecting jaguar tracking at Caiman Ecological Refuge, dolphins have been spotted in Misool's pristine waters, and Giraffe Manor welcomed into the world a new-born, endangered Rothchild's giraffe.
Delphine King, Managing Director of The Long Run says, "These snapshots of life in the field not only fuel wanderlust for future travels, but remind us that when we do travel again, we must use it as a force for good. This forced confinement is likely to help people (in some parts of the world) rekindle with the simple wonders of life, appreciate the healing power of nature, and realise the need to slow down and genuinely connect with others. We hope travel habits will reflect this shift."
Founding member Roberto Klabin, owner of Caiman Ecological Refuge, comments, "While cities and adjacent areas are noticing nature's come back to yards, empty roads, blue skies, rivers and beaches, undisturbed by people due to Covid 19, places like Caiman in the Brazilian Pantanal see this process of rewilding as something natural. Our goal is to incentivise this comeback and we have been working on it for the last 30 years. As a result of that work we see much more wildlife than we used to see 10, 20 or 30 years ago. This is not by chance but by a belief that in complex places like the Pantanal environment we have to adapt ourselves and our activities to the natural cycles of the Pantanal and not the contrary. This is how we intend to adapt our business to the place and continue to thrive in the future."
Simon Heyes from Senderos adds " We came to know The Long Run and the important work they and their amazing members do through some of our wonderful partners in Latin America. Caiman Ecological Refuge in Brazil and Lapa Rios Lodge in Costa Rica are both GERs, and amongst the Fellows are Pacuare Lodge, Kasiiya Papagayo (also both in Costa Rica) and Pousada Trijuncao in Brazil. Senderos strongly supports the Long Run in their work and ethos (following the 4 Cs) believing deeply in the positive and transformative sweet spot where Conservation, Community and Culture meet Tourism as a force for good."
In line with The Long Run's 4Cs – conservation, community, culture and commerce – the campaign hopes to shine a light on sustainability in particular, and use this pause to highlight the work of committed individuals in the field or behind the scenes.
To get involved, upload photos or videos from the field to Instagram, Twitter or Facebook tagging @thelongrunorg #NatureNeverStops #init4thelongrun. With the help of our partners GT Films & Media, Stevie Mann Photography and Senderos, we've pulled together a Field Footage Tips Training Manual to help the less experienced get started.
If you are interested in sharing the video and images we've collated throughout the campaign on your platform, please get in touch.
About Senderos 
Senderos passion is Latin America and the positive cultural and environmental impact that true sustainable tourism can bring. We are a UK based Sales, PR and Marketing agency representing a portfolio of unique, authentic and award winning travel experiences across the region – estancias, rainforest and remote wildlife lodges, expedition vessels and small upmarket hotels – from the Galapagos to Antarctica, Costa Rica to Brazil, Peru, Ecuador, Argentina and Chile. www.senderos.co.uk
About The Long Run
The Long Run is a membership organisation of nature-based tourism businesses committed to driving sustainability. The community is global in scope and growing. Its members and supporters share a vision of "Business, nature and people working harmoniously together for a sustainable future". Collectively, The Long Run conserves more than 20 million acres of biodiversity & improves the lives of more than 750,000 people. The organisation supports, connects and inspires members to operate according to the 4Cs — Conservation, Community, Culture and Commerce. Find out more www.thelongrun.org/ contact media@thelongrun.com