Nayara Joins Forces with Tanica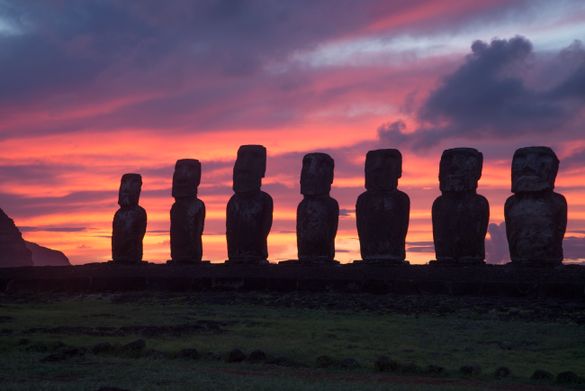 ---
Expanding beyond Costa Rica adding two new hotels to its collection
Nayara Resorts, known for its three properties in Costa Rica often ranked amongst the top hotels in the world, is thrilled to announce a new partnership with Tanica hotels in Chile. This is Nayara's first foray beyond Costa Rica and they look forward to offering guests their patented incredible customer service and gracious hospitality, starting with Alto Atacama Desert Lodge & Spa in Chile's Atacama Desert and Hangaroa Eco Villas & Spa on Easter Island.
Tanica has signed an agreement with Nayara Resorts regarding Alto Atacama, a 42-key hotel in the Atacama Desert, and Hangaroa Eco Villas & Spa, a 75-key hotel on Easter Island. The two Chilean properties will be marketed and overseen by Nayara Resorts, maintaining all the of the beloved attributes of the hotels but using the Nayara network to expand the reach internationally and to forge ahead as new strategic partners in future endeavors.
On October 23, Alto Atacama will join the Nayara Resorts portfolio as Nayara Alto Atacama, offering guests entrée into the fascinating landscape of the Atacama Desert, with its crystal-clear night sky and unbeatable stargazing, its salt mountains and lake, and its vastness. Like Nayara, local artisans helped craft each corner of the property from the gardens to the villas. Hangaroa on Easter Island will join as Nayara Hangaroa. Easter Island has a mysterious, ancestral energy with its historic civilization shrouded in mystery. Nayara Hangaroa will immerse guests in the culture of the island and offer unforgettable experiences like sunset over the moai in Tahai and hiking Ara O Te Ao, one of the oldest paths on the island leading to a massive crater.
What drew Nayara and Tanica together was a natural intermingling of core values and DNA. Both brands have hotels in incredible, unique locations that are remote but accessible, luxurious but unpretentious; both are obsessed with customer service; and both believe that being green is more than ticking a box, but about supporting employees and the local communities. (For Nayara that shows up in its complimentary daycare for employee children, for Tanica in its incredible Teatro del Lago that brings renowned musicians and performers to Chile's lake country.) The experience is paramount, whether it's early morning bird watching or a private sloth tour in Costa Rica or cocktails while watching the sunset over grazing flamingos at the Atacama Salt Flat. All of the properties share the common ground that they are located in places of pristine natural beauty and the resorts embrace the atmosphere by offering a true connection to nature and wildlife along with adventure and eco-exploration. It was a natural fit to join forces as both aim to be the best in these unique destinations.
Reservations will be centralized in Costa Rica for the collection and can be made by reaching out over emails (reservations@nayararesorts.com), phone (Toll Free US +1 888 332 2961, Toll Free UK +44 161 791 8120), or on the hotels' websites.
All properties will now be represented in the U.S. by Bennett Mercado.
While these two hotels are the first joint ventures between the brands, there will be more to come. Watch this space.
"We have found a true partner in Tanica and are thrilled to expand Nayara through their incredible properties. Guests come to Nayara for the beautiful natural surroundings, the experiences, and the warmth of our staff, and now we'll be able to offer those core attributes beyond Costa Rica in two otherworldly locations." – Leo Ghitis, Owner of Nayara Resorts.
"The joint venture with Nayara is a way for us to continue offering our guests an unbeatable experience now coupled with the over-the-top customer service for which Nayara is known. Also, we share the same values of local community commitment and environment preservation, and together we will promote tourism in Chile with unique destinations such as Easter Island and Atacama Desert." – Christoph Schiess, Chairman of Tánica Hotels.
About Nayara Resorts
Nayara Resorts is a collection of three luxury properties in the Costa Rican rainforest surrounded by creeks, natural hot springs, and sublime views of the third most active volcano on earth. Nayara Springs, Nayara Gardens, and the newly opened Nayara Tented Camp make up the full property and guests are free to traverse the several footbridges around the property connecting the different resorts and their unique restaurants and offerings. The rainforest enveloping the property has recently been deemed a sloth sanctuary. Nayara planted over 1,000 Cecropia trees on the property, the sloth's main food source, which has attracted more than 18 sloths to call the area home (joining the rich wildlife already present such as toucans, armadillos, and neon green frogs). Guests have a plethora of activities at their disposal, from coffee or wine tasting, spa treatments, and yoga on property, to ziplining or visiting waterfalls or family-run chocolate farms off property.
About Tánica
Tánica Hotels offers unforgettable experiences in four destination properties in Chile and two city hotels in Uruguay. Tánica seeks to connect travelers with unique locations through their culture, people, nature, cuisine and history. Hangaroa hotel, in Easter Island, is a celebration of Rapa Nui culture. Every corner is inspired in the island's traditions and history. Alto Atacama hotel, nestled in the mountains that surround San Pedro de Atacama, is the best gateway to experience the magic of the desert. Termas de Puyehue hotel – a castle in the forest – and its neighbor Termas Aguas Calientes (an outdoor experience), are surrounded by 250,000 acres of Puyehue's National Park's flora and fauna, and mineral-rich thermal pools that enrich the body and soul. In Montevideo, Uruguay, Tánica operates Cottage Carrasco, a friendly and cozy hotel located in one of the city's most exclusive neighborhoods, and Cottage Puerto Buceo, a sustainable construction ranked as one of the most romantic hotels of South America.
Nayara une fuerzas con Tanica
Expandiéndose más allá de Costa Rica agregando dos nuevos hoteles a su colección
Nayara Resorts, conocida por sus tres propiedades en Costa Rica a menudo clasificadas entre los mejores hoteles del mundo, se complace en anunciar una nueva asociación con los hoteles Tanica en Chile. Esta es la primera incursión de Nayara más allá de Costa Rica y esperan poder ofrecer a los huéspedes su increíble servicio al cliente patentado y su amable hospitalidad, comenzando con Alto Atacama Desert Lodge & Spa en el desierto de Atacama de Chile y Hangaroa Eco Villas & Spa en la Isla de Pascua.
Tanica ha firmado un acuerdo con Nayara Resorts en relación con Alto Atacama, un hotel de 42 llaves en el desierto de Atacama, y ​​Hangaroa Eco Villas & Spa, un hotel de 75 llaves en Isla de Pascua. Las dos propiedades chilenas serán comercializadas y supervisadas por Nayara Resorts, manteniendo todos los atributos queridos de los hoteles, pero utilizando la red de Nayara para expandir el alcance internacionalmente y avanzar como nuevos socios estratégicos en proyectos futuros.
El 23 de octubre, Alto Atacama se unirá al portafolio de Nayara Resorts como Nayara Alto Atacama, ofreciendo a los huéspedes la entrada al fascinante paisaje del Desierto de Atacama, con su cielo nocturno cristalino y una observación de estrellas inmejorable, sus montañas de sal y su lago, y su inmensidad. Al igual que Nayara, los artesanos locales ayudaron a crear cada rincón de la propiedad, desde los jardines hasta las villas. Hangaroa en Isla de Pascua se unirá como Nayara Hangaroa. La Isla de Pascua tiene una energía ancestral misteriosa con su civilización histórica envuelta en misterio. Nayara Hangaroa sumergirá a los huéspedes en la cultura de la isla y ofrecerá experiencias inolvidables como la puesta de sol sobre el moai en Tahai y el senderismo Ara O Te Ao, uno de los caminos más antiguos de la isla que conduce a un enorme cráter.
Lo que unió a Nayara y Tanica fue una mezcla natural de valores fundamentales y ADN. Ambas marcas tienen hoteles en ubicaciones increíbles y únicas que son remotas pero accesibles, lujosas pero sin pretensiones; ambos están obsesionados con el servicio al cliente; y ambos creen que ser ecológico es más que marcar una casilla, sino apoyar a los empleados y las comunidades locales. (Para Nayara que se presenta en su guardería de cortesía para los hijos de los empleados, para Tanica en su increíble Teatro del Lago que trae a músicos y artistas de renombre al país de los lagos de Chile). La experiencia es primordial, ya sea para observar aves temprano en la mañana o un tour privado de perezosos. en Costa Rica o cócteles mientras contempla la puesta de sol sobre flamencos pastando en el Salar de Atacama. Todas las propiedades comparten el punto en común de que están ubicadas en lugares de belleza natural prístina y los resorts acogen la atmósfera ofreciendo una verdadera conexión con la naturaleza y la vida silvestre junto con la aventura y la exploración ecológica. Fue natural unir fuerzas, ya que ambos pretenden ser los mejores en estos destinos únicos.
Las reservas se centralizarán en Costa Rica para la recolección y se pueden realizar comunicándose por correo electrónico (reservations@nayararesorts.com), teléfono (sin cargo en EE. UU. + 1888332 2961, sin cargo en el Reino Unido +44161791 8120), o en los sitios web de los hoteles.
Todas las propiedades ahora estarán representadas en los EE. UU. Por Bennett Mercado.
Si bien estos dos hoteles son las primeras empresas conjuntas entre las marcas, habrá más por venir. Mira este espacio.
"Hemos encontrado un verdadero socio en Tanica y estamos encantados de expandir Nayara a través de sus increíbles propiedades. Los huéspedes vienen a Nayara por el hermoso entorno natural, las experiencias y la calidez de nuestro personal, y ahora podremos ofrecer esos atributos centrales más allá de Costa Rica en dos lugares de otro mundo ". – Leo Ghitis, propietario de Nayara Resorts.
"Unirnos al portafolio de Nayara es una forma de continuar ofreciendo a nuestros huéspedes una experiencia inmejorable ahora junto con el excelente servicio al cliente por el que Nayara es conocida". – _____, Tanica [TAMBIÉN ESPERANDO COTIZACIÓN]
Acerca de Nayara Resorts
Nayara Resorts es una colección de tres propiedades de lujo en la selva tropical de Costa Rica rodeadas de arroyos, aguas termales naturales y vistas sublimes del tercer volcán más activo del mundo. Nayara Springs, Nayara Gardens y el recientemente inaugurado Nayara Tented Camp conforman la propiedad completa y los huéspedes pueden atravesar las diversas pasarelas alrededor de la propiedad que conectan los diferentes complejos turísticos y sus exclusivos restaurantes y ofertas. La selva tropical que envuelve la propiedad ha sido considerada recientemente un santuario de perezosos. Nayara plantó más de 1,000 árboles de Cecropia en la propiedad, la principal fuente de alimento del perezoso, que ha atraído a más de 18 perezosos para llamar hogar al área (uniéndose a la rica vida silvestre ya presente, como tucanes, armadillos y ranas verde neón). Los huéspedes tienen una gran cantidad de actividades a su disposición, desde degustaciones de café o vino, tratamientos de spa y yoga en la propiedad, hasta tirolesa o visitas a cascadas o granjas de chocolate familiares fuera de la propiedad.
Sobre Tánica
Tánica Hotels ofrece experiencias inolvidables en cuatro propiedades destino en Chile y dos hoteles urbanos en Uruguay. Tánica busca conectar a los viajeros con lugares únicos a través de su cultura, gente, naturaleza, gastronomía e historia. El hotel Hangaroa, en Isla de Pascua, es una celebración de la cultura Rapa Nui. Cada rincón está inspirado en las tradiciones y la historia de la isla. El hotel Alto Atacama, enclavado en las montañas que rodean San Pedro de Atacama, es la mejor puerta de entrada para experimentar la magia del desierto. El hotel Termas de Puyehue, un castillo en el bosque, y su vecino Termas Aguas Calientes (una experiencia al aire libre), están rodeados por 250.000 acres de flora y fauna del Parque Nacional Puyehue, y piscinas termales ricas en minerales que enriquecen el cuerpo y el alma. En Montevideo, Uruguay, Tánica opera Cottage Carrasco, un hotel amigable y acogedor ubicado en uno de los barrios más exclusivos de la ciudad, y Cottage Puerto Buceo, una construcción sustentable catalogada como uno de los hoteles más románticos de Sudamérica.
Follow and Share with Jetsettersblog.