New and Alternative Nordic Winter Holidays for 2018/19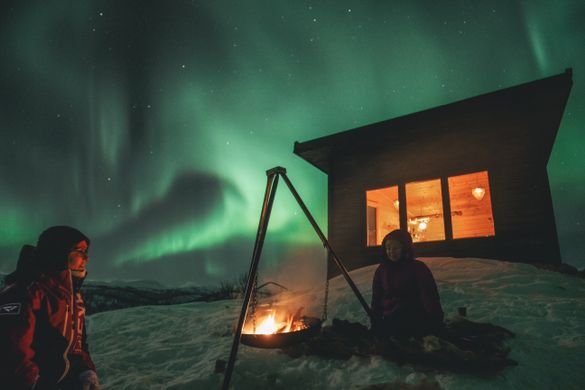 ---
Nordic tour operator highlights winter travel experiences to watch for this coming season. The diverse snow-clad landscapes of the Nordic countries are an ideal backdrop for a wide range of cultural activities, dining experiences, and beginner-friendly adventures. Hygge and Friluftsliv, the idea of connecting with nature, as opposed to conquering it, contribute to the Nordic call for a more diverse interpretation of the winter season.
New: Culture and award-winning craft beer in Fjord Norway
Magnetic North Travel's new itinerary highlights Fjord Norway as a foodie winter destination. Fjord Norway has maintained ancient food and brewing traditions dating back to the Viking era. Today, the region's heritage comes to life in a rich pub culture where traditional and contemporary styles blend together in a vibrant mix of local foods and award-winning craft beers. The balance between hygge dining, outdoor soft adventures and culture is best suited to travellers looking to experience Norwegian winter like a local.
From £575pp including 3 nights at the Flamsbrygga hotel, half board from dinner on day 1 to breakfast on day 4, 5 course Aegir Viking Plank menu with beer tasting, cultural evening walk, fjord safari in an open rib boat and a snowshoe hike (Valid for departures 01/11/2018 – 31/03/2019)
https://www.magneticnorthtravel.com/tour/details/norway-fjord-winter-break-flam-flamsbrygga
New: Polar night bonfire cabin experience near Alta, Norway
This winter, travellers can step into the life-affirming simplicity of Norwegian cabin life by joining a bonfire excursion departing from Alta. Huddled around an outdoor bonfire, travellers will listen to ancient Norwegian myths, watch locally sourced food sizzle above the flames and occasionally gaze up, waiting for the Aurora Borealis to appear. During the polar night, the outdoor bonfire held in a remote cabin location is a great way to gently immerse in Arctic outdoor life.
From £775 per person, based on two sharing, This includes transfers, 3 nights stay in a cabin for 2, breakfast and the snowshoeing trip. (excluding flights)
https://www.magneticnorthtravel.com/tour/details/cosy-cabin-culture-winter-activity-downhill-skiing-holiday-alta-norway
Ice-skating in Europe's largest Lake District, Finland
Southern Finland is home to Europe's largest Lake District. When snow and ice return, thousands of small lakes, narrow canals, and small islands suddenly become intertwined.
The elaborate water system transforms into Europe's largest natural ice rink and is a well-known outdoor playground for locals seeking an outdoor escape from nearby Helsinki.
After a day spent outdoors, do as the locals do and kick-back in the traditional Finnish sauna at your spa hotel.
From £905pp including return transfers from Savonlinna railway station, 4 night's double/twin room accommodation at Resort Järvisydän including breakfast, arrival dinner, skating equipment and access to ice routes in Lake Saimaa, skating lessons with a local guide (1 hour) guided tour skating excursion (3 – 4 hours incl. lunch)
https://www.magneticnorthtravel.com/tour/details/ice-skating-holiday-in-finnish-lakeland
Cooking up a storm in the Faroe Islands
The Faroe Islands are an unlikely winter travel destination, evoking images of craggy shorelines and wind-swept pastures. These 18 islands are sure to surprise with surreal volcanic landscapes, erratic weather, and world-class cuisine. In 2017, the Faroese restaurant, KOKS was awarded the island's first Michelin Star. KOKS offers an uncompromisingly Faroese palate combining ancient methods with forward-thinking creativity. The Faroe Islands are only a short flight away and can therefore be explored on a short weekend getaway.
From £735pp including Return flights from Edinburgh with baggage check in,
4 day's car rental in a group A car (Nissan Micra or similar) including unlimited mileage, CDW and airport tax. Car upgrades are also available. 
3 nights Guest house accommodation including breakfast
(All prices are subject to change)
https://www.magneticnorthtravel.com/tour/details/weekend-short-break-in-the-faroe-islands
Tesla X Northern Lights excursions in Tromso, Norway
Tesla X is an eco-friendly, luxurious sightseeing experience exploring the Arctic capital of Tromso and surroundings. The Tesla X experience offers bespoke Northern Lights trips, fjord adventures, and wildlife experiences throughout the year, all in the comfort of a Tesla Model X all-electric SUV. Due to the number of seats in the vehicle, the excursion always enjoys small groups touring together but all experiences are available as a private tour, tailored to individual requirements if so desired. During the winter months, the Northern Lights Chases are a highlight, moving soundlessly, guests can fully focus on the Arctic Skies above.
From £650 per person based on two people sharing a room for three nights, a Tesla X Northern Lights experience. Excludes flights.
https://www.magneticnorthtravel.com/tour/details/northern-lights-short-break-in-tromso
All Magnetic North Travel holidays include a 24/7 emergency line, concierge service and personalised travel documents. To book, call 01664 400 103 or see magneticnorthtravel.com

Follow and Share with Jetsettersblog.