New Direct Flights to Swedish Lapland City-Breaks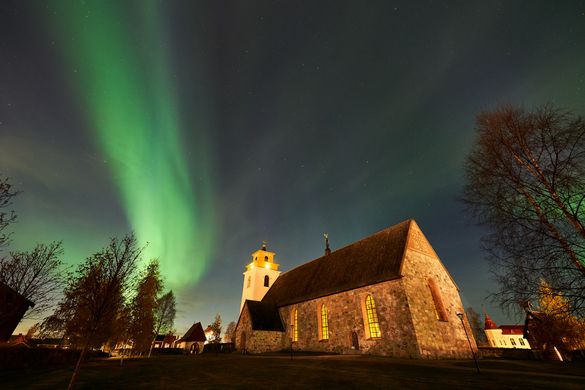 ---
Specialist Scandinavian Tour Operator Best Served Scandinavia welcomes the launch of a new twice-weekly direct flight to Lulea in Swedish Lapland from London Stansted.  The service, operated by SAS, will fly on Fridays and Mondays from 18 December 2020 – 15 March 2021.
Commenting, Kirsi Jokela, Product Manager, says 'These new direct flights make this beautiful part of the world that bit more accessible. Until now, those wanting to explore the charming coastal city of Lulea, with its UNESCO old town, or enjoy the exhilarating adventures on offer in Swedish Lapland have had to travel via Stockholm. The new route makes a long weekend an easy option, whether this is a Northern Lights City Break, a Lodge retreat or a trip to the new Arctic Bath, as well as giving those on longer holidays more time exploring the destination.'
Best Served Scandinavia is developing a range of itineraries based on the new route including a Northern Lights City Break. On this three-night itinerary, guests can combine the city itself, with its Gothic cathedral, unique art galleries and innovative dining scene, with some adventures beyond the city in the winter wonderland of Swedish Lapland. Explore river valleys and snow-clad forests, or visit remote islands reached by a unique network of ice roads.   Northern Lights Photography tours, dogsledding, ice fishing or snowmobiling are also all an option. On the final night, there is an included Northern Lights dinner experience at Brandon Lodge, a magical log cabin on the edge of the frozen sea. It's perfectly poised for some spectacular aurora viewing, and the evening includes a two-course dinner and a chance to view the elusive Northern Lights, with the chance to keep warm by open fires at remote tepees and small huts. Price from £770 per person including return flights to Lulea and transfers, three nights b&b accommodation and a Northern Lights Viewing Dinner at Brandon Lodge.
For those looking for something a little more remote, yet still accessible from Lulea, Brandon Lodge offers the chance for an authentic cabin getaway in the remote Swedish wilderness.   Overlooking Bothnian Bay and the Baltic Sea, this secluded lodge, with just fifteen cabins, is the perfect base for exploring the many islands of the Lulea archipelago, one of the few places in the world where sea ice freezes over in the winter. By day, it makes for the perfect wintery playground for husky sledding, cross-country skiing and fatbiking, whilst night-time adventures include Northern Lights viewing on foot and by snowmobile-drawn sledges, wrapped in warm blankets. On Best Served Scandinavia's Winter Cabin Break at Brandon Lodge, many experiences are included, from wilderness skills and snowshoeing to the evening Northern Lights tour, as well as full board accommodation, with meals including Arctic delicacies such as home-smoked moose and reindeer meat. Price from £1,295 per person including return flights to Lulea, transfers, 3 nights full board accommodation at Brandon Lodge, Wilderness skills snowshoeing excursion, snowmobiling nature tour, Northern Lights tour by sled.
Swedish Lapland has a fantastic choice of other Arctic retreats which will also become more accessible thanks to the new route. The much-anticipated Arctic Bath is amongst these, as well as the beautiful Pine Bay Lodge, with just 9 en-suite rooms. They also include the beautiful Arctic Retreat – the finest in log-cabin getaways, hidden among Swedish Lapland's snow-clad world of frozen rivers and remote forests. Accommodation is in one of just three log cabins, complete with private hot tub, fire pit and, hopefully, floor-to-ceiling views of the aurora borealis, with included activities such as snowmobiling, husky sledding and expert-led Northern Lights hunts, as well as full-board gourmet dining. Price from £2,935 per person including return flights, transfers and 3 nights full board accommodation at the Arctic Retreat. Husky Sledding, a Northern Lights photography excursion and a snowmobiling trip are also included.  
Experience a newly created itinerary combining two nights at the Treehotel deep in Swedish Lapland's forests and a night and day at the Arctic Bath with relaxing saunas, treatments at the hotel spa and gourmet dining inspired by the region and showcased in an included five-course feast. This 4 day Northern Lights at Arctic Bath & Treehotel itinerary starts from £1,595 per person including flights to Lulea, transfers, 2 nights at the Treehotel on a half-board basis, 1 night at the Arctic Bath on half board basis and a 2 hour spa ritual at the Arctic Bath spa.
Best Served Scandinavia can also tailormake itineraries on request.
Flight times are as follows:
Mondays:       Lulea – London Stansted:   14.50/17.00 London Stansted – Lulea:   17.50/22.00
Fridays:         Lulea: London Stansted: 06.50/09.00 London Stansted – Lulea 09.50/14.00
For bookings or more information, call 0207 664 2241 or visit best-served.co.uk
About Best Served Scandinavia:
Founded in 2005, Best Served Scandinavia is an independent specialist tour operator offering tailor made holidays to Norway, Sweden, Finland, Denmark (including the Faroe Islands), Greenland and Iceland as well as selected holidays to Canada. They offer a winter and a summer programme, with holidays ranging from short breaks to longer fly drives and cruise combinations. Offering the widest geographical range of any operator to the region, Best Served Scandinavia prides itself on its expert knowledge, with a team of specialists with extensive experience in the region. Accommodation is selected according to strict criteria and ranges from budget/simple three star properties to top of the range luxury and boutique hotels.
Follow and Share with Jetsettersblog.