New Domestic Flights to Okinawa, Japan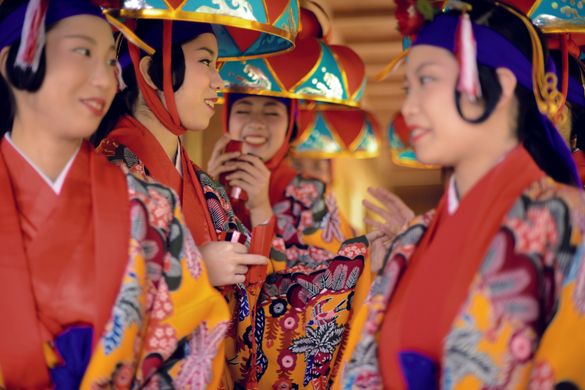 2
---
The announcement of new Skymark Airlines flights to Shimojishima has come as a welcome boost to those wishing to soak up the sun, sea and culture in Okinawa once current restrictions are lifted. The new domestic air routes from/to Shimojishima Airport will provide easy access to the Miyako Islands in Okinawa, Japan's sub-tropical paradise.  The four, new daily round-trip flights* from the Japanese carrier will become effective from 25 October and will connect to Kobe, Okinawa and Tokyo Haneda airports, making a trip to the idyllic islands of Okinawa an obvious extension from elsewhere in Japan.
With a year-round warm climate comparable to Hawaii, Miami and Cancun, Okinawa's 160 subtropical islands make the ideal winter sun destination to soak up the rays alongside exploring the prefecture's unique culture and history – unlike anywhere else in Japan. Boasting white sand beaches, crystal clear waters, stunning coral reefs and beautiful natural scenery, the archipelago is just three hours by air from Tokyo and is known for its ancient Ryukyu heritage. Here, Visit Okinawa recommends some of the best ways to experience the sun, sea and culture of the prefecture when travel to Japan resumes…
Soak up the rays on Okinawa's beaches
With 160 islands with stunning white sand beaches to choose from there's plenty of options for sun worshippers in Okinawa. From secluded coves on off-the-beaten-track remote islands such as Iriomote to vibrant sun spots lined with local eateries and bars on popular resort islands such as Ishigaki, there are sands to suit all holiday types. Travellers are recommended to visit the YaeYama island group which provides easy island-hopping opportunities for day excursions or overnight stays.
What's more, many of Okinawa's newest hotel openings boast a prime beach-front location including the luxurious 4* Hoshino Resort RISONARE Kohamajima on the beach-lover's paradise of Kohamajima, the Kariyushi LCH Resort located just yards from the popular Kariyushi beach on Okinawa's main island, village based HOSHINOYA Okinawa in Yomitan surrounded by stunning ocean scenery and fields of sugar cane and the Hilton Okinawa Sesoko Resort on Okinawa Island's picturesque west coast which all opened their doors in July.
Dive into Okinawa's coral reefs
With an abundance of colourful marine life and beautiful coral reefs, the seas around Okinawa are perfect for diving and draw in visitors from around the globe. Those that delve into the waters can expect to see an array of tropical fish, manta rays, hammerhead sharks, sea turtles and even humpback whales. Much of the prefecture's marine life can also be enjoyed from the shores as Okinawa's crystal-clear waters make it easy to snorkel in the shallows.
Popular dive spots include the Kerama Islands which boast a Japanese National Park, Kume Island that features endless sand dunes, the Miyako region perfect for divers who love to explore caves, the Yaeyama region where visitors can enjoy island hopping and Yonaguni Island that has mysterious undersea ruins. Whilst the peak diving season is from July-September, it is possible to dive in Okinawa year-round and the winter months provide a better chance to spot whales. Dive companies in the prefecture include the Prime Scuba Ishigaki, Honu Honu Divers and Marine House SEASIR  that all offer a range of excursions for all skill levels.
Uncover Okinawa's history and culture 
Okinawa was once an independent region, known for 450 years as the Ryukyu Kingdom and its distinctive culture can still be seen today in the prefecture's cuisine, performing arts, martial arts and crafts. Visitors to the islands can learn more about the ancient culture and try their hand at yachimun (pottery), bashofu (fabric making), bingata (fabric dying), cooking classes using traditional Okinawa ingredients famed for longevity and karate which was founded in the prefecture.
Those wanting to uncover more of Okinawa's history can visit the Shurijo Castle Park, a UNESCO World Heritage Site located in Naha. The main building of the castle suffered devastating fire damage in 2019, however parts of the park have now reopened to visitors to explore the castle's grounds, Hoshinmon gate, Seiden main hall and underground ruins of the original castle structure. The ongoing restoration work to the rest of the castle will be complete by 2026 but there's plenty more historical sites to see in Okinawa including the "Gusuku Sites and Related Properties of the Kingdom of Ryukyu" which are registered as a combined UNESCO World Heritage Site and span across the main island of Okinawa.
*New Flights Schedule to/from Shimojishima
Kobe – Shimojishima eff 25OCT20 1 daily
BC163 UKB1040 – 1320SHI 738 D
BC164 SHI1410 – 1615UKB 738 D
Okinawa (Naha) – Shimojishima eff 25OCT20 2 daily
BC541 OKA1110 – 1205SHI 738 D
BC547 OKA1700 – 1755SHI 738 D
BC542 SHI1240 – 1330OKA 738 D
BC546 SHI1515 – 1605OKA 738 D
Tokyo Haneda – Shimojishima eff 25OCT20 1 daily
BC613 HND1105 – 1435SHI 738 D
BC618 SHI1845 – 2125HND 738 D
About Okinawa:
Japan's southernmost prefecture, Okinawa, comprises 160 subtropical islands boasting a year-round warm climate comparable to Hawaii, Miami and Cancun. Just 3 hours by air from Tokyo and blessed with incredible natural beauty, from lush forests to crystal blue waters with abundant coral and golden sands, Okinawa is perfect for beach lovers and sport enthusiasts alike whilst still appealing to culture seekers thanks to its unique history and heritage. Using the bountiful fresh produce its natural environment produces, Okinawa's culinary culture is also unique and is believed to be a key factor in Okinawa's status as one of only five blue zones in the world recognised for longevity.
For more information, visit: www.visitokinawa.jp.
Follow and Share with Jetsettersblog.