New Florida Keys Accommodations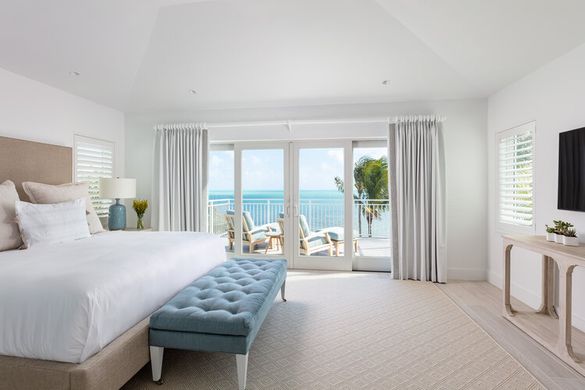 ---
\
With growing interest in self-contained stays and multi-generational group travel likely once borders reopen, new and upgraded resorts in the Florida Keys include villa, cottage and suite accommodations that provide space for social distancing among families and small groups.
Demand for Florida Keys travel is increasing following promising news of COVID-19 vaccines, according to Emma Cashmore, the UK destination director for the Florida Keys tourism council. Cashmore said that new luxury villa offerings will allow returning international visitors plenty of personal space along the 125-mile-long subtropical island chain.
"Bookings are picking up and we expect the Keys to benefit with more upscale self-contained accommodation, which travel experts believe will be a big trend in 2021 and beyond," Cashmore added.
Here are some highlights of the new accommodation for potential Florida Keys stays in 2021:
The Casitas at Cheeca Lodge: The 214-room, 27-acre oceanfront Cheeca Lodge & Spa in Islamorada has acquired 10 private villas, The Casitas at Cheeca Lodge, with personalised butler service, one- and two-bedroom units from 750 to 2,100 square feet, option of resort or ocean view, large furnished porches, full kitchens and bathrooms with rain showers and large soaking tubs. Guests are to have access to all the resort's signature amenities at the Casita area with a private beach, pool and tennis courts. Cheeca Lodge recently added a third pool — a zero-entry, 1,100-square-foot pool accessible to all guests — in addition to its nearby family pool and adults-only pool at The Spa. Prices at The Casitas start from $1,099 (approximately £815) per night.
Learn more about Cheeca Lodge's 'Safety and Well-Being Promise' here.
Islands of Islamorada: Set amidst 7.1 acres on Upper Matecumbe Key, Islands of Islamorada is a new luxury 30-unit enclave comprised of 22 three-story waterfront villas plus the Ocean House offering eight one-bedroom suites. Each villa has four bedrooms, full kitchens and outdoor recreation space, accommodating eight to 10 guests. The Ocean House's suites directly front the Atlantic Ocean, with each sleeping up to three guests. Minimum three-night stays are required, priced from $1,700 per night (approx. £1,260) for villas and from $600 per night (approx. £445) for suites, plus taxes. Guests can arrive by car, boat or seaplane.
Islands of Islamorada has implemented strict Covid-19 guidelines. Information is provided upon reservation and again at check-in, or by contacting the property at +1 786 233-8572 or www.theislandsofislamorada.com/contactus.
Kimpton Key West: The new 219-room Kimpton Key West collection has opened its fourth Old Town Key West boutique-style resort – with a fifth set to follow in early 2021.
Ella's Cottages on Simonton Street is set on historic grounds with its buildings formerly home to a beauty salon and a gambling house amongst other businesses. Open now and featuring just 22 guestrooms and cottages, including five suites, the stylish accommodation incorporates elegant summer cane beds and pops of colour on a fresh white palette. Ella's is the ideal base for groups and extended stays and prices start from $295 (approximately £220) per room per night.
Ridley House on Caroline Street is built on the site of an estate once owned by a wealthy industrialist and celebrated naturalist. Blending 1800s Carpenter Victorian and Bahamian eyebrow architecture, it features classic picket fences which create an enclave for low-hanging-trees, a sparkling pool and dining vignettes. The property's 23 guestrooms are spread across three historic homes with several boasting private porches. Likely to open in the first quarter of 2021, it is an enticing boutique getaway choice for honeymooners. Stays are priced from $335 (approximately £250) per room per night.
Learn more about 'So Fresh, So Clean,' Kimpton's Approach to Clean here.
Florida Keys tourism officials are urging visitors to take personal health responsibility and embrace protective measures that include wearing masks, social distancing and frequent handwashing. Venues and resorts throughout the Keys have added safeguards with enhanced sanitisation and safety measures as mandated by state laws and local ordinances. Masking and social distancing measures are mandated throughout the Keys.
For more information on the Florida Keys & Key West and current COVID-19 safety protocols, visit: www.fla-keys.co.uk