New Himalayan Adventures for 2019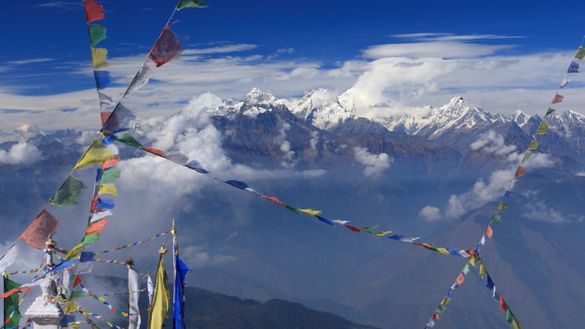 ---
31 years ago Mountain Kingdoms launched their very first treks in the Himalaya, pioneering new routes and bringing classic treks to an emerging audience of trekking enthusiasts eager to discover adventurous new destinations. More than three decades later we now offer over 60 treks, tours and walking holidays across Nepal, Bhutan, Tibet and northern India with the Himalaya still at the very heart of our expansive portfolio of worldwide holidays.
This year we have introduced 12 new Himalayan trips including special interest tours, wilderness treks and gentle walking holidays each giving a fresh new perspective on the country they visit.
Dagana Wilderness Trek, Bhutan
16 days | trek | departs: April & October
Mountain Kingdoms is the first British company to offer a trek into the Dagana region, deep in the southern reaches of Bhutan. There are unlikely to be any other trekkers on the trail that crosses high mountain passes before descending past sacred lakes into the dense, tropical forests of Dagana.
https://www.mountainkingdoms.com/holiday/dagana-wilderness-trek
Weavers' Trail, Bhutan
18 days | walking holiday | departs: September
A specialist walking holiday led by renowned textile artist, Sue Lawty, that visits artisan weavers in their homes, explores the important textile centres of Bhutan, attends a festival and spends two nights experiencing life with a Bhutanese family in a village homestay.
https://www.mountainkingdoms.com/holiday/weavers-trail-bhutan
Thunder Dragon Trails in Style, Bhutan
11 days | walking holiday | departs: March & October
The perfect introduction to Bhutan that combines easy-paced walks in the lush countryside and exploration of the key cultural and scenic sights with indulgent nights spent in Bhutan's finest hotels. Each departure also attends one of Bhutan's most significant and flamboyant festivals.
https://www.mountainkingdoms.com/holiday/thunder-dragon-trails-in-style
Gentle Walking Eastern Bhutan
17 days | walking holiday | departs: October
Travelling from Bumthang to Tashigang this is an exploration through gentle walks of the lesser visited highlights in the east of the Thunder Dragon Kingdom. Here there are impressive dzongs, isolated villages and a way of life little touched by the modern world.
https://www.mountainkingdoms.com/holiday/gentle-walking-eastern-bhutan
Cultural Cycling Tour of Bhutan
18 days | cycling tour | departs March & November
An exhilarating ride from Paro to the cultural heartlands of central Bhutan conquering high passes and enjoying freewheeling descents with stops en route to explore villages, dzongs and ancient monasteries. There's also a visit to a local festival.
https://www.mountainkingdoms.com/holiday/cultural-cycling-tour-of-bhutan
A Painting Tour in Nepal with Susanna Bailey
13 days | tour | departs: November
An inspirational tour that visits the medieval city squares of the Kathmandu Valley and the picture-perfect mountainscapes of the Annapurnas. Led by accomplished artist, Susanna Bailey, there is ample opportunity to set up easels and capture the evocative buildings, scenery and people that make Nepal such an artist's delight.
https://www.mountainkingdoms.com/holiday/a-painting-tour-in-nepal-with-susanna-bailey
Walking & Wellness Nepal
11 days | walking holiday | departs: April & October
Stylish, holistic resorts, the rich cultural heritage of Nepal and the tranquil beauty of the Himalaya provide the perfect environment for reinvigoration and reflection. Combined with a range of gentle walks, well-being activities and enhancing treatments this holiday is guaranteed to revive mind, body and spirit.
https://www.mountainkingdoms.com/holiday/walking-wellness-nepal
Mohare Danda Community Lodge Trek, Nepal
11 days | trek | departs: March, October & November
This short, relatively low altitude trek follows a new community trail through classic mountain scenery in the Annapurna foothills. Staying in homestays and community run eco-lodges it is an ideal introduction to the traditional Nepali way of life and a chance to give back to the local villages.
https://www.mountainkingdoms.com/holiday/mohare-danda-community-lodge-trek
Namun La, Annapurna Wilderness Trek, Nepal
15 days | trek |departs: April and September
For anyone seeking a relatively short but challenging Himalayan trek through spectacular and genuinely remote mountain scenery, this little-known gem in the heart of the Annapurna mountains is the perfect choice.
https://www.mountainkingdoms.com/holiday/namun-la-annapurna-wilderness-trek
Langtang & the Laurebina La, Nepal
19 days | trek | departs: April & October
With Langtang being re-built and the trekking trails re-opened following the devastating earthquake of 2015, we are delighted to re-introduce this classic tea house trek that offers incredible mountain views and cultural interest yet is only a few hour's drive from Kathmandu.
https://www.mountainkingdoms.com/holiday/langtang-the-laurebina-la
Snow Lake Wilderness Trek, Pakistan
23 days | trek | departs: August
One for the true adventurer, this rugged, wild and remote high mountain trek travels into the icy heart of the Karakoram Mountains, traversing glaciers and crossing passes over 5,000m to reach spectacular Snow Lake before returning to civilisation.
https://www.mountainkingdoms.com/holiday/snow-lake-wilderness-trek
Stok Kangri Climb, 6,153m/20,187ft
15 days | trekking peak | departs: July & August
A superb summer challenge in the Himalaya, with this ascent of a 6,000m plus peak. To acclimatize there is a spectacular trek in the Zanskar mountain range crossing two high passes before reaching the base camp of Stok Kangri itself.  The ascent of the southeast ridge to reach the summit is a non-technical climb, culminating in a stunning sunrise panorama.
https://www.mountainkingdoms.com/holiday/stok-kangri-climb-6153m20187ft
About Mountain Kingdoms:
Mountain Kingdoms is an independent, UK based, small group holiday specialist with over 30 years' experience. Now offering worldwide walking holidays, pioneering and classic treks, trekking peaks, cultural tours, cycling holidays, walking safaris and adventure cruises. Mountain Kingdoms is committed to responsible tourism and offers value for money with an emphasis on quality.
Visit http://www.mountainkingdoms.com for all of our new 2019 holidays and updates on all our worldwide adventures.
Follow and Share with Jetsettersblog.