New Hotel, Fantasia Bahia Principe Tenerife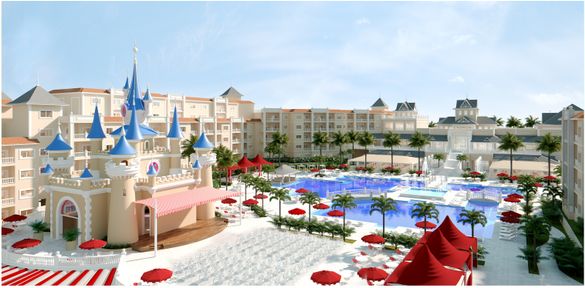 ---
New five-star all-inclusive hotel is set to open under the new Fantasia Bahia Principe brand, on the Canary Island of Tenerife in November.
The new hotel will be launched as part of Bahia Principe Hotels & Resorts latest hotel brand called Fantasia – a family-friendly concept offering thematic hotels to travellers of all ages seeking unforgettable family holidays.
Bahia Principe Hotels & Resorts is a leading all-inclusive hotel chain belonging to Grupo Piñero that, with the opening, brings together 25 four and five star establishments that have been grouped into four brands – Sunlight Bahia Principe, Grand Bahia Principe, Luxury Bahia Principe and the new Fantasia Bahia Principe. Located in the Dominican Republic, Mexico, Jamaica and Spain, each property offers a different holiday experience to suit all types of travellers.
Nearly two years after the opening of the widely successful Luxury Bahia Principe Fantasia in Punta Cana in the Dominican Republic (which will be rebranded as Fantasia Bahia Principe Punta Cana from November 1st), the new Tenerife property will be the second Fantasia-class hotel offering a whimsical setting and range of accommodations, activities and dining options that cater to guests of all ages.
Bahia Principe Hotels & Resorts joins three existing Bahia Principe properties in Tenerife, theSunlight Bahia Principe San Felipe located on the north of the island, and the Sunlight Bahia Principe Costa Adeje and Sunlight Bahia Principe Tenerife both situated in the south.
Situated on Tenerife's Costa San Miguel, Fantasia Bahia Principe Tenerife is set to become one of the region's most upscale – and largest – properties. With over 370 rooms, including Family Master Suites (capacity five people) and swim-up rooms (adults only), themed areas, five restaurants and six bars, the all-inclusive hotel will set the standard in comprehensive, multi-generational breaks. The hotel's main feature – a mesmerising fairytale castle in the centre of the property – will keep all visitors entertained with spectacular nightly show including a video mapping display and a wide range of entertainment based on the mythology and story of Tenerife's history and culture.
With four expansive swimming pools, a children's clubs, a Bahia Spa (including tailor-made treatments for kids) and a teens club, known as "THE LOFT" with a private disco and leisure recreational area, and a splash-filled waterpark, Fantasia Bahia Principe Tenerife is a great hang out for children. The hotel will also offer guests a personalised concierge service and complementary wifi will be available throughout the hotel.
"At Bahia Principe, we take pride in providing exceptional experiences for family members of every age, interest and background," said Lluisa Salord, senior vice president of global sales, contracting and distribution, Grupo Piñero. "As a family-owned and operated company, we understand the value of family bonding and the importance of providing vacation settings for loved ones to come together. The response to our Fantasia concept in Punta Cana has been truly overwhelming, and now we are thrilled to expand the experience to Tenerife, further solidifying our positioning as an all-inclusive innovator in the market."
Travellers interested in booking the hotel can contact their travel agent or visit www.bahia-principe.com.
A one night stay at the Fantasia Bahia Principe Tenerife in a standard double room is priced from £175 based on two adults sharing.
Bahia Principe Hotels & Resorts' 'Happiness Sale' runs from 8th September to 2nd October with discounts across all properties for travel up to the end of October 2018.  Information on discounts is available at www.bahia-principe.com/offers/happiness-week or through your tour operator.
For more information on Bahia Principe and Fantasia Bahia Principe Tenerife, please visit: www.bahia-principe.com
Renderings are available for download HERE.
–ENDS–
About Bahia Principe Hotels & Resorts
Grupo Piñero's Bahia Principe hotel chain has a presence in the Dominican Republic, where it is the market leader in terms of the number of hotel beds, as well as the Riviera Maya (Mexico), Jamaica and Spain (in the Canaries and Balearic Islands). Year after year, the Bahia Principe hotels receive a large part of the most prestigious international awards for quality that are given in the vacation industry. Alongside its high-end hotel facilities, the Piñero family's company also manages two large luxury home resorts: Playa Nueva Romana Residences & Golf (Dominican Republic) and Bahia Principe Rivera Maya Residences & Golf (Mexico). The company has also developed other lines of business in the tourism industry, the most notable of which include the tour operator business (Soltour and BP-USA Travel) and guest reception services (Coming2).
Bahia Principe Hotels & Resorts is represented by LOTUS. For more information a/o images, please contact Mi
nty Woolgar or Lucy Keenan (Minty@wearelotus.co.uk / Lucy@wearelotus.co.uk / 0207 953 7470).
Follow and Share with Jetsettersblog.