New in Cairns + Great Barrier Reef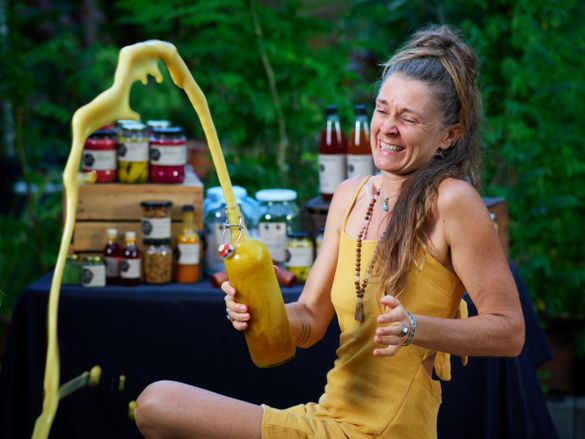 ---
Tourism operators in Cairns & Great Barrier Reef have been innovating and reinvigorating while their doors have been closed and now they are ready to take visitors on a new journeys exploring the largest reef on Earth, the world's oldest rainforest and the accessible outback.
Daintree Food Trail launched
Queensland's northern-most mushroom farm, a goat farm and the effervescent Penelope Kefir Queen are among almost 30 producers and members of the newly launched Daintree Food Trail. Celebrating the diverse produce and farm gates on the Great Barrier Reef Drive between Port Douglas and Cape Tribulation, the tour can be done on your own with the downloadable map or with a chef as a guide.
https://www.daintreefoodtrail.com/
Top tower view
Don't feel like the odd man out if you don't want to bungy jump, tackle the new Tower Climb and Lookout instead and cheer your mates on. The 196-step climb is rewarded with a top view of the Great Barrier Reef and the chance to photograph your friend's expression as they take the plunge. The Tower Climb and Lookout has a lunch and dinner special including a burger, soft drink and chips for $19, or $9 for a child.
Taste the tropics
Taste locally grown wagyu beef and tropical delicacies at KUR-Cow Farm's inaugural Taste of Tropical North Queensland on July 12. Breakfast, lunch, and sunset BBQ packages are available with ATV tours, a hayride and horse riding offering a cowboy experience at the Kuranda property.
https://www.kurcowfarm.com.au/
See stars underwater
Marine biologists at Reef Magic Cruises are installing Reef Stars at their Marine World Pontoon. These provide a stable base for coral to grow on with the aim of increasing coral cover. Guests will glide over the Reef Stars on the glass-bottom boat tour.
https://www.reefmagiccruises.com/
Sip gin at the distillery
Rediscover the summer flavours of mango, finger lime and ruby grapefruit with the local Wolf Lane Distillery Tropical Gin at the cellar door. Three Wolves kickstarted Cairns city's small bar scene when they opened their namesake bar in a laneway, followed by the below street-level Flamingo's Tiki Bar, and have just opened the gin bar at the Wolf Lane Distillery.
https://www.wolflanedistillery.com.au/
Indigenous art goes online
The Cairns Indigenous Art Fair has taken Queensland's biggest gathering of Aboriginal and Torres Strait Islander art online. The Cultural Evolution digital program opens on August 14 with the Opening Night ceremony followed by a series of virtual galleries and exhibitions, a fashion showcase, children's program and performance.
Introduce the kids to diving
Children aged from 8 to 11 who can't wait until they turn 12 to learn to dive can try scuba diving for the first time with Divers Den's PADI-endorsed program for kids. The dive is done in a pool where you can also snorkel and scoot about with an underwater scooter.
https://www.diversden.com.au/dive-courses/scuba-kids/
Awesome outback stay
Mt Mulligan Lodge is the only Australian property to make the Conde Nast Traveller 2020 Hot List. The Northern Escape Collection property is on a working cattle station beneath the awesome Mt Mulligan, a tabletop mountain that can be seen from miles away in the outback. It is reopening with the special rate of $800 per night, all-inclusive for two guests – a saving of $900 per night.
https://www.mountmulligan.com/gday-queenslanders-offer/
Cooktown Expo reimagined
Cooktown will mark the 251st anniversary of Captain Cook's landing in the Endeavour River as part of the Cooktown and Cape York Expo 2021 – The Rising Tide on June 11-20, 2021. The event will focus on reconciliation, regeneration and economic recovery to put the spotlight on the history, adventure, culture and natural beauty of Cooktown and Cape York.
https://www.facebook.com/cooktown2021/
Reef operators unite
Passions of Paradise, Down Under Cruise and Dive, and Ocean Freedom have agreed to cooperate on the days they run snorkelling and diving tours to the outer reef by operating on alternate days when they relaunch their Cairns tours on July 10.
passions.com.au; downundercruiseanddive.com.au;
Be mindful and safe
Cash is no longer king at the Crystalbrook Collection with the group becoming Australia's first cashless hospitality company in response to COVID-19. Riley, a Crystalbrook Collection Resort, will reopen with the group's Mindfully Safe program which donates $5 from every direct booking to Beyond Blue. Guests can destress with relaxing Spotify playlists and meditations, as well as yoga, barre, Pilates and art classes on the in-room iPads.
https://www.crystalbrookcollection.com/
Follow the taste leader
Brett's Outback Tasting Adventures has launched tag-a-long tasting adventures from Cairns, the Northern Beaches and Port Douglas taking in the farm gates of the Atherton Tablelands. Try locally grown coffee, nuts, tropical fruits, cheese, fruit wines and spirits and listen to the commentary via CB radio.
https://www.outbacktastingtours.com.au/
Encore for film festival
The Port Shorts Virtual Film Festival hosted by Australian actor Stephen Curry will be held on October 16-17 in Port Douglas. The free festival will showcase the best of Port Shorts from the past five years.
Ned Kelly Series on show
Sidney Nolan's Ned Kelly Series will be on display at Cairns Art Gallery until August 9 as part of a national tour of the Australian masterpieces. Cairns is the only Queensland venue hosting the 1940s paintings from the National Gallery of Australia Collection.
https://www.cairnsartgallery.com.au/
Free garden tours
Discover just how useful the rainforest was in the lives of the Aboriginal people in the tropics and marvel at the variety of heliconia on a free guided tour with the Friends of the Botanic Gardens. The volunteers also conduct birdwatching tours at the Cairns Botanic Gardens.
https://www.cairns.qld.gov.au/facilities-sport-leisure/botanic/tours
Performers back on stage
The curtain has finally lifted at the Cairns Performing Arts Centre (CPAC) and Tanks Arts Centre with eight events scheduled including classical music, comedy, a film festival and a reggae band. An Evening with David Hudson is the first event on July 11 at CPAC and the last of the series is Greta Stanley, who can be heard on Triple J, at the Tanks on August 7.
https://www.cairnsperformingartscentre.com.au/
https://www.tanksartscentre.com/
Follow and Share with Jetsettersblog.