New in Melbourne and Victoria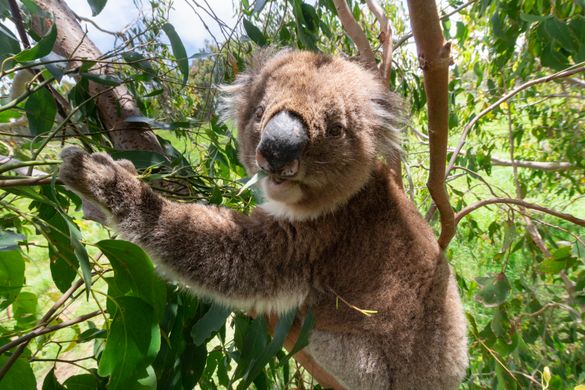 ---
The start of 2021 might not have been as positive as we all expected. However, the Australian state of Victoria keeps working non-stop behind the scenes to be able to welcome British visitors as soon as the world gets back on its feet. Some of the new and latest attractions include a new eco-tourism activity to spot wildlife in a totally new way and the launch of world's highest cliff camping experience (suspended over a sheer 300 metre cliff face). There are further exciting activities, attractions, restaurants and hotels in the pipeline for when the time is right to plan the next trip to Victoria.
WILDLIFE
NEW 'Wildlife Wonders' ecotourism experience that gives back opening next month
Victoria's iconic Great Ocean Road is welcoming Wildlife Wonders on 12 February, a new eco-tourism activity for visitors to experience the unique wildlife of the region in a totally new way. Guided by a conservationist guide, who will interpret the sights and sounds of the surrounding bush, visitors will have the chance to encounter unique wildlife living freely in a protected bushland environment overlooking the Southern Ocean. The one-hour guided tour will follow a gentle meandering path which will be wheelchair friendly and suitable for children and older adults. It is the first of its kind experience with Australia's iconic koalas and kangaroos featuring alongside more elusive species such as potoroos and bandicoots. The experience has been designed by Brian Massey – Greens Master for 'The Lord of the Rings' films, an art director of 'The Hobbit' and Landscape Designer of the highly-successful 'Hobbiton' in New Zealand. Wildlife Wonders has been developed by the Conservation Ecology Centre and each visit will be supporting the centre's ecological research and environmental conservation projects.
https://www.conservationecologycentre.org/wildlifewonders/
ATTRACTIONS
NEW eco adventure company, Wild Adventures Melbourne (WAM!), launches
Wild Adventures Melbourne (WAM!) is a brand new fun-loving eco adventure company offering a wide variety of adventures on Melbourne's doorstep. WAM! offers a mixture of sunrise, all day and/or sunset adventure tours for small groups – these include stand up paddle boarding, biking and bushwalking, wildlife spotting and indulgence at sustainably conscious cafes, wineries and hot springs. All these activities are carried out in the middle of nature and less than an hour from Melbourne. WAM! also runs as a social enterprise and donates to inspirational Australian charities and not-for-profit organisations that support the protection and conservation of the local lands, waters, and seas. They also run with sustainability at the forefront by using sub-zero waste in all experiences, actively leaving destinations in better and cleaner conditions than before.
https://wildadventuresmelbourne.com/
ACMI (Australian Centre for the Moving Image) to re-open in February 
After a $40 million renovation, five years in the making and a two-year closure, Melbourne's ACMI (Australian Centre for the Moving Image) is set to make its much-anticipated return on 11 February. Once doors re-open, the newly renovated venue will showcase an expansion of new spaces and exhibitions. These include a futuristic car installation paying homage to Mad Max, and a nifty new feature called The Lens — a handheld device for visitors to use while they are browsing the galleries and exhibitions. Other big installations include state-of-the-art cinemas, the new high-tech Gandel Digital Future Labs and a major work by Gunditjmara Keerray Woorroong artist Vicki Couzens.  ACMI is the home of Melbourne's best and most popular film festivals, great Australian and international cinema and regular screenings.
https://www.visitmelbourne.com/regions/melbourne/things-to-do/art-theatre-and-culture/art-galleries/acmi
'The Garden of Innocence' opens at Innocent Bystander winery
Innocent Bystander is a cellar door and restaurant in Victoria's Yarra Valley, producing a variety of wines from delectable Pinot Noir to effervescent Moscato. The venue has recently expanded and introduced a new wine garden called The Garden of Innocence. This newest leafy oasis is nestled between Grace Burn Creek and the Innocent Bystander cellar door, where guests can enjoy award-winning wine in a relaxed garden space. Last year, Innocent Bystander launched a brand new cider made in collaboration with Yarra Valley's Hargreaves Hill, made with local pink lady apples. Along with ciders and Innocent Bystander's extensive wine list, guests can enjoy authentic wood-fired pizzas and classic paella, to house-cured salmon gravlax and decadent cheese boards, all crafted with sharing in mind.
https://www.innocentbystander.com.au/
FOOD & WINE
Hero, from Melbourne celebrity chef Karen Martini, to open in February
The opening of the Australian Centre for the Moving Image (ACMI) in February will also bring a brand new restaurant to Melbourne called Hero, from celebrity chef Karen Martini – an acclaimed Melbourne restaurateur, cookbook author and TV presenter. To support Victorian producers, local produce will be at the forefront and the main focus of Hero's menu, which will also reflect Karen's classical and holistic approach to cookery. Behind the venue, which will  channel 1960s French-Italian décor, is Martini's new hospitality and events group, which will also take charge of ACMI's event spaces, a new cinema-adjacent snack bar, and a coffee cart at the Flinders Street entrance.
https://www.acmi.net.au/visit-us/food-and-drink/
Australia's first zero-carbon street food kitchen lands in Melbourne
Recently opened within the vicinity of Melbourne's most famous meeting point, Federation Square, is Atiyah, which means "gift of love". This new Lebanese themed kitchen is Australia's first 100% renewable-run street food zero-carbon kitchen. It runs on 100% renewables with an on-site rainwater filtration system, solar panels, a Tesla battery, a generator powered by waste cooking oil and food waste being transformed into nutrient-rich soil for local community gardens. In terms of the food offerings, guests can expect to see a range of traditional dips and manakish (handmade flatbreads) as well as gluten free, vegan and vegetarian options. Guests will also be able to view numbers showing the carbon emissions being saved with each dish and drink.
Mejico arriba! in Melbourne
A colourful Mexican restaurant has joined the ranks in the heart of Melbourne's CBD. From Mexico City to the Yucatan Peninsula, regional flavours and techniques are united in the dishes at Mejico, creating some of the finest modern, market-to-table Mexican cuisine in Melbourne, always using local produce. One of the restaurant's most unique features is their 'tableside guac', guacamole which is prepared fresh at each table and is served with plantain chips. The venue space features a downstairs dining space in a courtyard and glasshouse setting, while upstairs guests will find a tequila bar and margarita lounge.
https://mejico.com.au/melbourne
HOTEL NEWS
The world's highest cliff camping experience arrives at Victoria's Mt Buffalo
Those looking for some unique accommodation for the future should consider Australia's first and the world's highest commercial portaledge cliff camping, which has recently open in Victoria's High Country. Beyond the Edge offers an adventure like no other, as it includes a thrilling overnight stay on a portaledge suspended over a sheer 300 metre cliff, facing the stunning Mount Buffalo gorge. Guests will be assisted by two expert guides and get a comprehensive training session with multiple abseils and cliff ascents to get campers ready for their expedition. Dinner and breakfast are provided, as is all the safety equipment. The cost for the camping experience is $799 per person (approximately £460), based on two person booking.
https://www.unleashed-unlimited.com.au/beyond-the-edge
NEW overnight glamping experience at award-winning Peninsula Hot Springs
Peninsula Hot Springs, Victoria's first natural hot springs and day spa centre, has launched 10 premium glamping tents for guests to extend their visit at this award winning wellness destination. Designed especially for two, the new glamping accommodation is nestled in the scenic surrounds of the hot springs and inspired by the natural environment, featuring private decks, en-suite bathrooms, king beds, and thermally heated concrete floors. With the launch of onsite accommodation, Peninsula Hot Springs has also launched romantic 'moonlit bathing', where guests will be able bathe overnight under the stars between 11pm and 5am – included in the new overnight stay at the luxurious tents. Peninsula Hot Springs is located on the Mornington Peninsula, just 90 minutes from Melbourne. An overnight stay at the new tents costs $650 for two (approximately £370), including a continental breakfast.
https://www.peninsulahotsprings.com/glamping/
NEW luxury Airstream stays at Michelton
Michelton, one of Victoria's leading wine producers, has expanded their guest experience in the High Country with the launch of their new luxury Airstream stays. Situated just a short stroll from the Mitchelton Hotel, guests will find seven full-size, sparkling-new Airstream RVs which will offer a unique stay all year-round. The Airstreams have their own deck area with furniture and a barbecue, as well as a minibar stocked with a selection of snacks and Mitchelton wines. The interiors reflect the vintage nature of Airstreams, which were first designed and manufactured in the 1920s, with some modern enhancements (fully equipped with water, plumbing, electricity and gas). Guests will have full access to everything on offer at the Estate, including the Gallery of Aboriginal Art, as well as a day spa, swimming pool and gym facilities. Prices start from $300 per night (approximately £175) for two adults.
https://mitchelton.com.au/airstream-hotel/
W Melbourne set to open in February 2021
W Hotels Worldwide is set to open its second Australian property in Melbourne next month. The showpiece of Cbus Property's $1.25 billion Collins Arch mixed-use precinct, W Melbourne aims at "shake up the city's hospitality scene with its unrivalled brand of rebellious luxury." W Melbourne will embody the city's creative spirit, igniting guests' desire to soak up the brand's take on luxury in Australia's most liveable city. The hotel's bold design and innovative programming will play host to 294 guest rooms and suites and four restaurants and bars, fitness facilities and a gold-roof adorned indoor pool, as well as meeting and event space.
https://www.marriott.co.uk/hotels/travel/melwh-w-melbourne/
OTHER NEWS
New Victoria colouring book to keep kids entertained during lockdown 3
Visit Victoria has just launched a colouring book about the region that promises to keep children busy and entertained during the third lockdown. The book, called Where In The World Is Melbourne?, is a story about two different families. One family, who live overseas, are dreaming about the perfect holiday, which just so happens to be in Victoria. The other family, from Melbourne, are living out these dreams in their day-to-day life, as they explore every corners of the state. The book, written by Nic Cooper, takes children and parents on a journey to Melbourne and Victoria through engaging stories, fun designs and animated video. Furthermore, the book can be read back to front. Children can day-dream with the overseas family, as they plan the perfect holiday to Melbourne; and then flip the page back and begin again, from the perspective of the Australian family. A free copy of the book can be downloaded here: https://www.visitmelbourne.com/features/where-in-the-world-is-melbourne

Follow and Share with Jetsettersblog.