New in Melbourne and Victoria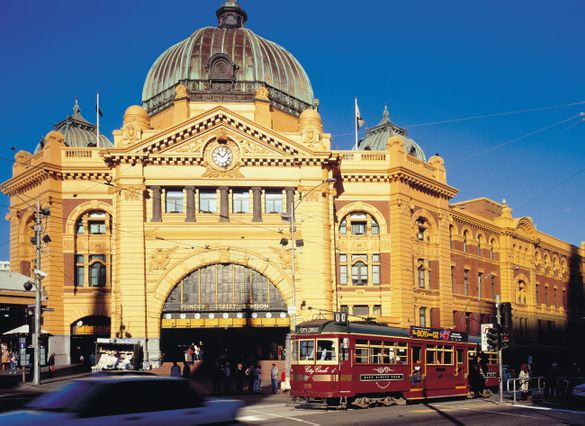 ---
There's no slowing down in Victoria this season as the exciting state continues to prove itself as Australia's capital for sport, fashion, food and much more. With Melbourne Fashion Festival, the Australian F1 Grand Prix and the Melbourne Food & Wine Festival in March, the city is alive with the sound of movement – whether that is in high heels or on four wheels! And, of course, Melbourne, recently voted as the world's happiest city, has a number of new culinary delights for visitors to tuck into.
Melbourne voted as the happiest city in the world
Melbourne is not only the most liveable city in the world, but also the happiest, according to the latest Time Out City Life Index – put together using the answers of 15,000 people from 32 cities around the world. In the survey, 89% of Melburnians said they enjoyed living in the city and two out of three said they find it easy to make friends. The bohemian neighbourhood of Fitzroy, packed with cool art galleries and eat streets, was voted as the city's most-loved suburb. In the same Index, Melbourne came in at number 4 as the world's most exciting cities, ahead of London (5th), Barcelona (10th) and Sydney (28th).
www.visitmelbourne.com/Regions/Melbourne
Formula 1's season opener arrives in Melbourne this month!
The Formula 1 Australian Grand Prix is the ultimate playground for the world's biggest stars – and visitors to Melbourne are gearing up to watch as the fastest cars in the world tear up the Albert Park Grand Prix Circuit at the 2018 season opener, taking place 22-25 March 2018. Racing fans will experiene an electrifying atmosphere as Australia's very own Daniel Ricciardo vies for a podium spot in front of his home crowd. Both keen motorsports fans and those who want to soak in the glamour of this star-studded event will experience a new level of excitement and opulence.
www.visitmelbourne.com/regions/Melbourne/Events/Sports/Motor-sport/2018-Formula-1-Australian-Grand-Prix.aspx
Melbourne Food and Wine Festival is back this month
From 16-25 March, the internationally acclaimed Melbourne Food and Wine Festival returns to shine the spotlight on Victoria's incredible culinary offering. With the theme of 'Community', more than 250,000 food and wine lovers are expected to gather for the 26th edition of the foodie festival. The state-wide celebration includes over 300 events turning the region into a gastronomic playground, ranging from regional longest lunches, historic cocktail journeys, a gourmet salt lake sunset dinner and a dumpling making party. Food and wine lovers are encouraged to explore within Melbourne and in the outer regions, such as the Yarra Valley, with the Wine and Herb Festival and the Mornington Peninsula picnic.
www.melbournefoodandwine.com.au
New lookout point set for the Great Ocean Road's famous 12 Apostles
The 12 Apostles, one of the most famous landscapes along Victoria's world-famous Great Ocean Road, will have a new viewing platform by 2020. Architect Denton Corker Marshall has been appointed to design a masterplan to revitalise a 28-kilometre stretch of the scenic Great Ocean Road. The proposed lookout at "the Saddle", one of three designated viewing areas for the Twelve Apostles, will be an angular building perched on the clifftop. The building will create a "bold counterpoint" to the natural environment, which the architects say will allow visitors to experience the scale and drama of the landscape. Two other facilities are also planned for the revitalisation of the "Shipwreck Coast" of Victoria (from Cape Otway to Port Fairy): a new lookout located at Loch Ard Gorge and a new pedestrian bridge in Port Campbell Creek.
www.visitmelbourne.com/Regions/Great-Ocean-Road/Things-to-do/Nature-and-wildlife/Beaches-and-coastlines/12-Apostles
Melbourne Art Fair will focus on solo shows for its 15th edition in August
The 15th edition of the popular Melbourne Art Fair will feature 40 leading galleries from Australia, New Zealand and Southeast Asia, presenting a curated selection of some of the newest and most respected names in contemporary art. The Fair returns in August with a focus on solo shows and considered group presentations from both new and established galleries. Some of the recent and long-term participants returning to Melbourne Art Fair include important Melbourne galleries such as Anna Schwartz Gallery, Alcaston Gallery, Tolarno Galleries and Anna Pappas Gallery, amongst many others. Melbourne Art Fair will also welcome five galleries that will be returning after a multi-fair break including Melbourne-based STATION. Melbourne Art Fair is the flagship event of Melbourne Art Week, set to take place in Southbank 2-5 August 2018.
Melbourne to host the ICC World Twenty20 finals in 2020
Melbourne's world-renowned Melbourne Cricket Ground (MCG) will be hosting the men's and women's finals of the ICC World Twenty20 in 2020, strengthening the city's reputation as the sporting and events capital and a global events city of Australia. The ICC World Twenty20 is the International Cricket Council's (ICC) 'World Cup' for its fastest growing and most popular tournament and is considered one of the largest sporting events in the world. For the first time in its history, the ICC World Twenty20 will feature two stand-alone events as the men's and women's tournaments will be scheduled for different times of year. This landmark move will see Melbourne become the home of both the men's and women's finals – the men's competition will take place from18 October to 15 November 2020 and the women's tournament from 21 February to 8 March 2020.
www.visitmelbourne.com/regions/Melbourne/Things-to-do/Entertainment/Spectator-sports/VV-Melbourne-Cricket-Ground.aspx
RESTAURANT & FOOD NEWS
Hanoi Hannah opens a new Vietnamese restaurant in Richmond
Commune, the hospitality group behind Hanoi Hannah's Vietnamese restaurants, has opened a new eatery in Richmond, a neighbourhood that food lovers should not miss while in Melbourne. Launched at the end of February, "New Quarter" is a replica of the group's sister restaurants in Windsor and Elsternwick. New Quarter's expansive kitchen has made room for a menu that explores the breadth of Vietnam's signature cooking styles. Its dishes range from chargrilled lemongrass chicken basted in young coconut juice to crispy soft shell crab salad tossed with green mango chili caramel and garlic crumb.
https://hanoihannah.com.au/newquarter/
New restaurant, Laura, opens at sculpture park Point Leo Estate
Laura is the new, more refined dining restaurant at Pt Leo Estate, considered by many as regional Victoria's premier destination for art, food and wine – located on the southern-most tip of the Mornington Peninsula (90 mins from Melbourne). Named after the celebrated Jaume Plensa sculpture, Laura is Culinary Director Phil Wood's more considered culinary expression of the Mornington Peninsula and offers diners a set-course menu of up to six dishes, all of which tell a story of this cool-climate maritime region. The restaurant has idyllic views towards Western Port Bay and is set to become a premier destination for all those who love great food, wine and art. Two new sculptures will also join the 50-strong line-up in the next few months at Point Leo Estate, a 134-hectare sculpture park which opened its doors in October 2017.
Meet Galah, Melbourne's new Australian-themed cocktail bar
Opened in early January, Galah celebrates top Australian produce, native ingredients and locally crafted drinks – all in a very relaxed atmosphere. Located in a resorted old storage facility, Galah's menu includes a variety of local cheeses and cured meats, wines from across Victoria and Australia, and signature cocktail creations such as the "Bush Pepper Man". The name of "Galah" comes from the pink cockatoos, which are said to lead to a drink when lost in the "bush". Galah is located in the High Street of Windsor, a neighbourhood in south Melbourne that has become a foodie's delight with its outstanding array of bars and restaurants.
Table is set for Victoria's High Country Harvest
The Victorian High Country's annual salute to its amazing produce, chefs, winemakers and brewers returns for its sixth big year across three long weekends from Friday 4 to Sunday 20 May 2018. The programme for this year's festival will feature more than 50 mouth-watering events in beautiful village cafes, restaurants, wineries and farms from the lesser-known Victorian region of the High Country. Sustainability, stunning scenery and a touch of foodie royalty are all on the menu. A perfect excuse for a road trip, High Country Harvest visitors will have the chance to taste, forage and savour the festival ambience at village bonfires, farm gates, bars and wineries and at masterclasses with chefs, winemakers and brewers. The region of the High Country is located 2-3 hours from Melbourne.
For information on visiting Melbourne and the Australian state of Victoria please go to: www.visitmelbourne.com and www.australiaroadtrip.co.uk
Follow and Share with Jetsettersblog.