New Jet2 Flight to Lleida Opens Up Catalonia's Winter Sports Offering to British Holidaymakers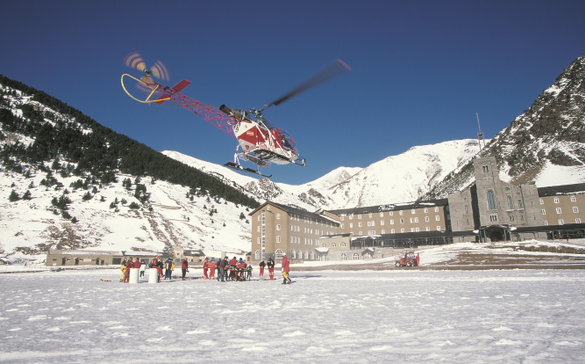 ---
Jet2 is launching a new flight from London Stansted to Lleida on 23 December 2018 for the 2018/2019 winter season, opening up the ancient city in the North Eastern region of Catalonia to British holidaymakers. The route will operate on a weekly basis, departing on Sundays, providing a capacity of 2,500 both ways during the three-month period and direct access to Catalonia's lesser known winter attractions.
Marxa Beret celebrates 40th Anniversary- 3 February 2019
2019 will see Lleida celebrate the 40th anniversary of the most famous cross-country skiing race in Spain, the Marxa Beret. The international event brings together over 1,000 participants from all over the world, attracting sporting enthusiasts and spectators of all ages to watch the historical cross-country ski race. The race takes place in Pla de Beret, an area which provides slopes for all levels including a 42km race for expert skiers, a 21km race for those at intermediate level and a smaller 10km race for novices in the sport. For more information visit: www.marxaberet.com/en/
Discover the Baqueira Beret province by Snowmobile or Dog-sledding
The Baqueira Beret province is home to the mountain refuge Amics de Montgarri, located in the picturesque town of Montgarri. Tucked away in the North-Eastern corner of the Valley of Aran, the refuge found in the old rectory of the town, next to the Church "Mother of Dieu de Montgarri", has been restored to its former glory offering visitors a mountainous retreat for exclusivity. Local tour company, Montgarri Outdoors, offers activities for all winter lovers to enjoy the snow-covered landscapes of the Catalan Pyrenees. Activities include skiing, snowboarding, snow walking as well as snowmobile safaris, dog sledding with husky dogs on an Antarctic style adventure, as well as nocturnal explorations of the mountainous terrain for the ultimate thrill seeker. Evenings can be spent enjoying a dinner in the quaint refuge enjoying traditional Aranese dishes of stew or duck magret. For more information visit: www.montgarri.com
Take a hot air balloon over the Pyrenees Mountains
The valley of Cerdanya offers some of the best views in the Catalan Pyrenees. Adventure seekers can take a hot-air balloon ride over the snow-covered peaks courtesy of two local tour companies: Globus Kontiki and Camins de Vent. With rides lasting around one hour and a half, allowing plenty of time for couples or families to enjoy the breath-taking views, spanning old stone villages and cattle farms dotted throughout the nearby French Pyrenees, the Catalan Cadí mountain range and around the iconic Segre river. To finish off the experience, visitors are taken on a thrilling 4×4 trail out of the mountains where they will receive a certificate and images of the hot-air balloon ride as a keep-sake, making it ideal for a memorable family day out. For more information visit: www.globuskontiki.com/en/ / www.caminsdevent.com/
Snowshoe Excursions
For those who love snowy breaks but want to avoid the typical skiing activities, snowshoeing is the perfect way for adventure travellers and avid hikers to explore the wonders of the Catalan Pyrenees. Catalonia's only national park, the Aigüestortes i Sant Maurici, is characterised by dramatic peaks reaching 3017m and almost 200 glacial lakes, creating the perfect backdrop for snowshoe excursions. Wearing specialised footwear to tackle the wintery terrain, snowshoes are attached directly to participant's boots before embarking on a voyage through Catalonia's winter wonderland routes. Accompanied by an expert guide, tourists can explore the glacier valleys and white forests, venturing across fresh snow and unspoiled landscapes while learning about the surrounding communities and local history. For more information visit: www.espotesqui.cat/en/winter/activities/snowshoeing/
Heliskiing over the slopes
Vielha is one of a string of charming mountain villages situated in the picturesque Aran valley in the Catalan Pyrenees. The exclusive and unspoiled area maintains its own firm sense of identity, with a history dating back to the 12th century. Adventure seekers looking for that extra thrill can experience Heli-skiing above the white covered Catalan peaks, providing skiers with access to prime locations otherwise unreachable by chair-lift, journeying across jagged peaks, hanging valleys and open snowfields stretching across 400sq km of crisp white snow. This type of backcountry skiing provides the access to challenging slopes for seasoned skiers in Val d'Aran. For more information please visit: www.pyreneesheliski.com
About Catalonia:
Catalonia is a Mediterranean destination in the Iberian Peninsula with a millenary history, its own culture and language, as well as a wealth of natural heritage. Its rich gastronomic culture and 68 Michelin-starred restaurants make it a prime destination for wine and culinary tourism. Covering 32,107km, Catalonia is divided into four regions; Barcelona, Girona, Lleida and Tarragona. Together, the territory offers visitors stunning scenery, culture, history and cuisine; from the towering heights of the Catalan Pyrenees to the spectacular coastline of the Costa Brava, Costa Barcelona, Costa Daurada and Terres de l'Ebre. Its diversity and excellent facilities place it among Europe's prime tourist areas, welcoming 19 million tourists per year. For more information please visit: www.catalunya.com
Follow and Share with Jetsettersblog.