New: Multi-Centre Asia Itinerary and Angles from A+K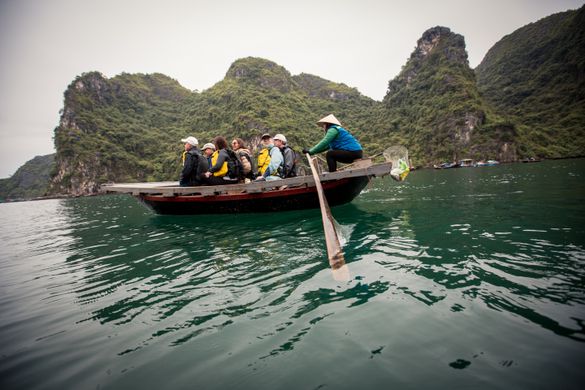 Immersive, authentic experiences have been the talk of the industry for some time now – luckily, luxury tour operator Abercrombie & Kent have been specialising in them since they started nearly 60 years ago. While beach holidays are always popular, clients are generally looking to be immersed in a destination rather than a simple fly and flop. For those that want the best of both worlds there's always the twin or multi-centre which has seen constant growth over the past 10 years – and is something expected to grow. For example, a visit to Asia often encompasses more than one country.
With this demand from clients in mind, A&K have devised a new Luxury Tented Camps of South-east Asia which takes in Thailand, Laos, Cambodia and Myanmar.
Luxury Tented Camps of South-east Asia | 15 nights from £12,785pp
Embark on a thrilling adventure around South-east Asia, staying at the region's most luxurious tented camps. This journey begins in the hills of Northern Thailand, on the edge of the fabled Golden Triangle, where you will bed down in style amidst bamboo jungles. Next, cruise on the Mekong to Laos, where the UNESCO-listed city of Luang Prabang is waiting to charm you. Then it's off into the remote Cambodian jungle for the ultimate eco-luxe experience. Your tour ends in Myanmar, where you'll discover the fascinating people and places of Yangon, before indulging in beach bliss on the Mergui archipelago. The following hotels and resorts have been carefully selected for this itinerary.
Four Seasons Tented Camp, Chiang Rai
Take advantage of the Four Seasons' excellent activities. Join a guided excursion to the Golden Triangle, beginning with a longtail-boat ride on the iconic Mekong. Cruise to where the borders of Thailand, Laos and Myanmar meet, before hopping onto dry land for a journey by tuk tuk or songthaew. You'll visit the historic Buddhist temple of Chedi Luang and stop by a bustling market. Alternatively, head to the hotel's ethical elephant camp to learn all about the loveable pachyderm and its conservation, while meeting the local population of Asian elephant.
Rosewood Luang Prabang
Enjoy a farm-to-plate experience. Discover the types of crop grown here, lend a hand in a vegetable garden, then learn how to turn harvested rice into delicious kaopun (Lao noodles). Afterwards, hike through the forest to the nearby Kuang Si Falls. This three-tiered waterfall is famous for its sixty-metre cascade and inviting turquoise pool – just the place to cool off. Finally, head to Laos Buffalo Dairy. You'll tour the farm, meet the buffalo, help feed the calves, and sample the diverse produce made from buffalo milk – everything from cheese to ice cream.
Bensley Collection Shinta Mani Wild
With an ethos of sustainability and conservation at its heart, this eco-luxe tented camp immerses you in nature. You can arrive in intrepid style with a zip line ride over a waterfall, join wildlife rangers on an anti-poaching patrol; navigate hidden backwaters by kayak; mountain bike between villages; or forage in nature's larder accompanied by expert naturalists.
Belmond Governors Residence
This charming, colonial-style mansion boasts a calming atmosphere throughout. In the evening, head out to experience the iconic Shwedagon Pagoda after dark. Discover Yangon's people and places as you explore the city on foot. Stroll along busy boulevards to admire a range of old-world architecture and learn about the cultural influences that have shaped this place. Stop at the iconic Strand Hotel for a drink and chat with Ma Thanegi, author and former personal assistant to leader of Myanmar, Aung San Suu Kyi. Then browse a dazzling array of produce at the city's biggest and busiest marketplace, Bogyoke Aung San Market, before meeting artisans who produce hand-made goods from homewares to jewellery.
Wa Ale Island Resort
This eco-resort, the first of its kind in the Mergui Archipelago, is surrounded by nature. Spend your days snorkelling and diving the abundant reefs and caves here; enjoying daily yoga classes; and witnessing the exotic marine life. Accommodation comprises just 11 tented beach-villas and three treehouses, giving you a real sense of exclusivity.
With Asia in mind, A&K's other itineraries are designed with immersive travel in mind. From untold Asia to Indochina Adventures.
Untold Asia | 15 nights from £7,679pp
Explore the magical rhythms which span South-east Asia. Travel by luxury train, boat, bike or simply walk barefoot on your private beach. Cruise the khlongs (canals) of Bangkok before cycling through its verdant hills. Watch the world go by as you relax in your colonial-style cabin on board the Eastern & Oriental Express. Be one of the first to stay in Singapore's newly restored Raffles Hotel and marvel at the landscape of skyscrapers and botanical gardens in the country's bicentennial year. Watch the sun rise at Angkor Wat before meeting Cambodia's artisans in Siem Reap. Catch your breath on your own tropical island.
Indochina Adventures | 22 nights from £5,355pp
Visiting Vietnam's cities, Hanoi, Ninh Binh, Hue and Hoi An as well as Ho Chi Minh.
Unwind in Phu Quoc Island before time in the Mekong Delta. You'll travel to Cambodia's Phnom Penh and Siem Reap, ending at the colonial city of Luang Prabang in Laos. Explore Indochina's beautiful beaches, ancient streets and tropical jungles. Take a sampan cruise through the Mekong Delta and explore phenomenal monuments on foot, by bicycle and even by cyclo (pedicab). Witness market-life in Vietnam and see Cambodia's forgotten jungle temples. Afterwards, head north to experience the welcoming tribal cultures of Laos.
Sanctuary Ananda cruise – Mandalay to Bagan | 4 nights from £795pp
See some of Myanmar's most important and evocative sights on a Sanctuary Ananda cruise. You'll have the chance to tour the beautiful city of Mandalay, explore the holy Sagaing Hill, learn to cook traditional Burmese food and discover more about the country's fascinating culture. Watch the sunrise from a hot air balloon high over the temples and pagodas of Bagan for a truly unforgettable experience.
A New Era For Bangkok
Bangkok is, if not yet hip, then certainly on the cusp of hip. A hip Bangkok would be only the latest in a series of reincarnations this Buddhist city has undergone in the space of a few decades. Over the last 30 years, it has tripled in population and metamorphosed from a drowsy Asian backwater (quite literally: only a few feet above sea level, it's often flooded in monsoon season) to a densely populated, plugged-in metropolis.
Thai fashion designers are drawing inspiration from their own cultural heritage. Even the old-guard Jim Thompson silk company, best known for its high-quality, conservative neckties and scarves, has introduced a collection of bold, contemporary furniture and accessories in traditional materials—such as silk and teak—by the London-based Thai designer Ou Baholyodhin. Many creative enterprises are collaborations between Thais and expats, who bring an outsider's appreciation for the culture. One of the most popular spots for dinner in Bangkok these days is Le Café Siam, where French-born executive chef Xavier Lecourt's menu draws from both French and Thai traditions.
An area of rice paddies only 50 years ago, Sukhumvit is now home to the Emporium, the city's newest and most upscale shopping plaza (Louis Vuitton, Chanel, Gucci, and the like). The restaurant Agalico, whose owner is reputed to be a direct descendant of King Rama V, is where ladies who lunch go for afternoon tea. Sukhumvit has also become a boom area for small, chic day spas such as Pirom, Palm Herbal, and Being, all of which offer treatments with a Thai twist, like hot-oil papaya body wraps and a Thai-pepper body scrub.
ICONSIAM is a sensational riverside mixed-use shopping destination where the best of Thailand's retail, entertainment, hospitality, and more come together as one. Despite this futuristic building defining Thailand's commitment to the future, there is a nod to the past.  SookSiam is an indoor "floating market" that sells a huge variety of traditional Thai street food. Designed in the style of a simulated floating market with street vendors along the "riverbanks", SookSiam aims to promote the cuisine, arts and culture of Thailand's 77 provinces.
A new subway system modelled after Singapore's and will have air-conditioned platforms, is scheduled to open this year.
HOTEL NEWS
Cappella Bangkok
Capella Bangkok opened its doors last summer, marking the first launch of a hotel along the banks of the Chao Phraya River for two decades. Set in the heart of the creative neighbourhoods of Chao Phraya and Charoenkrung, the property comprises 101 villas and suite and will become the first urban Thai property from the Capella Hotel Group. Woven among one of the city's oldest neighbourhoods within the 14-acre Chao Phraya Estate development, Capella Bangkok's 350-metre riverside setting provides each villa and suite with unobstructed views of the river, while The Capella Living Room, a river-facing lounge filled with natural light, will host a carousel of local artisans, musicians and chefs and will reflect the neighbourhood's passion for food, wellness and culture. Further, a number of 'Capella Personal Assistants' will curate crafted guest experiences that engage with the areas' rich locality.
Four Seasons Hotel Bangkok At Chao Phraya River
Overlooking the Chao Phraya River in the centre of Thailand's energetic capital, Four Seasons Hotel Bangkok is an urban sanctuary, with dramatic gardens, cascading waterfalls and mirror pools forming a natural extension of the flowing river. Take in sweeping water views from our light-filled lobby, savour inventive cuisine in our collection of restaurants, stroll the waterfront promenade or simply relax in one of our 299 guest rooms. Put yourself at the exciting heart of Bangkok's revitalized riverside, and discover the city's many intriguing contrasts in an atmosphere of Four Seasons care and gracious Thai hospitality.
Mandarin Oriental River Wing Renovation
Mandarin Oriental Hotel Group renovated its Mandarin Oriental, Bangkok's River Wing, designed to confirm this historic hotel's position as one of the best in the world. Opened in late 2020, and taking seven months to complete, the renovation encompassed all the rooms and suites in the hotel's River Wing, together with the lobby, swimming pools and Lord Jim's, The Verandah and Riverside Terrace restaurants. The historic Authors' and Garden Wings of the hotel will remain open throughout the renovation. More info here.
Peninsula Bangkok
The newest luxury property in Bangkok is also the first major hotel on the Thonburi side of the river, so almost every excursion means a river crossing (boats run every few minutes). The service might be the friendliest in town, and the views from higher floors are stunning. The pool goes on and on.
Four Seasons Hotel Bangkok At Chao Phraya River
Overlooking the Chao Phraya River in the centre of Thailand's energetic capital, Four Seasons Hotel Bangkok is an urban sanctuary, with our dramatic gardens, cascading waterfalls and mirror pools forming a natural extension of the flowing river. Take in sweeping water views from our light-filled lobby, savour inventive cuisine in our collection of restaurants, stroll the waterfront promenade or simply relax in one of our 299 guest rooms. Put yourself at the exciting heart of Bangkok's revitalized riverside, and discover the city's many intriguing contrasts in an atmosphere of Four Seasons care and gracious Thai hospitality.
VIETNAM
Why go now?
Most travellers to Vietnam follow a well-blazed trail between five familiar touchstones: Hanoi, Halong Bay, Huế, Hoi An, and Ho Chi Minh City (Saigon). Even returning visitors seldom stray from the H's—which makes sense; they're all eminently worthwhile and strung together on an easy north–south route, with quick flights or scenic train rides between them. But there's so much more—from the mist-shrouded mountains of Hà Giang to the coffee plantations of Dalat to the coconut-palm idyll of Ninh Van Bay. With fewer crowds and calmer vibes, these B sides are as compelling as the big hits, and even first-timers should consider one or more for a best-of-Vietnam trip.
Undiscovered – Even though it is not considered as a tourist destination, this medium-sized town is bordered by stunning beaches and the countryside that surrounds it is also breathtaking. Quy Nhon is the capital of Binh Dinh Province.
Quy Nohn – luxury is arriving
Overshadowed by Vietnam's larger coastal cities for decades, the world is slowly discovering the historic charms of unassuming Quy Nhon. Quy Nhon is a growing and busy small industrial town which belies its history as the birthplace of an emperor, a significant seaport in the 18th century and an important part of the 11th-century Champa kingdom, whose temples and towers are still remarkably well preserved. The emergence of this destination as an area of importance is only highlighted by the opening of Anantara Quy Nhon Villas – a brand new all-villa resort. The 26 one and two-bedroom ocean-facing villas are ensconced amid 7.2 hectares of landscaped tropical gardens. The resort is designed to blend seamlessly into the natural environment: locally-sourced materials, traditional craftsmanship and regional influences are discreetly incorporated into its contemporary design.
Zannier hotels are set to open Bãi San Hô , that will open on the second half of 2020. Surrounded by spectacular hills and lush vegetation, this discrete peninsula lies far away from the mainstream tourist paths, in the province of ình Định standing out with its soul and historical authenticity. The untouched and well protected coastline unmasks an impressive coral bay.
CAMBODIA
The Iconic Raffles Grand Hotel d'Angkor Re-Opens
Following in the footsteps of its Singaporean sister, the iconic landmark, Raffles Grand Hotel d'Angkor in Siem Reap, re-opened its doors in October 2019 following a meticulous six-month restoration. First opened in 1932, the hotel has been welcoming discerning travellers and famous faces – from Charlie Chaplin to Michelle Obama and Jackie Kennedy – to the historic heart of Cambodia for over eighty years. Set in Siem Reap's leafy French Quarter, the hotel re-opens with restored rooms, a fresh façade, new signature restaurant and Children's Club, as well as a menu of new extraordinary Raffles Curated Journeys; from exploring Angkor Wat by Vespa and temple picnics at sunrise, to an Insider Art Tour by Tuk Tuk.
Deemed the last bastion of Cambodia's Golden Age of Travel, the hotel is deeply rooted in local culture; the restoration has retained colonial charm, heritage and architectural grandeur, yet still leads the way in answering the needs of today's well-travelled guest. Travel back in time in an original timber elevator in the grand, marble-washed lobby, or enjoy a majestic Apsara performance – a traditional Cambodian dance.
About Abercrombie & Kent
Geoffrey Kent founded A&K in Africa in 1962 with little more than a refrigerated ex-Army truck and the best tents money could buy. Then, the company went by the motto 'off-the-beaten-track safaris'. A lot has changed in the intervening years, but we still want to take you down the road less travelled. We devise unique, meticulously planned journeys into hard-to-reach wildernesses and authentic cultures. We win awards for not only our bespoke luxury holidays and unparalleled escorted tours, but also our philanthropic efforts to protect and preserve the places we travel to… because sometimes it's the how as well as the where. Nearly six decades later, with Geoffrey Kent still at the helm and leading our expedition team, we have grown into a family of over 2,500 travel specialists. These experts have all turned their passion for travel into a vocation and between them visited nearly every country on Earth. They continue to go off-the-beaten track every day. They are passionate about helping you find authentic experiences and pushing your boundaries, wherever they might lie. Our long-standing networks allow us to uncover local secrets beyond the reach of most. We can open doors to private palaces; arrange out-of-hours tours of museums and galleries; take you to monuments when not another soul is there. Not much is truly impossible we ensure that your time away is the time of your life. www.abercrombiekent.co.uk
Follow and Share with Jetsettersblog.