New Soul Reset Package at The Mandrake Hotel in London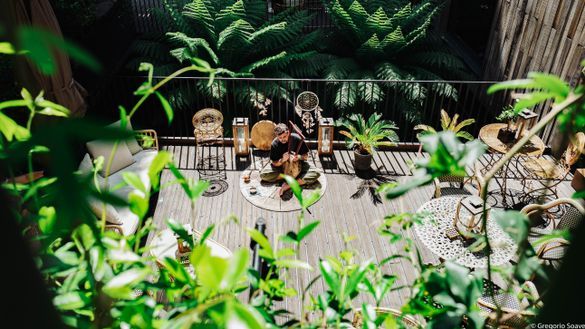 ---
The Mandrake, the imaginative boutique hotel in Fitzrovia London, reopened on July 4 and with this, launched a reimagined spiritual wellbeing offering tailored to the needs of post-lockdown society.
Recent surveys have found that *44% of people feel more concerned about their mental health than usual and that Covid19 has understandably increased anxiety among many. Another survey found that **80% of regular wellness customers are desperate to return to classes and receive treatments and services.
The new 'Soul Reset Package' has been curated specifically to help – encouraging guests to redress their mental and physical balance after the unprecedented stress of lockdown. See full details below.
THE MANDRAKE SOUL RESET PACKAGE
Week Nights: Stay at The Mandrake for two nights from Monday to Thursday and receive complimentary access to any wellness sessions taking place during your stay.
Weekends: Stay at The Mandrake for two nights over the weekend and receive complimentary access to wellness sessions taking place during your stay as well as a one-to-one in-room session of your choice from the Spiritual Wellbeing Concierge Menu.
Wellness sessions and offerings include:
Morning meditations– led daily by renowned practitioners such as Catherine Turner (also a prolific wellness editor) in London. Post-Covid, our minds are busier than ever before with anxious thoughts, so learning to control them and discipline the mind is needed more than ever
Crystal Bowl Sound Healing – led by leading practitioners such as Josie Danielle, The Mandrake was one of the first to bring sound healing practice to London. Sessions will often surface energies which have been suppressed – particularly pertinent post-lockdown
Breathwork– Our practitioners offer unique ceremonies that combine breath, meditation and sound to reconnect and calm the body, mind and soul.
Cacao Ceremonies – a form of shamanic healing which involves gathering groups to drink sacred cacao delivered from Central American jungles that encourage healing, connection and inspiration. People are remembering themselves and their purpose and the sense of community lost over Covid can begin to be re-explored
Yoga and Movement– new wave of yoga, Chroma Yoga, helps promote a healthy sleep cycle, which many people have had interrupted during lockdown
Gong Baths– the hotel has been offering this long before many London spas, led by Urmi, it is a unique sensual relaxation offering. Baths could be gongs, singing bowls, drums, bells, tuning forks depending on your need. This is a deeply intense practice where you can totally switch off from the outside world and torrent of Covid news
Bespoke private energy healings -one on one energy healing sessions to restore the balance and flow of energy throughout the body, mind and soul.  The set up in the room includes bespoke meditation cushions, deep yoga mats that support your body and hand-picked crystals.
Guests will also leave with a 'Soul Reset Pack', including a Palo Santo (mystical wood from a tree which grows on the coast of South America and is related to Frankincense, Myrrh and Copal) to help clear negative energy as well as a bespoke crystal
*Packages start at £300 and offer flexibility at the time of booking
*All sessions will be incredibly intimate, to not only keep guests safe, but to ensure the most mind-expanding of experiences. Guests can also request in-room treatments or tune in live via their in room TV screen
The Mandrake is synonymous with incredible sensory experiences; and was one of the first London hotels to offer a 360-degree spiritual wellbeing programme, hosted by the best practitioners in their fields. The dedicated in-house Spiritual Concierge Service is the first for any hotel in the world – a unique collection of experiences that draw inspiration from the four corners of the earth with a specialist spiritual wellbeing menu and offering bespoke private one to one consultations in the comfort and privacy of guest rooms.
The restaurant YOPO has also reopened, serving food to nurture both physical and mental health. New exclusive 'Cabanas' private dining option opening out onto the terrace have launched, one of the largest outdoor spaces of any hotel in London as well as a rich calendar of retreats and cultural and virtual events.
As well as these reimagined spaces and spiritual offerings, The Mandrake will go above and beyond government Covid guidelines, ensuring every one of the spaces is a secure and clean environment for everyone to enjoy and explore.
Follow and Share with Jetsettersblog.