New Villas Available with Tuscany Now + More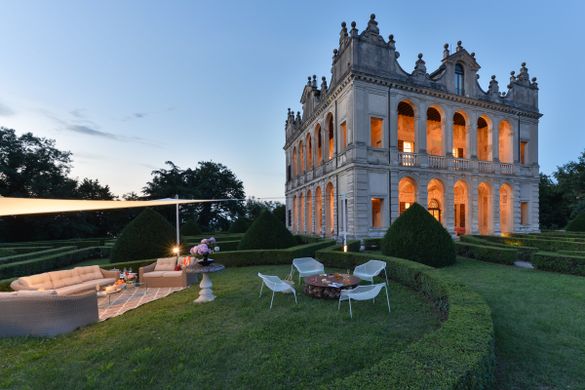 \
---
Experience The Best of Italy
2020…/ Tuscany Now & More is delighted to announce the newest addition of luxurious villas exclusively added to their portfolio for the 2020 and 2021 season. This is following a 500% increase in enquires and bookings, with 80% of sales for this year and 20% of bookings looking ahead to 2021. Tuscany Now & More offers the most exquisite rental properties, each with their own story to tell, throughout the length and breadth of Italy, in Tuscany and beyond.
Through these new, undiscovered properties, guests can experience an old farming estate, a country residence or a charming Venetian villa. For added bespoke touched, the concierge can organise exclusive activities such as Tuscan cooking lessons, golf coaching and private wine tasting with their own professional sommelier. Guests will be captivated as Italian hospitality meets once-in-a-lifetime experiences, available only through Tuscany Now & More.
With an extensive collection of properties now available, Tuscany Now & More have compiled a list of their top three new villas to explore this year and next:
Breathtakingly Tuscan with Ca' di Lista
Ca' di Lista is a spectacular 16th-century Venetian villa with private heated pool, magnificent grounds and personalised chef services. Standing on the hilltop of a private wine estate surrounded by vineyards, the villa boasts spectacular views of the Colli Euganei hills not far from Padua and Venice, and is within walking distance of a 27-hole golf course and Michelin-star restaurant.
Ca' di Lista was designed in the 16th-century as a hunting lodge by Dario Variotari, architect, painter and apprentice of Veronese. The villa — owned by the same noble Venetian family who commissioned the project — was later converted into a country retreat, preserving all of its original features such as the 16th-century hand-painted frescoes and 18th-century trompe l'oeil works. This villa boasts many modern comforts such as contemporary seating areas and large frescoed bedrooms which exude a combination of charm and tranquility.
This 7 bedroom property sleeps up to 10 people and Tuscany Now & More (www.tuscanynowandmore.com, 020 7684 8888) offers Villa Ca' di Lista from £9,026 per week.
Countryside Charm with Monsassa
Restored and designed for comfort, Monsassa is a picturesque home set on a hilltop enjoying beautiful views of the stunning countryside near Montespertoli. It's host to a large open space living area that leads out under a loggia and to a spacious shaded dining area allowing guests to enjoy the best of views. There is a private swimming pool that is set across a well-kept lawn lapping up wonderful scenes of the countryside dotted with hamlets, farmhouses and the famous city of San Gimignano.
This villa is set in a convenient location from which to explore central Tuscany with many villages and towns to visit. There is a well regarded restaurant just 400 meters/yards from the villa, set in an olive grove offering healthy local food grown on location. Shops and supermarkets are in Montespertoli, just over 10 minutes' drive from the property and at Tavernelle and Barberino Val D'elsa which are both around 15 minutes' drive. Guests can reach Florence, Greve in Chianti and San Gimignano in 40 minutes by car. Siena only a bit more, about 50 minutes.
This 3 bedroom property sleeps up to 6 people and Tuscany Now & More (www.tuscanynowandmore.com, 020 7684 8888) offers Monsassa from £1,786 per week.
Enchanting Chianti Farmouse with Lamore di Carla
Lamore di Carla is a beautiful stone farmhouse with smaller guest house, set in a little hamlet on a hill top overlooking the stunning Chianti countryside. The lovely home offers a fantastic private swimming pool, air-conditioned bedrooms, en suite bathrooms and lots of shaded outdoor living and dining space. The nearby Chianti towns such as Greve in Chianti are very close; these places are synonymous with charm and offer exceptional food and wine, so the house is perfectly positioned to fully enjoy the treasures of this magical area of countryside.
The old stone farmhouse has been restored to a very high standard and fitted with a well equipped kitchen in the main house, and a smaller kitchen in the guest house. The bathrooms are modern and the master bedroom boasts an exquisite marble finish.
Villa Vignamaggio is the birthplace of Leonardo da Vinci's masterpiece, the 'Mona Lisa', and where the term 'Chianti' was first used to refer to the local wine. The villa's cantinas are open to the public and are worth a visit during their stay at the heart of Chianti.
This 6 bedroom property sleeps up to 10 people and Tuscany Now & More (www.tuscanynowandmore.com, 020 7684 8888) offers Lamore di Carla from £2,851 per week.
For further information and bookings, please contact www.tuscanynowandmore.com or call 0207 684 8884.
Follow and Share with Jetsettersblog.