New VISIT Milwaukee website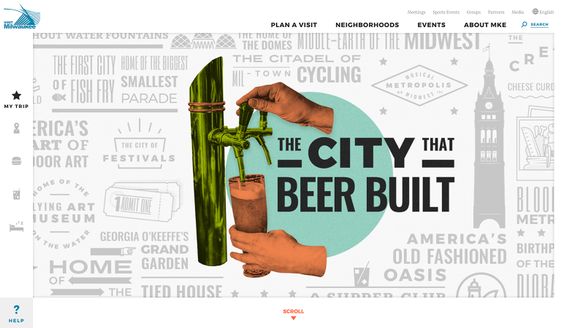 ---
MILWAUKEE, WI -– VISIT Milwaukee, the destination marketing organization for Milwaukee, has redefined the city's image for visitors and captured the spirit of Milwaukee's people, neighborhoods, events, and attractions through a new website.
The improved experience expands beyond the meeting planner to the convention attendee as well. A new slot machine style "randomizer" on the homepage provides an entertaining way to discover exciting things to do in the city. A new "My Trip" tool allows visitors to plan their trip to Milwaukee by curating a virtual shopping cart with the unique experiences they find while exploring the site.
"Our research reinforced that people are most interested in visiting cities that spark a passion for discovery and offer the chance to collect unique experiences" said Megan Suardini, vice president of marketing & communications for VISIT Milwaukee. "From the Riverwest 24 to Koz's Mini Bowl, Milwaukee is overflowing with unexpected and charmingly quirky experiences that are unique to our city. We worked with our partner Hanson Dodge to ensure the new website captured this wonderfully random spirit."
This spirit comes to life through a host of new features, including an expanded meetings and conventions section and a dedicated sports event planning section. Additional features include an all-new neighborhood exploration section, over 1,500 pages of new content, 5,000 photos and videos, and enhanced partner pages.
"Meeting and events planners are looking for 360-degree photos of unique and unconventional gathering spaces, as well as a mapping function that shows hotel, restaurant, and attraction locations within a neighborhood or in relation to the Wisconsin Center," said Suardini. "We redeveloped our website with meeting planner needs top of mind to help make it easier to plan your event in Milwaukee."
The new website is a rebranding of how VISIT Milwaukee represents the region to meeting planners, corporations, recruiters, and visitors, with the goal being to drive additional tourism dollars and increase economic impact within the region. In 2017, Milwaukee welcomed over 23 million visitors and the economic impact of tourism was over $5 billion.
"We were thrilled when VISIT Milwaukee asked us to help them design a website to successfully position the organization for the future" said Tim Dodge, CEO of Hanson Dodge. "Early in the process we saw the opportunity to create not just a website, but a memorable digital experience that inspires visitors to come here and experience Milwaukee for themselves."
The new website went live on March 17.
Follow and Share with Jetsettersblog.