New Wellness Holiday from Action Outdoors Stretches the Mind and Body, but Not the Bank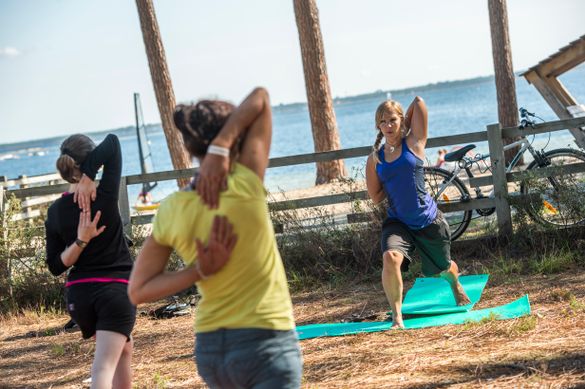 ---
Action Outdoors has launched a brand new Surf and Yoga holiday at the UCPA Centre in Port d'Albret, France – located on the South West coast just north of Biarritz.
The all-inclusive package is priced at £620 per person, including 6 nights full-board accommodation, four surf instruction sessions, four yoga sessions, surfboard and wetsuit hire and evening entertainment. Guests sleep in bungalow style chalets scattered in the centres pine forest with rooms for up to four persons, although twin rooms are available.
Surf instruction is aimed at all levels, with groups for beginners to advanced levels available through the week at a ratio of 8 students to an instructor. Sessions are timed to help make the most out of the best surf conditions throughout the day.
General Manager of Action Outdoors, Tina Gale, said: "This is a great way to combine two different activities that complement each other to help develop strength, balance and well-being. The centre is ideally located ten minutes walk from the Atlantic Ocean on a stretch of coast that's known to be one of the best surf spots in Europe. We're really pleased to be able to offer a holiday like this for a sensible price, providing great value for money for a holiday that can end up costing far more".
Date: July 29, 2018 – 6 nights
Price: £620 (not including travel to Port d'Albret)
Link to holiday: https://www.action-outdoors.co.uk/holiday/cart?ActivityID=24107
action-outdoors.co.uk
0203 328 5443
-ends-
About the UCPA Port d'Albret
The centre is designed as a place to relax. Small bungalows nestle amongst pine trees, providing a perfect chill out zone after a day chasing the waves. Each has a private terrace hidden in the pine forest, and nearby hammocks, a swimming pool and, just steps away, a fine sandy beach at the edge of the lake. Trapped between the coast and this lake, there is a natural tranquillity. The whole area is well maintained providing a beautiful well preserved environment for everyone who enjoys the outdoors.
About the Accommodation
Small bungalows each accommodate up to 185 people in rooms for 2, 3 or 4 people with washrooms and shower in each house. Double-rooms available (twin beds) for a supplement.
There's a swimming pool, two dining halls, terrace, bar, and the Morocco Lounge.
Dining
The food is served buffet style each day with breakfast consisting of yogurts, cereals, fruit juice, coffee and bread, with coffee always served French style – in a soup bowl.
Lunch and dinner is a 4 course buffet – typically a salad bar style starter, choice of three or four main courses – most often including fish, cheese selection, fruit, dessert and ice-cream freezer.
About Action Outdoors and UCPA
UCPA was set up over 50 years ago to encourage young people to take part in outdoors sports. It has since developed into a not for profit organisation that provides sport holidays for a wide range of ages with a huge range of accommodation options. Each year over 240,000 people enjoy a sport holiday with UCPA, enjoying accessibility to outdoor sports regardless of social background, income or culture. UCPA also offers trips and tours to some of the best destinations for outdoor sports in 75 countries including Vietnam, Portugal and Brazil.
A total of 80 different sports activities are offered in UCPA centres all year round, including, skiing, surfing, mountaineering, diving, sailing and horse riding. During winter, UCPA centres operate in some of the top resorts in the Alps such as Val Thorens, Tignes, Val d'Isère and Chamonix. The holidays are always All Inclusive – lift passes, ski hire, all meals and guiding is included in the price. UCPA is the largest ski school in France and have their own instructor development program which allows young people to develop their career in sport instruction, whilst providing a strong base of instructors and guides to work within each centre for the whole season.
action-outdoors.co.uk
0203 328 5443
Follow and Share with Jetsettersblog.