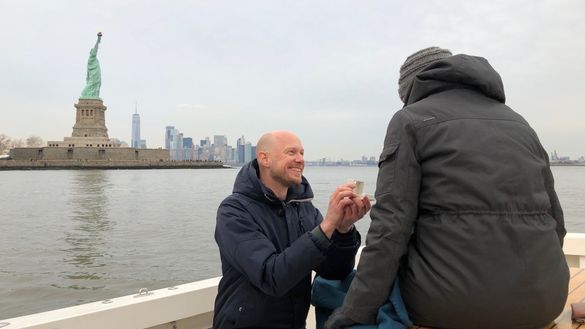 ---
Proposal plans take time, effort, and creativity. Future grooms want to 'wow' their girlfriends and create a lasting experience that has a unique feel for the couple. New York Harbor offers private boat tours that make for the perfect proposal experience. Clients can pick the package that best suits their plans and reserve their private motorboat, The Tireless. They offer two- and three- hour tours as well as customized packages. Clients enjoy first-class service, amazing views, and an experience to celebrate an important milestone with family and friends.  The boat is BYOB, all creating an incredible and affordable way to propose in New York City.
Guests can depart from Pier 25 in downtown Manhattan and cruise along the river, checking out all the historic and beautiful sights of NY Harbor, including a close up look of the Statue of Liberty, Ellis Island, the Freedom Tower, as well as the Empire State, Chrysler, and UN buildings. You can celebrate with a few close friends and family or a large group of people — the details of the experience are customizable to you.
Their dedicated boat features:
A large open deck with plenty of seating perfect
A protected cabin with comfortable seating which is a perfect shelter from a passing summer shower
A clean, working bathroom
A small galley perfect for storing and heating any food and drinks
The Tireless is a BYOB boat but comes equipped with coolers to keep drinks cold
Captain David Critchell has seen dozens of engagements over his years sailing on New York Harbor. "In all our years doing this we've never had a "no" during a proposal. We will talk you through planning one of the biggest days of your life, taking care of everything for you out on the water so you can focus on what's most important. Please let us know if there's a particular spot or building that is special to you, as many times we can get you right up to it for the special moment. We also know the best, calmest, and most romantic spots for a proposal and can take you there or build a cruise that leads up to it.  A bottle of champagne is provided."
Depart from Manhattan or Brooklyn
The primary departure dock is conveniently located on the south side of Pier 25 in Tribeca (lower Manhattan) at 215 West Street. You can access the pier at the intersection of West and North Moore Streets. Other pickup locations can be available upon request.
The boat also departs (seasonally, from May 1 to October 31) from Pier 5 in Brooklyn Bridge Park in downtown Brooklyn. Access to the pier is at the bottom of Joralemon Street, located at One15 Brooklyn Marina, 12 Joralemon Street, Brooklyn.
Small Group & Private Charter Boat Tours
See the sights from the deck of your own private boat with New York Harbor Tours. They give passengers an intimate, one-of-a-kind view of New York and its tranquil waterways and iconic sights, including the lesser-known but equally stunning vistas offered by New York's famed rivers.
The crew is professional, knowledgeable, and Coast Guard-licensed. It's a unique, personal cruise that the public tour boats can't match.
About Captain David Critchell
Captain David Critchell grew up sailing on Long Island Sound. Through his love of the area's waterways, he developed a passion for New York's history, especially its maritime past, details of which he enjoys sharing with his passenger guests. After college, he pursued a career as a magazine journalist, but he missed the feeling of freedom and the connection to the physical world that sailing gave him. About a decade ago, he returned to New York's waters, first helming large sailing vessels and more recently, smaller motorboats, before acquiring the Tireless and founding New York Harbor Tours. "I love being out on the same waterways that Henry Hudson and others once navigated," says Captain Dave. "Seeing the city when out in the harbor or lit up at night from the upper bay are for me priceless experiences. They give you a whole new perspective on New York, which after all, grew into the metropolis it is today by being one of the world's great port cities." Captain David Critchell holds a 100 Master's License from the US Coast Guard.
Call 718-230-0136 or head to the website for details and information about how to book your private tour.
Follow and Share with Jetsettersblog.