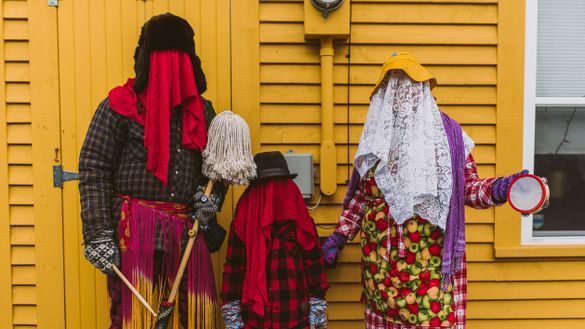 ---
News from Across Canada 
The United Nations declared 2021 as the International Year of Creative Economy for Sustainable Development – a global push to prioritize sustained and inclusive economic growth, innovation opportunities, and empowerment for all. Canada's openness of land and culture extends to its peoples' open and curious minds, which leads to its leadership in innovation—in how Canadians live, work, and welcome visitors. It's the same spirit of innovation that propelled Alexander Graham Bell to make the first telephone call from his Ontario lab in 1876; Reginald Fessenden to make the world's first radio broadcast in 1906; and Canadian scientists to launch the first telecommunications satellite into orbit in 1972. Today, across Canada, cities, businesses and individuals are pioneering environmental initiatives, creating new templates of sustainable living and inspiring purposeful travellers to learn more about the natural world.
Here are just a few examples of the vibrant and innovative culture that Canada offers.
Leading the way: Let's start with a deep dive into British Columbia, where cities across the province have introduced pioneering initiatives ranging from Canada's first net zero multi-unit residential building to recognition as the first biosphere destination in the Americas.
Vancouver, home to Olympic Village – is a model for sustainable urban planning, and one of the greenest communities in the world. In keeping with Vancouver's ambitious Greenest City targets, Olympic Village – Canada's first net zero multi-unit residential building – uses solar heating, green roofs and other innovative systems that cultivate an energy-efficient ecosystem where people live, work, play and learn. Visitors will find plenty of activities to keep them occupied in this neighbourhood, which began life as the Athletes Village during the 2010 Winter Olympics, whether kayaking in False Creek, checking out the Craft Beer Market (also home to Canada's largest selection of draught beers), or hopping aboard the Aqua-bus mini-ferry to bustling Granville Island.
Further into British Columbia's interior, the Thompson Okanagan achieved recognition as the first "biosphere destination" in the Americas, a certification awarded by the Responsible Tourism Institute,  that recognizes the quality, environmental sustainability and social responsibility of the region as a tourism destination. Recently, the Thompson Okanagan Tourism Association (TOTA) became a founding signatory with the Future of Tourism Coalition, an international coalition set on shaping the future of tourism by cultivating healthy, inclusive communities and environmental stewardship. Whether scaling the highest peak in the Canadian Rockies, wine tasting within one of over 200 wineries in Canada's only desert, or cross-country skiing along snowy winter trails, visitors are spoilt for choice when it comes to exploring the region's natural landscape.
And elsewhere in Canada:
Reinforcements for the reindeer: Further north in the Northwest Territories, a new government plan was introduced to support caribou (also known as reindeer). For centuries, these animals have provided food, clothing and cultural identity to Indigenous peoples; their droppings also add critical nitrogen to tundra soil and water. Visitors to the Northwest Territories can view the majestic caribou on an excursion with Tundra North Tours, an Inuit company that showcases the region's wildlife, northern lights and traditional culture on a series of full- and multi-day packages.
Expanding the growing season: Who doesn't want fresh vegetables, longer? Residents and tour operators in Churchill, Manitoba, have developed innovative and sustainable alternatives to grow fresh greens and offer locals and visitors healthier fare. The Churchill Northern Studies Centre, for example, developed a food program called Rocket Greens, which harvests greens, herbs and berries in an insulated shipping container year-round. Churchill Wild launched an Arctic Organics program, which allows the family-run operation to serve fresh produce and vegetables to guests of their polar bear eco-lodges in southern Manitoba. And Lazy Bear Expeditions has implemented plans to grow more foods for guests via community gardens.
Sending satellites: In Newfoundland and Labrador, research institute C-CORE landed a major contract with the Canadian Space Agency to replace the RADARSTAT Constellation, a collection of three satellites used to observe the earth. The technology is used specifically to gather key information about Canadian ships, icebergs, the movement of land, oil sands and the Arctic. Canada is a global leader in such Synthetic Aperture Radar (SAR) Earth Observation systems, which "see through" darkness, cloud, fog and most weather, providing 24/7 surveillance.
Re-imagining the waterfront: And in Halifax, Nova Scotia, Queen's Marque is introducing a new way of city living. Queen's Marque was inspired by Nova Scotia's seafaring essence and designed with sustainability in mind, harnessing the power of seawater for energy, maximum green roofing and strategic design that naturally reduces carbon output. Situated along the picturesque downtown waterfront, the $200-million mixed-use development offers a hybrid lifestyle that brings together long-term accommodation, a boutique hotel – the Marriott International's first Autograph Collection property in Atlantic Canada – and five-star amenities like an 8,000-square-foot wellness centre with hydrotherapy, cold plunge pools and halotherapy salt room; dedicated car and driver service; and access to a private sailboat and motorboat. The development also features a multi-million dollar investment in public art, 120,000-square-feet of commercial office space, retail and restaurant offerings, and a public plaza.
New Hotel openings
With new year-round yurt accommodations opening in February 2021, Nature Space Eco Resort on Prince Edward Island is a wellness haven beckoning guests to escape from the everyday. The resort specializes in eco-yoga, which centres on yoga practices immersed in nature to restore our vital connection to the outdoors. Also available are kayoga (kayaking and yoga) and kayak-culinary excursions, including Kayaks and Pints, which combines an invigorating paddle along the river with samples of Prince Edward Island's award-winning craft beer.
Further north, the Yukon Territory's new Black Spruce Hotel – which opened in mid-October – offers an isolated getaway deep within nature. Comprising of small cabins set in a heavily wooded area, the property consists of intimate units elevated among trees and rocks. The cabins utilize Passive House principles, a world-leading standard in energy-efficient construction.
Deeper into Whitehorse, the Raven Inn – the city's first new hotel in nearly half a century, opened earlier this year – encompasses modern hospitality trends while paying homage to the historical and natural legacy of the Yukon. The 50-room property features a rail-themed bar and lounge that serves Yukon-crafted beer and cider, and an outdoor heated pool overlooking the Yukon River.
Whether rocking the boardroom or stealing the scene, work is always followed by play at W Toronto, the city's newest luxury hotel. Situated in Yorkville, where eclectic galleries, boutique shopping, sizzling nightlife and award-winning dining abound, the W is an oasis of culture and style boasting a scene-stealing rooftop bar and restaurant, onsite gym, café, and W's signature Whatever/Whenever service. The hotel is expected to open March 2021.
Also in Toronto, 1 Hotel Toronto – opening in late 2020 – introduces a new standard for eco-conscious luxury in the heart of downtown. Situated in King West Village, named "Canada's coolest neighbourhood" by Travel + Leisure, the hotel features floor-to-ceiling windows that frame the glittering skyline, bringing the outdoors in and incorporating sustainability throughout with native greenery, reclaimed barn wood and organic cotton linens. Guests can lounge poolside, hit The Field House for an invigorating workout, or dine on farm-to-table fare at an assortment of personable restaurants and bars.
Over in Ottawa, Ontario, the new Hyatt Place Ottawa – West is a sustainably minded luxury hotel opening in July 2021. The property features 140 spacious rooms, including 10 elegant suites, with indoor pool, 24-hour fitness centre, bar and café topping an impressive list of amenities. The hotel's focus on sustainably extends to earth-friendly products, energy generated from solar panels and more.
Home to 10 dreamy cabins, Wander the Resort in Prince Edward County, Ontario entices visitors with a luxurious escape where the only decision required is – Poolside or lakeside view? The boutique property offers morning yoga steps away on the beach, live music by the campfire, cabin-versus-cabin lawn games, and scavenger hunts for the kiddos. Inside, generous windows allow sunlight to flood throughout the space, while heated floors, private outdoor showers and European-style kitchens add cozy glamour. Whether sampling spirits at one of more than 40 nearby wineries, craft breweries and cideries, snowshoeing through the forest, or sipping hot coffee on crisp mornings, Wander  will be an idyllic retreat to while away the winter or summer.
December Milestones
December 11; International Mountain Day:  In celebration of International Mountain Day, look towards Canada where more than 21,000 mountains soar to the skies. The most prominent is Yukon's Mount Logan, the highest peak in Canada and the second-highest in North America at a staggering 19,551 feet. Alpiners seeking a less gruelling experience can book a visit to Sunshine Village Ski Resort in Banff, Alberta, with a top elevation of 8,956 feet. Every year, the Banff Centre of Arts and Creativity hosts its Mountain Film and Book Festival, and people can access archival films from past years
December 21: Winter Solstice ; On the longest night of the year, there's no better time to look to the skies. In Canada, there are 22 dark sky preserves where light pollution is minimal or eliminated, enabling visitors to see the stars, planets and galaxies in their best light. Check these out here : https://www.pc.gc.ca/en/voyage-travel/experiences/ciel-sky
Forest therapy
Trout Point Lodge is a quintessential luxury wilderness lodge in the Tobeatic Wilderness Area, situated in the heart of the 1.5-million-acre Southwest Nova Biosphere Reserve in Nova Scotia. Canada's only member of Small Luxury Hotels of the World, the lodge is also the world's first certified Starlight Hotel by the UNESCO partner Starlight Foundation. Guests come here for guided stargazing and ecotourism vacations in a secluded location, where sustainable tourism practices are championed and implemented in meaningful policies and practices. Programs include an immersive forest bathing experience in the Acadian Forest, where guests stimulate their senses with a slow, mindful walk in the woods; and nightly stargazing excursions led by the staff astronomer, as well as astrophotography workshops and solar gazing during the day.
Seeking Virtual Christmas ideas?
Virtual  Mummering    December 12th, 2020
Accompanying image must be credited : Alex Stead 
The Mummers Festival returns for a 12th year in 2020,  running from November 28 to December 12 at various venues throughout St. John's , Newfoundland and Labrador as well as streaming online. There is a jam-packed schedule of workshops, lectures, performances, and even a virtual Mummers Parade. Things will look a little different this year, but make no mistake: there'll be something for everyone within Newfoundland and Labrador – and well beyond the provincial borders too.
Whats a Mummer? Its an old English Christmas tradition of visiting house to house in groups,  dressed up in flamboyant disguise, with masked faces and distorted voices.  The tradition still remains in parts of Newfoundland and Labrador and parts of the UK and Ireland.
"Despite the Covid-19 restrictions – or maybe because of them – we felt it was really important to bring the festival back in 2020," says Lynn McShane, Executive Director of the Mummers Festival. "Every year, thousands of people look forward to getting involved and we definitely didn't want to disappoint them. We've got something for everyone. And this year we are offering a virtual edition so people from all over the province, all over Canada, even all over the world can join us!"
The theme of this year's festival is The Art of Mummering, and will explore all the ways that artists of every genre and media incorporate mummers and the mummering tradition into their work. Working with many local artists, performers, musicians, storytellers, and even brew masters, the 2020 Mummers Festival will offer two weeks of activities designed to showcase the beloved tradition.
"The biggest disappointment of 2020 is that we can't hold our signature Mummers Parade in old St. John's," McShane says. "However we're not letting that stop us! " Mummers from near and far are being asked to submit video submissions that will result in a parade-length video montage, airing on Facebook on December 12.Full details and registration pages are available at the Mummers Festival website: www.mummersfestival.ca. Information is also available on Instagram @mummersfestival and Twitter @MummersFestival.
2021 Marks 100 years
Have you ever noticed the ship on a Canadian Ten Cent coin?  It is  Canada's most famous ship, The Bluenose, a replica of which is now moored in  Lunenberg, Nova Scotia and will next year celebrate the  100th Anniversary of its original launch. Celebrations will focus on August 19 -22, 2020 and also offer  100 days  of harbour tours to celebrate its 100 year story alongside night markets, street festivals, dory and schooner events and parades of sail.
Combine that with the  opening of the new Queen Marque  in Halifax and Forest Therapy at Trout Point Lodge with over 13,000 km of coastline, 12 whale species, 50,000 tonnes of lobster hauled annually, a 298 km Coastal highway , the Cabot Trail all accessed by flights to Halifax, Nova Scotia 2021 may be a great year to visit Canada's Atlantic Coast.
Follow and Share with Jetsettersblog.