News from the Cayman Islands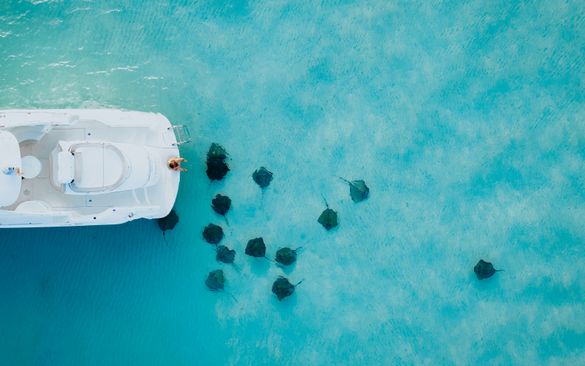 ---
The Cayman Islands Department of Tourism is delighted to be attending TravMedia's IMM 2020 to share news of additional British Airways flights, hotel updates and an upcoming calendar of events.
Additional British Airways flight from London Heathrow
British Airways has announced an increase in service from Grand Cayman to London Heathrow Airport from four to five flights weekly – Mondays, Tuesdays, Thursdays, Fridays and Saturdays – allowing British holidaymakers even more options to travel to the three Caribbean islands. The service will be shared with Nassau, Bahamas starting April 2020.
Ambassadors of the Environment Programme
The Ambassadors of the Environment Programme at the Ritz-Carlton Grand Cayman is a hands-on educational programme developed by Jean-Michel Cousteau (son of legendary Jacques Cousteau) to inform guests of all ages about responsible living and respect for nature. The programme offers a wide range of activities, including mangrove tours by kayak and glass-bottomed boat expeditions. They have even combined the growing trend for taking better Instagram photographs with important environmental messaging in their 'Underwater Photography Snorkel' expedition. Younger guests (aged 8+) can continue the Cousteau legacy by learning how to take great shots as well as learning the importance of protecting the reefs they're photographing.  A masterclass in picture editing is then included when back on dry land.
Refurbishments and New Hotel Updates
Palm Heights – newly-opened boutique hotel on Seven Mile Beach
The Cayman Islands' first all-suite hotel Palm Heights is now open. Formerly the Cayman Islands Beach Suites, the property has undergone a stunning re-design with an authentic Caribbean feel and 52 beach view suites complete with generous bedroom and bathroom accommodation. Each suite has a view of the famous Seven Mile Beach and the crystal-clear waters of the Caribbean Sea beyond. Guests can also relax in one of the authentic bars and restaurants, boasting local island flavours and unmissable cocktails. www.palmheights.com
The NCB Group and Hilton Announce New Luxury Wellness & Business Boutique Hotel
Hilton has announced its partnership with NCB Group for the signing of a new Curio Collection by Hilton property in the Cayman Islands. Scheduled to open in 2021, the new-build 80-room hotel will see a new era of upscale accommodations with a focus on sustainability and wellness, incorporating renewable energy and energy-efficient technologies throughout the property.
Mrs. Rosa Harris, Director of the Cayman Islands Department of Tourism commented: "It's important for the destination to welcome accommodations that will provide exceptional experiences such as those offered by the Curio Collection by Hilton. Having a one-of-a-kind boutique property with wellness-focused offerings aligns with key segments of our visitor demographic and the strategic vision for tourism in the Cayman Islands. The property will be a welcome addition to room inventory and will further enhance our diverse product offerings and accommodations sector."  www.ncbgroup.ky
Residences at Mandarin Oriental, Grand Cayman
Scheduled to open in 2022, The Residences at Mandarin Oriental, Grand Cayman, will feature 89 of the most premium homes on the island. The Residences, part of Mandarin Oriental, Grand Cayman will be situated on 67 acres on the southern shore of the island.
The property will benefit from an elevated position overlooking its own secluded white-sand beach and offers guests and residents a truly private luxury retreat. www.mandarinoriental.com
Grand Hyatt Crand Cayman Hotel & Residences
Hyatt Hotels Corporation announced a partnership with Pageant Beach Hotels Ltd for the 351-room Grand Hyatt Grand Cayman Hotel & Residences located on Seven Mile Beach.  Due to be completed in late 2020, the hotel will mark the return of the Hyatt brand to Grand Cayman. http://grandhyattgrandcaymanresidences.com/seven-mile-beach/
2020 Events Calendar
An exciting range of themed events and festivals are due to take place in the Cayman Islands during 2020 celebrating the culinary, cultural, historical and sport side of this unique Caribbean country. From culinary to carnival, there's something for everyone.
CayFest – Grand Cayman (20 February-13 March 2020)
The Cayman Islands National Festival of the Arts is Cayman's finest showcase of local talent. With an eclectic mix of visual arts, music, theatre, film, fashion design, and cultural discussions, this festival has an emphasis on local arts and culture. The three signature events that take place during CayFest are the National Arts and Culture Awards, Dress for Culture Day and the Red Sky at Night Festival.
https://www.artscayman.org/cayfest
Taste of Cayman – Grand Cayman (6 April 2020)
In its 32nd year, the one-day culinary celebration 'Taste of Cayman Food & Drink' held at Festival Green, Camana Bay in Grand Cayman is an open-air event for all foodie-lovers wanting to enjoy the best of Cayman cuisine.  The biggest food festival across the islands features tastings of food and drinks from the best local restaurants as well as a flavour of Cayman culture and music. Visitors can enjoy the Cayman Islands' famous Seven Fathom's rum and incredible seafood whilst listening to traditional folk singers, steel pan bands and even conch-shell blowing!   www.tasteofcayman.org
Cayman Islands International Fishing Tournament – Grand Cayman (30 April-3 May 2020)
Ready your reels for this annual contest put on by the Cayman Islands Angling Club. Spectacular game such as mahi-mahi and wahoo await, as well as a chance to net up to $200,000 in winnings. www.fishcayman.com
Carnival month (May)
May is carnival month in the Cayman Islands and visitors can join in the fun of celebrating Caymanian style.  The spirit and colour of the Cayman Islands can be enjoyed alongside the turquoise clear waters and white sandy beaches with three carnivals taking place; Cayman Carnival Batabano, CayMas and the Cayman Brac Carnival Braccanal.
National Carnival 'Batabano' – (First week of May)
Batabano is a spectacular and vibrant cultural celebration offering a weekend of colour, music, dance and camaraderie.  Events include Le Masque Ball, the Street Parade on Saturday 9 May as well as a street dance and boat cruises to Rum Point on Sunday.  The festival's original name is a salute to Cayman's turtling heritage – the word 'Batabano' refers to the turtle tracks in the sand where they go ashore to nest.    www.caymancarnival.com
During the Carnival weekend, visitors can soak up the Caribbean carnival atmosphere with a thrilling steel pan band competition, soca music and the colour and excitement of the spectacular CayMAS Street Parade.  A whole host of fetes and parties are also being held to continue the carnival celebrations.  www.caymas.ky
Cayman Brac Braccanal – 14- 18 May
Known for its distinct and dramatic limestone cliff or Bluff, the streets of the small island of Cayman Brac come alive with the sound of music, revellers and colourful costumes once a year in carnival celebration.  Visitors can enjoy the sweet sound of soca music, tasty local dishes and a laid-back carnival atmosphere.  www.braccanal.com
Cayman Billfish Rundown – Grand Cayman (19-23 May 2020)
Cayman Billfish Rundown is an international fishing tournament in Grand Cayman. Join world-renowned marine artist and angler Carey Chen, the official tournament ambassador, to enjoy exceptional fishing in the pristine waters of the Cayman Islands. www.caymanbillfishrundown.com
Flowers Sea Swim – Grand Cayman (13 June 2020)
The beautiful Caribbean Sea is the backdrop for the Cayman Islands' 'Flowers One Mile Sea Swim', with 2020 marking the 28h year of this annual swimming event. Participants vary from octogenarians to Olympians with the UK's Keri Anne Payne taking part this year. The one-mile swim takes place on 13 June, but more adventurous swimmers can take part in the 3k and 10k swims on June 15. www.flowersseaswim.com
The International Scuba Diving Hall of Fame – Grand Cayman (25 September 2020)
Recognised as the pioneer of recreational diving, the Cayman Islands is proud to be home of the International Scuba Diving Hall of Fame (ISDHF). The ISDHF recognises those who have contributed to the success and growth of recreational scuba diving in dive travel, entertainment, art, equipment design and development, education, exploration and adventure. www.isdhf.com
Restaurant Month – Grand Cayman (1-31 October 2020)
With over 200 restaurants to choose from in Grand Cayman, ranging from beachside grills to world-class dining, the epicurean landscape of the Cayman Islands begs to be explored. Restaurant Month provides the perfect opportunity with many restaurants offering special prix-fixe menus for lunch or dinner. www.visitcaymanislands.com/en-us/events/culinary-events/restaurant-month
Cayman Cocktail Week – Grand Cayman (25-31 October 2020)
Cayman Cocktail Week takes place during Restaurant Month, offering expertly blended creations from some of the many talented mixologists in Grand Cayman. Expect locally-sourced ingredients and mind-blowing flavour infusions during this week-long celebration. www.caymancocktailweek.com
Pirates Week – Cayman Brac (30 October-1 November 2020); Grand Cayman (5-14 November 2020); Little Cayman (13-15 November 2020)
The Cayman Islands celebrates its pirate legends and cultural heritage like no other Caribbean country with a whole week of celebrations, colourful spectacles and pageantry.   Events are spread across the three islands of Cayman Brac, Grand Cayman and Little Cayman.  Special events include mock pirate invasions, parades, firework displays, steel pan music, street dances and even sporting events.   The perfect event for Pirate aficionados, as well as visitors wanting to join in the carnival atmosphere.  www.piratesweekfestival.com
Cayman Islands Marathon – 6 December 2020
Marathon runners wanting a new challenge with a spectacular backdrop of the Cayman Islands can take part in the annual Intertrust Cayman Islands Marathon, due to take place on Sunday 6 December. Celebrating its 18th year, the event consists of a full marathon, half marathon, 4-person relay and a Kids Fun Run.  Being a looped course, walkers are welcome to walk the half marathon with the route being open for six hours. www.caymanislandsmarathon.com
ENDS
About the Cayman Islands:
A British Overseas Territory, the Cayman Islands are located in the western Caribbean Sea, south of Cuba and north west of Jamaica.  Comprising of three islands, all offer something different from the barefoot elegance of Grand Cayman, to the adventurous spirit of Cayman Brac and the tranquillity of Little Cayman.
Boasting more than 200 restaurants and culinary influences from all over the globe, the Cayman Islands provide an endless array of options to suit any palate. Quality accommodation ranges from beachfront villas, dive lodges to luxury hotels all within easy reach of the beach.
Well known for dining, world-class diving, beautiful beaches and tranquil turquoise seas and incredible wildlife, the Cayman Islands offer a memorable and luxurious experience for visitors of all ages and interests.  Watch the sun rise with the stingrays, explore spectacular coral reefs, relax in a beach hammock and eat at a five-star restaurant – all in one day.
For more information see www.visitcaymanislands.com
Follow and Share with Jetsettersblog.