NH Hotel Group 'City Connection' – For Endless City Enjoyment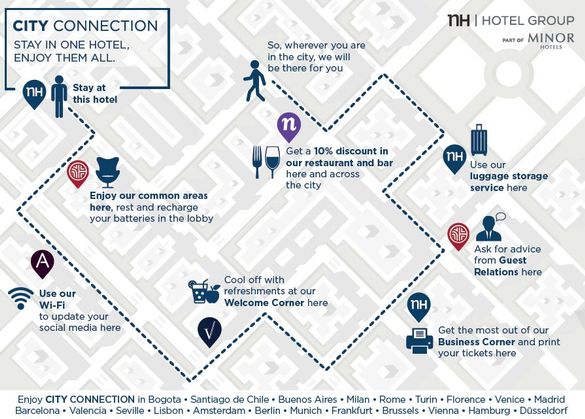 07 Nov 2019
---
Guests will now be able to use a suite of crossover services in any of the hotels operated by the Company in the city they are staying in
Under the tag line 'Stay in one hotel, enjoy them all', NH Hotel Group has unveiled City Connection, a selection of services guests can enjoy in any NH Hotel, NH Collection, nhow, Tivoli or Avani property in the city they are staying in, regardless of which one they are actually sleeping in.
City Connection is a pioneering service for the Company's guests, who will no longer need to rely on the hotel they are staying in as their only base; rather, they will be able to make the most of NH's excellent locations to enjoy a wider range of options across the city. When guests check in, they will be given a passport, which will explain which of the Company's hotels offer this service, where they are located and how long they can make use of it.
This initiative makes NH Hotel Group the first hotel group to offer these services in most of its establishments worldwide.
Commenting on the launch, Isidoro Martínez de la Escalera, Chief Marketing Officer at NH Hotel Group said: "With City Connection we aim to provide our guests with a unique and tangible benefit in comparison with other types of accommodation. For NH Hotel Group, the key lies with delivering beyond what our guests need, beating their expectations before, during and after their stays".
The services included in the City Connection initiative include the use of the properties' common areas so that guests can take advantage of the Group's fabulous lobbies, make use of free Wi-Fi and freshen up in the hotels' Welcome Corners. They can also ask the Guest Relations Managers for assistance and tips (available in NH Collection and nhow hotels only), store their luggage in the hotel that best suits them and use the Business Corners to organise their affairs. Meanwhile, 'foodie' travellers can enjoy the Group's culinary offerings, one of its best-known services, thanks to a 10% discount in the participating hotels' restaurants and bars across the city.
This new value proposition will give guests access to crossover services in a total of 129 hotels within selected cities in Europe and Latin America. These include top tourist and business destinations such as Madrid, Barcelona, Valencia, Seville, Lisbon, Milan, Rome, Turin, Florence, Venice, Amsterdam, Berlin, Munich, Frankfurt, Brussels, Vienna, Hamburg, Düsseldorf, Bogota, Santiago de Chile and Buenos Aires.
For more information about City Connection, visit www.nh-hotels.com/experience/city-connection
About NH Hotel Group
NH Hotel Group is a consolidated multinational player and a benchmark urban hotel operator in Europe and the Americas, where it runs more than 370 hotels. In 2019, the Company is working with Minor Hotels on integrating all of its hotel trademarks under a single corporate umbrella brand with a presence in over 52 countries worldwide. A portfolio of over 500 hotels has been articulated around eight brands – NH Hotels, NH Collection, nhow, Tivoli, Anantara, Avani, Elewana and Oaks – to forge a broad and diverse range of hotel propositions in touch with the needs and desires of today's world travellers.
NH Hotel Group Communications Department (UK)
Email: rebecca@humewhitehead.co.uk
Corporate website: www.nhhotelgroup.com
Social media:
www.nh-hotels.com/social-media
Follow and Share with Jetsettersblog.