Nikko Hotels PASS for families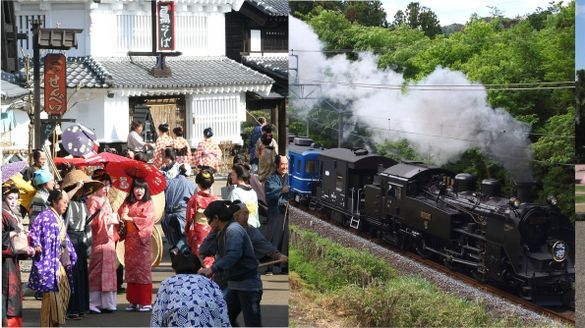 ---
After experiencing long periods of time cooped up indoors, many of us will be trying to think of ways to make the most of the great outdoors on our next overseas adventure. Japan already has a lot of appeal for families with kids, but if you're looking for somewhere that will really keep the whole family entertained (and active outdoors), then Nikko might be just the place for you.
NOTICE
We acknowledge the current situation regarding travel due to the ongoing COVID-19 pandemic and encourage all travellers to follow official health advice and closely monitor government advisories. In this unprecedented and evolving situation, we hope the destinations featured in this media release can act as a source of inspiration for those seeking new experiences and adventures to embark upon when it is safe to recommence travelling.
Nikko – literally 'sunlight' in Japanese – is a small city on the edge of the approximately 1,150 square km wide Nikko National Park yet is only a 2-hour train ride from Asakusa, Tokyo on the Tobu Railway.
When it comes to the great outdoors, Nikko offers it all. It is home to UNESCO World Heritage sites, including the Nikko Toshogu Shrine, as well as many Ryokans, and natural hot springs. Nikko caters to families well as it has an abundance of sights which are sure to get the kids excited. Here are three attractions that are sure to impress the whole family.
1. Tobu World Square
Around the world in a day! Tobu World Square is an outdoor architecture museum that showcases 102 internationally famous buildings and structures. The 1/25th scaled recreations include 47 World Heritage Sites from over the globe, and all of the structures have been brought to life with 140,000 realistic figures of tourists wandering the streets surrounding them, making children and adults alike feel like giants as they wander through the park.
Tobu World Square is an interactive and fun way for children to learn about different countries thought their architectural landmarks.
2. SL Taiju Steam Train
A train rides back in time with the Steam Locomotive Taiju – Class C11 coal-powered train that was manufactured in the 1940s. The train runs along a 12.4-kilometre route through Nikko's countryside between Shimo-Imaichi Station and Kinugawa-Onsen Station.
The 35-minute journey gives you enough time to relax and enjoy the scenery, as well as buying a souvenir aboard and even take some special memorial photos.
At the terminal stations, kids will get excited to see the SL Taiju's do a 180-degree turn on railway turntable for its next journey.
3. Edo Wonderland
Edo Wonderland is a fully interactive history and adventure theme park that recreates what life was like in a town from the Edo Period (1603-1868) allowing visitors to experience the magic of ancient Japan.
The park is populated by townspeople, including Samurai and Ninjas who are dressed in traditional costumes, which complement the Edo style architecture. Visitors can dress up in costume while they tour the parks many facilities, participate in games and see one of the park's live shows held at various theatres around the town.
Kids will love the Grand Ninja Theatre where they can see Ninjas have sword battles and martial arts performances that are held multiple times a day. There are also amusements such the Haunted 'Jigoku Temple' and the 'Karakuri Ninja Maze' –  for older kids who want a more thrilling experience.
NIKKO PASS
The Tobu Railway offers special discount passes only for foreign visitors visiting Nikko from Tokyo. There are two types that both include a round trip from Asakusa in Tokyo to Nikko, as well as unlimited travel on trains and busses in the Nikko area and allow access to the above attractions. Both passes provide the users with special discounts at some tourist facilities, shops and restaurants.
About Tobu Railway/Group
Tobu Railway's massive network extends through Tokyo as well as four surrounding prefectures: Chiba, Saitama, Tochigi, and Gunma. With 463.3 kilometres of operating track, Tobu is Kanto's largest private railway and is used by commuters, students, business travellers, and tourists. Tobu Railways is one of many companies that is part of the Tobu Group, which also operates health clubs, golf courses, theme parks, and hotels. This include TOKYO SKYTREE; Tobu World Square, where the world's most famous structures are re-created at 1:25 scale; the Courtyard Marriott Ginza Tobu Hotel and the Tobu Hotel Levant Tokyo, operated in partnership with the Marriott Group.
For more information, visit:
https://www.tobujapantrip.com/en/ 
Follow and Share with Jetsettersblog.