Noku Beach House Stars in New Netflix Series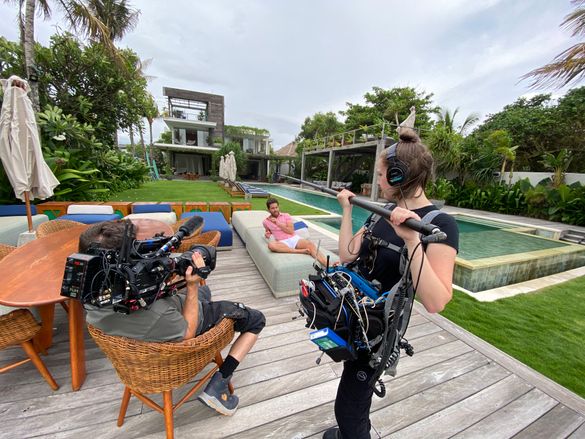 Key points:
NoKu Beach House in Bali has been hand-picked to be featured in the Netflix reality series, The World's Most Amazing Vacation Rentals
The World's Most Amazing Vacation Rentals premiered on 18 June 2021 and is available for viewing to subscribers around the world
Netflix has over 208 million subscribers across 190 countries
The show establishes the changing trend of one's accommodation of choice being as important as the destination in the new world
June 23, 2021: When Netflix set out to find the most amazing holiday homes in the world, it was inevitable that they would come knocking on the doors of an elite haven. As Asia's leader in high-end villa vacations,Elite Havensboasts nearly 300 properties in some of Asia's most scenic destinations. It is a great honour to announce that NoKu Beach House, an elite haven in Bali, has been chosen to feature in the Netflix reality series, The World's Most Amazing Vacation Rentals, which premiered on 18 June 2021.
Scott Waters, Director of Marketing at Elite Havens said, "We're incredibly excited to see NoKu Beach House featured on Netflix. It truly is an unrivalled holiday experience, and the show gives people a sneak peek of what they can expect when they holiday with us at Elite Havens."
A private getaway in the heart of trendy Seminyak, Bali
NoKu Beach House is a beachfront gem created by the award-winning, internationally acclaimed interior designer, Alex Zabotto-Bentley, that enjoys an enviable and rare location on Seminyak Beach. Giving new meaning to indulgent luxury, this spectacular property comprises six sumptuous ensuite bedrooms, unmatched five-star facilities, breathtaking views of sunsets over the Indian Ocean, and a full fleet of professional in-villa staff. NoKu Beach House is also a gourmet getaway with a private chef on hand who prepares customised meals for guests.
Inspiring travellers to pick up their passports and start exploring again 
The World's Most Amazing Vacation Rentals is a Netflix reality series created by George Verschoor and Will Spjut. The show takes you on a journey of a lifetime, as hosts Luis D. Ortiz (Million Dollar Listing), Megan Batoon and Jo Franco (travel content creators) explore and live in some of the dreamiest properties ever built. With an eye for every budget and style of travel, these three experts explore vacation homes that range from affordable treehouses to exclusive private islands, and from unforgettable igloos to gourmet getaways, giving you a glimpse of the life-changing experiences that they have to offer.
"This is just unreal"
Host Luis D Ortiz spends his life around luxury properties as the host of Million Dollar Listing. But even he was impressed with the magnificence of Noku. "I'm talking about luxury at its best!"
NoKu Beach House is a one-of-its-kind holiday home where you don't need to leave the premises to have a good time. Jo calls NoKu's raised oceanfront deck "one of the coolest rooftop bars in Seminyak" and said she was "transported to a different place"!
Watch the show to find out what makes NoKu exceptional, even for these three renowned travel hosts who have stayed in some of the best places around the world. "I love the design. I love the service. A stay like this makes me feel the most relaxed," said Megan Batoon.
The show launched on 18 June 2021 and within two days reached the elite list of Top 10 shows on Netflix in the United States. It is available to all of Netflix's 208 million subscribers across 190 countries for viewing. Tune in to vicariously stay at NoKu Beach House, enjoying floating breakfasts in the pool and spa treatments in the secret garden spa tucked into the villa, and allow yourself to dream of a vacation where your choice of accommodation is the destination itself.
About Elite Havens Luxury Villa Rentals and Management
Elite Havens is Asia's market leader in high-end holiday rentals, with a spectacular, hand-picked portfolio of close to 300 private luxury havens in Bali, Lombok, Nusa Lembongan, Phuket, Koh Samui, Sri Lanka, Japan, India and the Maldives. Inspired accommodation on offer ranges from absolute beachfront to mountain lodges, traditional to design chic and honeymoon hideaways to stunning wedding venues. Each Elite Havens' guest has access to the Elite Concierge, gourmet dining, luxury provisioning and modern facilities to ensure an indulgent and memorable experience. Elite Havens is part of Dusit Thani Public Company Limited (DTC).
For all press, media enquiries or a full suite of high-resolution photos, please contact Bastien Boulay at bastien.boulay@elitehavens.com.

Follow and Share with Jetsettersblog.