NORTH DAKOTA OUTDOORS: Well-being on a grand scale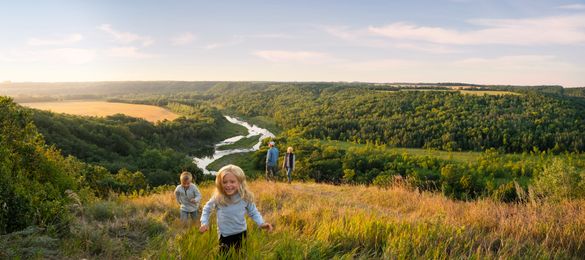 ---
September is a time of change in North Dakota as days get shorter and refreshingly cooler. Leaves begin their annual color change, and this year outdoor recreation continues to be the perfect activity for friends and family to go out and experience while social distancing.
Did you know that getting outdoors is good for your mental health? Studies show that being outside has several positive impacts on our health, like the sun's effect on pain mitigation, enhanced creativity, daily doses of vitamin D and increased immune systems (www.mentalfloss.com/article/70548/11-scientific-benefits-being-outdoors).
It does a body good to take trips into and recreate in the great outdoors, and planning can be just as important as the trip itself. Doing your homework before leaving home builds excitement and eases concerns about safe travel. As part of the U.S. Travel Association's "Let's Go There" Coalition, North Dakota is welcoming visitors to travel confidently and responsibly through the state and nation (www.ndtourism.com/north-dakota-welcomes-you).
It's one thing to see the leaves change colors in the fall. It's something totally different to play around underneath the colorful canopy like you can in the Pembina Gorge State Recreation Area (www.parkrec.nd.gov/pembina-gorge-state-recreation-area). The pristine 2,800-acre site along the North Dakota-Canada border has 30 miles of motorized and non-motorized trails, much of it within the wooded hillsides.
Dirt bikes and OHV trails weave along steep valleys and through the prairies and wetlands. Hikers stroll leisurely along hillsides, while kayak rentals and transportation can be arranged for a day on the Pembina River.
Bring your own mountain bike or rent one at nearby Frostfire Mountain Bike Terrain Park (https://frostfirepark.org/mtn-bike-terrain-park) where lift passes mean it's all downhill.
The Rendezvous Region Scenic Backway (http://walhalland.org/byway.php) through the gorge is one of 10 official scenic byways and backways in North Dakota (www.ndtourism.com/best-places/north-dakota-scenic-byways-and-backways-and-more). Each offers spectacular scenery, quaint towns and enjoyable parks. Find things to do and places to stay at the Rendezvous Region adventures website (https://www.rendezvousregion.com/map.html).
Keep up with the changing foliage around the state through North Dakota Tourism's weekly foliage report throughout September (https://www.ndtourism.com/north-dakota-fall-foliage). Then load up your family and friends, pack a lunch and create memories on your own outdoor adventure.
###
Follow North Dakota Tourism on Facebook at www.facebook.com/TravelND, on Instagram at  https://www.instagram.com/northdakotalegendary/ or on Twitter at http://twitter.com/NorthDakota and get tips on what to see and do all year long.
Follow and Share with Jetsettersblog.