On Your Bike – Inghams Lakes + Mountains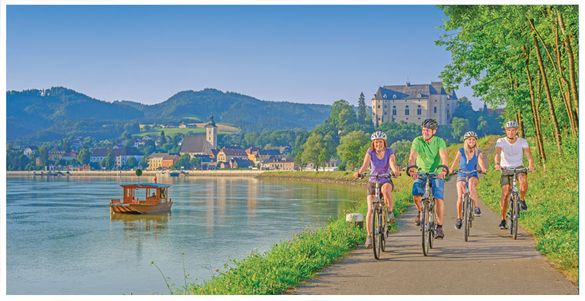 ---
The UK's cycling awareness week, Bike Week 2018, takes place from 9th – 17th June and encourages everyone to hop on a bike and get out on two wheels, via a range of events taking place across the country. Similarly, Inghams Lakes & Mountains encourages families, groups of mixed abilities, couples and those who don't believe they're fit enough to cycle in the mountains to get inspired by one of its e-biking holidays to Europe this summer.
Research recently conducted by TfL* (Transport for London) shows that more than a fifth of people who don't cycle are put off because they think they aren't fit enough. E-bikes (electric-assisted bikes) help people overcome these fears, enabling them to cycle further, for longer and uphill with ease. They're therefore gaining popularity in the UK, according to Bike Week organisers and cycling charity Cycling UK, and Inghams Lakes & Mountains has also seen a proliferation in the use of e-bikes to explore a holiday destination. Many Inghams Lakes & Mountains resorts in Austria, France, Italy, Slovenia and Switzerland are catering to this rising trend, with e-bike hire costing a reasonable 30 – 40 euros per day (approximately).
What is an e-bike?
At first glance, e-bikes don't look different to normal bikes, except for their fat frames which house the electric motor. This has different settings, which are controlled by a dial on the handlebar or frame, and range from 'Eco' to 'Boost'. Whilst these settings certainly make pedalling much easier, e-biking isn't completely effort-free because the rider still needs to exercise: part of the power comes from the rider and part of it from the motor.
Louise Newton, Inghams Marketing Manager, says: "Whilst cycling enthusiasts may refer to e-biking as 'cheating', I have to disagree. I was initially surprised at how similar it is to riding a normal road or mountain bike. You still feel it in your legs, it's still exercise and, if you compare it to not cycling at all out of fear you'll never manage the hills, then it's not cheating at all!"
Where can guests e-bike with Inghams?
Italy: Alta Badia E-Bike Sharing Scheme 
The Dolomites are well known for their summer bike races (such as the Giro d'Italia road bike event), but there's more to the region of Alta Badia than competitive cycling: it's also home to the world's highest e-bike sharing scheme. This summer, a fleet of e-bikes is available at six docking stations located over 2,000m above sea level. The e-bikes do not need to be pre-booked and can be dropped off / picked up at stations located above Col Alto, Piz La Ila and Piz Sorega, as well as in the villages of La Val, La Villa and Inghams' NEW resort for summer 2018: Corvara. The scheme makes the region more accessible by bike, enabling visitors to glide through pine-scented forests and flower-filled meadows, immersing themselves in nature. Little hamlets are interlinked by a network of mountain trails and there's plenty of opportunity to enjoy local treats (to replace spent calories) at some of the region's gourmet mountain huts.
Inghams is offering a seven-night stay on a half board basis at the four-star Hotel Col Alto in Corvara, Alta Badia, Italy, from £1,029 per person based on two sharing. Price includes return flights and airport transfers. To book, visit www.inghams.co.uk/lakes-mountains-holidays or call 01483 791 116.
Austria: NEW Guided E-Biking Programme In Kitzbühel   
New for summer 2018, Inghams is offering a bespoke guided e-biking programme, exclusively for all guests staying at Chalet Linda in Kitzbühel. The programme includes five guided rides per week, each varying in levels of difficulty and lasting approximately three hours. Prices start from €39 per person per ride and can be booked in resort via the Inghams Representative. Kitzbühel forms part of the world's biggest e-biking region: one thousand kilometres of trails carve through the terrain, offering guests unforgettable journeys to breathtaking scenic hotspots and to some of the network's most beautiful hidden corners.
Inghams is offering a seven-night stay on a catered basis (including buffet breakfasts, packed lunches, afternoon tea and cake, and four-course evening meals with complimentary wine for six days) at the three-diamond Chalet Linda in Kitzbühel, Austria, from £379 per person based on two sharing. Price includes return flights and airport transfers. To book, visit www.inghams.co.uk/lakes-mountains-holidays or call 01483 791 116.

Germany / Austria / Hungary: Self-Guided Cycling Tours Along The Danube      
Inghams offers two gentle, unescorted cycling tours along the River Danube. The seven-night tours are suitable for all levels of fitness as they follow a flat, easy-to-navigate, traffic-free route, with comfortable, top-of-the-range bikes and e-bikes available to hire, and a flexible itinerary – guests can even choose their arrival day! The River Danube flows from southern Germany through 10 countries, before reaching the Black Sea. Inghams guests can choose between the Passau to Vienna route or the Vienna to Budapest route, both of which combine city sightseeing with great hotels and superb rural landscapes, including picturesque vineyards, fruit farms, pretty villages and dramatic gorges. The Danube also used to be an important medieval trade route and the long-standing frontier of the Roman Empire. Its history is apparent along the river banks, which are dotted with many impressive castles, opulent cathedrals, monasteries and fortresses. These can be explored at a leisurely pace and, at the end of the trip, guests have the option to extend their stay in Vienna or Budapest, to explore these great cities further.
Inghams is offering a seven-night Treasures of the Danube from £839 per person based on two sharing. Price includes:
Return flights (to Munich, return from Vienna / to Vienna, return from Budapest)
Airport transfers
Three and four-star hotel accommodation on a bed & breakfast basis
Bike hire for seven days with a saddle bag (upgrade to an e-bike from £65 per person)
A convenient luggage transfer service between hotels
Detailed map and route descriptions delivered before departure
Telephone assistance throughout the tour
To book, visit www.inghams.co.uk/lakes-mountains-holidays or call 01483 791 116.
-ENDS-
Notes to Editors:
*Published in Metro on 19th March 2018.
ABOUT INGHAMS
Inghams was founded by Walter Ingham in 1934, born out of his enduring passion for ski, mountaineering and walking. In 2014, Inghams celebrated its 80th year and the brand continues to pride itself on being one of the UK's leading, most experienced specialist tour operators, delivering a wide range of award-winning holidays to its loyal guests. Today, Inghams offers winter holidays to over 90 resorts in eight countries, with flights from 21 UK regional airports. It also has a popular Lakes & Mountains summer holiday programme to many European destinations and a dedicated Inghams Italyprogramme. For more information, visit www.inghams.co.uk.
ABOUT CYCLING UK
Cycling UK, the national cycling charity, inspires and helps people to cycle and keep cycling, whatever kind of cycling they do or would like to do. Over a century's experience tells us that cycling is more than useful transport; it makes you feel good, gives you a sense of freedom and creates a better environment for everyone. For more information, visit www.cyclinguk.org.
ABOUT BIKE WEEK
Bike Week, delivered by Cycling UK and supported in Scotland by Cycling Scotland, is an annual opportunity to promote cycling and show how cycling can easily be part of everyday life. Bike Week 2018 runs from Saturday 9 June until Sunday 17 June with many events and activities taking place right across the UK; it supports over half a million people to rediscover cycling and rethink everyday journeys, using cycling as a convenient way to get around. For more information, visit www.bikeweek.org.uk.
For media enquiries, please contact Frankie Gibson, PR Executive, on 01483 791 045 / Frankie.gibson@inghams.co.uk / Twitter: @Fr4nkie_90
Follow Inghams on social media at:
Facebook and Twitter: @InghamsSki / @InghamsSummer / @InghamsItaly
Instagram: @InghamsHolidays / @InghamsItaly
YouTube: /inghamsholidays
Follow and Share with Jetsettersblog.