Outdoor experience at Qasr Al Watan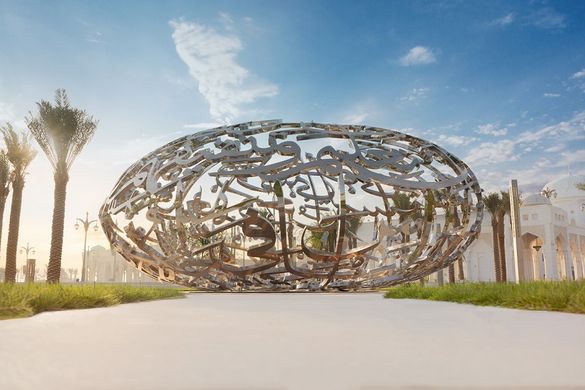 ---
Abu Dhabi, United Arab Emirates,  If you're looking for an outdoor cultural experience to enjoy during the UAE's cooler months, look no further than Qasr Al Watan. Home to an unparalleled visitor experience both inside and outside its extraordinary walls, this landmark is a great place for families and friends to create priceless memories while rediscovering the journey of a nation at the breathtaking Qasr Al Watan.
Witness the views all around
For first-time visitors to Qasr Al Watan, the experience begins after being transported from the Visitor Center through the Palace Gardens, until the main door, where they take their first step inside the Palace walls.
As they approach the Palace, sunlight can be seen glinting off the reflective surfaces of two silver Power of Words sculptures located in the garden, representing a quote by the late Sheikh Zayed bin Sultan Al Nahyan. The two sculptures are smaller replicas of the original Power of Words sculpture housed within the halls of the Palace.
Absorb the ambiance of Qasr Al Watan at sunset
When exiting the Palace at the end of a tour, Qasr Al Watan's visitors can take in the scenery that surrounds them outdoors, including the impressive Abu Dhabi skyline. This is the perfect opportunity for visitors to take a minute and appreciate the setting of the sun into the horizon of the glittering Arabian Sea as they await the Palace in Motion light and sound show.
Immerse yourself in the story of a nation during the Palace in Motion light and sound show
As the night falls on Qasr Al Watan, an inspirational journey begins with the Palace in Motion light and sound show. Commencing at 7:30pm, light effects are projected onto the exterior of the Palace's walls, with an accompanying narration that tells the visual story of the UAE's past, present, and future, all whilst the evening winds maintain the perfect outdoor condition.
We look forward to welcoming you at the Palace of the Nation. For more information on ticket prices, please visit the website:www.QasrAlWatan.ae 
Follow and Share with Jetsettersblog.