Palladium Hotel New Hotel in Menorca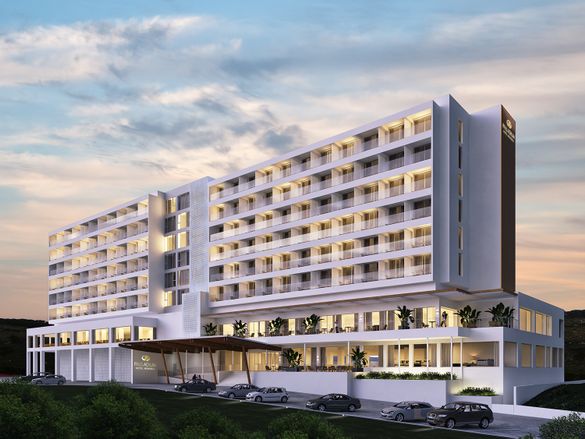 The Spanish hotel group is scheduled to open Palladium Hotel Menorca on 28 May.
Located 20 minutes from Mahón and the airport, the hotel has 264 rooms and a varied gastronomic offering for a taste of the Balearics and international cuisine.
Madrid, 30 March 2021. Palladium Hotel Group continues its expansion across the Mediterranean, with its new property on the island of Menorca planned to open on 28 May.
The opening of Palladium Hotel Menorca will coincide with a new tourism campaign to promote the island and aid the island's recovery.
Menorcan inspiration in the Mediterranean
Inspired by the true essence of Menorca and the Mediterranean Sea, Palladium Hotel Menorca is the second hotel outside Ibiza for the Palladium Hotels brand, following the opening of Palladium Hotel Costa del Sol in 2019.
It is a four-star hotel offering all-inclusive and half board options. Overlooking Arenal d'en Castell Bay, it is about 20 minutes from Menorca's capital Mahón and the airport. With 264 rooms, Palladium Hotel Menorca's spaces are equipped with the latest technology.
Perfectly situated for exploring every corner and cove of the island, Palladium Hotel Menorca also offers guests the opportunity to try traditional dishes from the Balearic Islands as well as international cuisine at its Sa Barca restaurant, specialising in showcooking. It also has three bars: Gregal Bar, Shake it! Pool Bar and a comedy theatre bar. Furthermore, through People of Palladium Entertainment, Palladium Hotel Menorca guests can enjoy live performances and a wide range of activities and entertainment for all ages.
Advantages for Palladium Rewards members
Palladium Hotel Group is offering up to 30% off and a free stay for one child for the first bookings to the hotel. Members of Palladium Rewards, Palladium Hotel Group's loyalty programme, which launched last year, will be able to earn other benefits and offers during their stay, such as an additional discount and bonus points on their account. In addition, the company offers a flexible cancellation policy.
Palladium Rewards loyalty programme is another initiative from Palladium Hotel Group to improve the experience in its hotels and restaurants, rewarding its best customers with points, discounts and exclusive benefits. It is 100% digital, without physical cards, and is based on innovation and digitization – characteristics of the group.
A unique and safe holiday
Finally, it is important to remember that in order to continue to ensure the safety of guests in all its hotels and take care of them during their stay, Palladium Hotel Group has strict health and safety protocols certified by SGS, the world's leading company in inspection, verification, testing and certification, recognized as a reference for quality and integrity.
-Ends-
About Palladium Hotel Group
Palladium Hotel Group is a Spanish hotel chain with fifty years of experience. The chain has 48 hotels and more than 14,000 rooms in six countries: Spain, Mexico, Dominican Republic, Jamaica, Italy and Brazil, and operates 10 brands: TRS Hotels, Grand Palladium Hotels & Resorts, Palladium Hotels, Palladium Boutique Hotels, Fiesta Hotels & Resorts, Ushuaïa Unexpected Hotels, BLESS Collection Hotels, Ayre Hoteles, Only YOU Hotels, as well as licensed brand Hard Rock Hotels in Ibiza and Tenerife. The Palladium Hotel Group hotels are characterised by their philosophy of offering customers a high standard of quality in its products and services and excellent value. Palladium Hotel Group is owned by Grupo Empresas Matutes (GEM). www.palladiumhotelgroup.com
Follow and Share with Jetsettersblog.