Pan Pacific Hotels Group Expands Deluxe Brand in Malaysia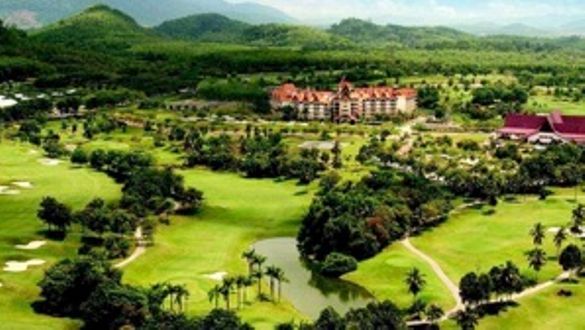 ---
PARKROYAL resorts to open in Melaka and Langkawi in the next two years.
Pan Pacific Hotels Group (PPHG) is expanding its presence in Malaysia with the opening of two more resorts, PARKROYAL A'Famosa Resort, Melaka in 2019 and PARKROYAL Langkawi Resort in 2020. These follow the success of the recently renovated PARKROYAL Penang Resort, reinforcing PPHG's continued expansion plans in the resort arena.
PARKROYAL A'Famosa Resort, Melaka (2019)
PARKROYAL A'Famosa Resort gives a new lease of life to this integrated resort in Melaka.
Located within the resort precinct, PARKROYAL A'Famosa Resort will be a welcome accommodation choice when it opens in 2019. Surrounded by 520 hectares of undulating hills and a panoramic landscape, the resort will feature thoughtfully designed rooms and suites, exuding modern tones with a touch of local inspiration, crafted for today's business and leisure travellers.
An extensive range of dining options including a lobby lounge, an all-day dining restaurant, a Chinese specialty restaurant, Club Lounge and pool café will all be housed within the resort compound.
For those seeking fun and leisure, this integrated resort houses a water theme park and animal safari, as well as a wide range of activities including bowling, horse riding, fishing, tennis, and BBQ facilities. Children-friendly facilities include a Kids' Club, activity centre, outdoor swimming pools and playgrounds.
Golf enthusiasts will appreciate the A'Famosa Resort Golf Course, a 27-hole international championship course designed by Ross C. Watson, which is set on elevated grounds amidst the hills. Shopping options abound at the Freeport A'Famosa Outlet which offers more than 70 fashion, sports and lifestyle brands. Both are a short 5-minute stroll from the Resort.
PARKROYAL A'Famosa Resort is also ideal for corporate retreats, events and team-building activities with its ample meeting facilities – including 7 meeting rooms, an outdoor garden and an open rooftop. With a well-equipped Grand Ballroom that can accommodate up to 700 persons, the resort will also be able to cater for large-scale events and weddings.
While there, guests can also visit Melaka town, a UNESCO World Heritage site with its cultural sights and popular night markets, a short 40-minute drive away.
PARKROYAL Langkawi Resort (2020)
Opening in 2020, PARKROYAL Langkawi Resort is located in a prime beachfront location on the beautiful expanse of Pantai Tengah Beach, the longest stretch of beach in Langkawi. Surrounded by restaurants, nightlife, and beach activities, the resort is a just a 20-minute drive from Langkawi International Airport and 18 km from the nearest town centre, Kuah Town.
An archipelago of some 100 islands, Langkawi is the only Southeast Asian destination to attain UNESCO's highly-coveted Geopark status. Besides spectacular beaches, visitors will find gorgeous limestone landscapes, coastal wetlands and spectacular nature parks at one of Malaysia's most popular holiday destinations.
PARKROYAL Langkawi Resort will offer 294 guestrooms and unique sky dipping pools at its most premium suites, seven exclusive villas, as well as an extensive range of facilities including an all-day dining restaurant, a Japanese restaurant, a beach bar, and multi-tier outdoor swimming pools.
Mr Lothar Nessmann, Chief Executive Officer, Pan Pacific Hotels Group, said, "PARKROYAL is an established brand in Malaysia, where we already operate a hotel, serviced suites and a resort in the key cities of Kuala Lumpur and Penang. We are excited to expand our portfolio of resorts in this market after seeing the popularity of PARKROYAL Penang Resort, which recently underwent an MYR55 million transformation as part of continuous upgrading efforts to offer the best experience to our guests.
"We are committed to Malaysia as a strategic market as we continue to grow our presence in Asia. The PARKROYAL brand, which celebrates people, is especially well-suited for the leisure segment. We are excited to plant more resorts with the PARKROYAL flag in Melaka and Langkawi and look forward to creating real connections and joyous moments with our guests."
Pan Pacific Hotels Group
Pan Pacific Hotels Group is a wholly-owned hotel subsidiary of Singapore-listed UOL Group Limited, one of Asia's most established hotel and property companies with an outstanding portfolio of investment and development properties.
Based in Singapore, Pan Pacific Hotels Group owns and/or manages more than 40 hotels, resorts and serviced suites including those under development in 24 cities across Asia, Oceania, North America and Europe.
Voted "Best Regional Hotel Chain" by readers in Asia in 2017, Pan Pacific Hotels Group comprises two acclaimed brands: its signature brand, Pan Pacific and its deluxe brand, PARKROYAL.
Sincerity is the hallmark of Pan Pacific Hotels Group. The Group is known to its guests, partners, associates and owners for its sincerity in people and the sense of confidence which alleviates the stresses of today's complex world.
Pan Pacific Hotels and Resorts
With hotels, resorts and serviced suites across Asia, Oceania and North America, Pan Pacific provides a safe harbour in an ever-changing world. Places with less to worry about because, when you stay with us, rest assured that all will be taken care of. For this is where you will find your balance.
PARKROYAL Hotels & Resorts
A big city or cosy enclave – where there is a PARKROYAL hotel, resort or serviced suite, there is a celebration of people. Our passion for creating real connections and joyous moments can be felt when you enter any of our properties across Asia and Australia. After all, this is the place to bring out the best of you, by us.