Parc Astérix Is Celebrating Its 30th Anniversary in France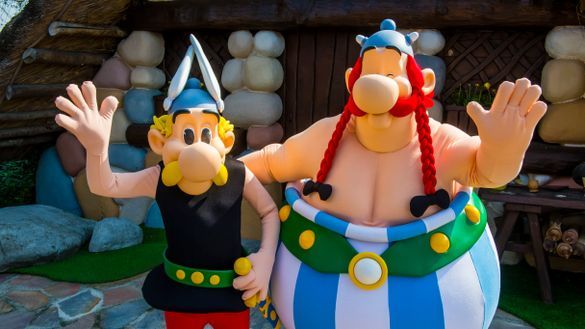 ---
OPENING ON 6 APRIL 2019 
PARC ASTÉRIX IS CELEBRATING ITS 30TH ANNIVERSARY
A unique attraction, new characters and some not-to-be-missed events: Parc Astérix's new 2019 season promises to be full of surprises, because in addition, the Park of the indomitable Gauls is celebrating its 30th anniversary !   
NEW ATTRACTION! ATTENTION MENHIR!
A thirty-year anniversary really is something worth celebrating… To mark all those years shared with people from all over the world properly, Parc Astérix is launching Attention Menhir! a new family attraction inspired by immersion cinema. For the first time in its history, the Park is offering a 4D animated film, in a new 300-seats theatre, Les Studios Idéfix. After travelling through the Babaorum's Camp, visitors take place in dynamic seats and become spectators of a unique story, full of bouncing, soaring, water, wind, smells and so on. Illusion is complete in every sense. Watch out, menhirs may well fall on your top!
THE PARK BECOMES A CONTINOUS SHOW
You can't have a birthday party without any guests, so all the cartoon characters will come to Parc Astérix to meet-and-greet throughout the day. Astérix, Obélix, Panoramix, Vitalstatistix, Panacea and Impedimenta, everyone from the village will be wandering around the Park and joining the party!  And they will be accompanied by the latest iconic characters from Astérix's adventures… Visitors will also get to know the new iconic characters of Astérix's adventures. So Numerobis, the Vikings, the Greeks and a Roman patrol will also be strolling around various Park's areas. There'll also be a new magic show to enjoy at Panoramix Theatre.
THE PARK IS CELEBRATING EASTER ON 20,21 AND 22 APRIL
It wouldn't be April without chocolate! Greedy Obelix is not the one who will disagree…  At Easter, the Park will invite young hunters to search for coloured eggs hidden throughout the Village Gaulois. Armed with wicker baskets, little chocolate lovers will have to work as fast as they can to collect as many eggs as possible before the bell rings. As swap for their loot they will receive a full bag of Léonidas chocolate eggs.  Such a fun experience to enjoy with all the family!
NEW HOTEL LA CITÉ SUSPENDUE.
Located on the edge of the park, it boasts 150 rooms, spread over three hamlets :  the Potters' Village, the Artists' Village and the Druids' Village. The decor throughout, from rooms to restaurant, is designed to whisk visitors into a friendly, welcoming and authentic world, an ancient forest, home to a lost civilisation. The buildings of La Cité Suspendue are made entirely of wood and offer a warm and friendly atmosphere that continues outside, as the Villages are linked to each other by walkways on stilts.
LES TROIS HIBOUX'S RENOVATION
The Trois Hiboux's Hotel has been revamped with the total renovation of its 150 rooms. You can be sure of a very comfortable stay in the middle of the Parc Naturel Régional de l'Oise, just a short walk from the Park!

– ENDS – 
About Parc Astérix
Parc Astérix, a tested and approved potion for over 30 years. 35 km north of Paris, Parc Asterix is a combination of 47 attractions and shows set in 6 worlds (Gaul, the Roman Empire, Ancient Greece, the Vikings, Travel Through Time and Egypt). Parc Astérix is a riotous adventure on board OzIris, the ancient Egyptian attraction, Goudurix, the roller coaster with 7 loop the loops; excitement for Young Gauls in the Forêt d'Idéfix and thrills and spills for all the family on the Pégase Express ride! After a day full of adventures, the Park can also accommodate you in one of its two hotels in the heart of the forest, to prolong your experience! Discover all the news and the Park's media library at https://www.parcasterix.fr/espace-presse
Parc Astérix, a Compagnie des Alpes leisure destination 
Since it was founded in 1989, Compagnie des Alpes has established itself as the uncontested leisure industry leader. The company is in charge of 11 ski resorts among the most popular in the world (Tignes, Val d'Isère, Les Arcs, La Plagne, Les Menuires, Les 2 Alpes, Méribel, Serre-Chevalier, etc.) and 13 renowned leisure destinations (Parc Astérix, Grévin, Walibi, Futuroscope, etc.), and has continuously grown throughout Europe (France, the Netherlands, Belgium, Germany, etc.) and more recently further afield (Grévin Montréal in 2013, Chaplin's World by Grévin in April 2016 and engineering  and management support contracts in Russia, Morocco and Japan).