Park City, Utah – a Summer of Sunshine, Outdoors Fun and Festiv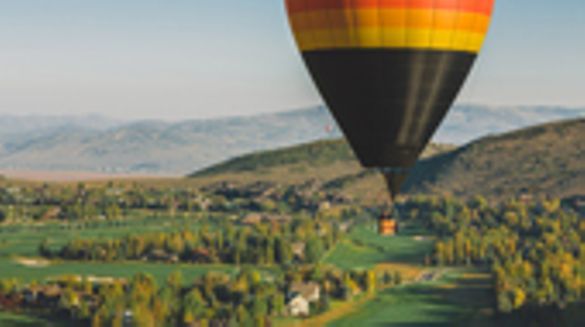 ---
Park City, Utah visitparkcity.com – located just 35 minutes from Salt Lake City International Airport, is famous for its world class ski resorts of Deer Valley and Park City Mountain. Set amid the soaring Wasatch Mountains, the historic town has also made a name for itself as a summer destination. Blessed with long sunny days and cool evenings, visitors are attracted to a variety of outdoor activities including 600 kilometres of hiking and biking trails. At a more leisurely pace guests also enjoy boutique and outlet shopping, art galleries, the bars and restaurants of Historic Main Street and a comprehensive choice of places to stay. At just over 3 hours drive to Moab, for the Arches National Park, Park City can be considered a gateway to Utah's Mighty 5 National Parks.
Summer activities in Park City:
Many come in the summer for the immense variety of hiking and biking trails, with easy access enabled when the skilifts open for the season. However, Park City offers so much more including at least four eighteen hole golf courses in Park City and a total of fifteen nearby. Here are some other options for a memorable summer holiday:
On the water:
Following winter, the snow melts, helping to create waterways and lakes just perfect for leisure. Choices include stand up paddleboarding, sailing, kayaking and white water rafting. In nearby Heber, there is even scuba diving and paddleboard yoga in an extinct, thermal water filled volcanic cone. Perhaps surprisingly, Park City also offers top quality fly fishing in nearby rivers, reservoirs and lakes, where pristine water flows. Fishing trips and equipment hire can be arranged locally with specialist companies.
On horseback:
With expansive open and mountain terrain in and around Park City, horse riding – one of the great traditions of the American west – is well represented. Whether you are a novice who wishes to learn or an experienced rider, there are several stables which between them offer a multitude of horseback experiences.
Mountain thrills for all:
Although humans can't fly, we can zipline, and Park City has many exciting ziplines. Enjoy a bird's eye view of the local terrain while zipping high above the trees at speeds up to 40 mph. There are zipline options in both ski resorts (Deer Valley and Park City Mountain), the Park City Olympic Park and further afield. The longest zipline is nearly 1.200m long.
Park City hosted many events during the winter Olympics of 2002. A legacy is the Olympic Park, still used by elite athletes for training and competition. Other than the fascinating Olympic Museum, visitors can be a spectator at the weekly ski jumping exhibition during the summer and experience the thrill of a lifetime by taking a bobsled ride – with a pilot – down the Olympic course. The Alpine coaster at Park City Mountain is a popular attraction for all ages. Each coaster is pulled up by mechanical means and from the top back to the base it's gravity all the way with a thrill around every bend.
Summer events:
Each Sunday during the summer season the popular and lively 'Park Silly Sunday Market' takes over the Main Street area. Vendors arrive to sell their wares including clothing, arts and crafts, local farmer produce and much more. There is an abundance of street food to be enjoyed to the beat of live music. Shoppers can also enjoy free lessons most weeks which may include yoga or hula hoop.
'Savor the Summit' – each midsummer weekend, the restaurants on Main Street move their operation to the street, for one night only. Main Street is closed off to traffic and a long, long line of tables fill both sides of the street where diners can enjoy their dinner in the early evening sunshine before Park City becomes party town after the sun sets when the action moves to the bars and clubs.
Tour of Utah – Each year this tough stage cycle race comes to a climax in Park City on the last leg of the race as elite riders vie for honours.
This is a mere snapshot of summer events. Live outdoor music is a feature at both Deer Vally and Park City Mountain and many other cultural festivals and fairs dot the warm summer months.
Park City facts:
Park City, in Utah's Wasatch Mountains is North America's most accessible four season mountain recreation destination, located just 35 minutes from Salt Lake City International Airport. Home to two world class ski and mountain resorts – Deer Valley and Park City Mountain – Park City has over 100 lodging properties including large multi-family private homes, bed and breakfast inns, condominiums, and full-service hotels. There are more than 100 restaurants, two micro-breweries and two distilleries producing award winning whiskies as well as vodka and gin. Shopping is a big attraction too, with numerous independently owned boutiques, galleries etc in Park City with outlet shopping at nearby Kimball Juntion, served by the Park City free bus system.
Park City was a highly successful silver mining town for over a century and its Historic Main Street preserves some of its history. For lovers of history, the Park City Museum on Main Street tells the story of the mining era.
Follow and Share with Jetsettersblog.