Peru – Chimu's Casa Republica Wins Prestigious Prix Versailles Award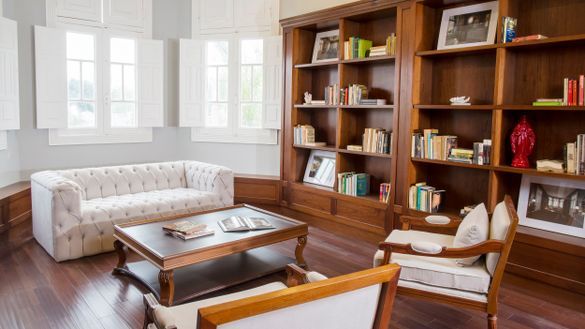 Chimu Adventures' boutique hotel in Lima, Peru, Casa Republica, has been named one of the Continental Winners of Prix Versailles 2018, claiming the 'Special Prize Interior' at the 2018 Prix Versailles Continental Ceremony for the Americas at Castillo Hidalgo in Santiago de Chile on Saturday 14 April 2018. This is a huge architectural accolade for the newly opened property situated in the buzzing Barranco district of Peru's capital and one that the Latin America travel experts, Chimu Adventures, are delighted with.
The Prix Versailles, running since 2015, is an annual world architecture award celebrating the notable exterior and interior architecture of commercial structures like stores, shopping malls, hotels and restaurants which have been opened or re-opened between 1 February 2017 and 31 January 2018. Organised with the International Union of Architects and UNESCO, it aims to highlight the intersection between creation, art and economics. The Continental Ceremony last Saturday saw 22 projects, comprising of six stores, four shopping malls, six hotels and six restaurants, receive Continental Prix Versailles or special prizes. Beijing will host the next Continental Ceremony on 20 April 2018 for Central Asia, the North East region, South Asia and Pacific region, followed by a ceremony in Algiers on 26 April 2018 for Africa, West Asia and Europe. On 15 May 2018 at the UNESCO Headquarters in Paris, Casa Republica and the other winners will compete in the Prix Versailles World Final which is judged by renowned architects and designers amongst others.
Casa Republica, which opened in 2017, is a majestic 1916 mansion and the former beach retreat of a wealthy Lima family. Chimu's co-founders Chad Carey and Greg Carter, as well as their local business partners and New Xealand partner Rachel Williams of Viva Expeditions, invested in the thoughtful restoration of the property into a stylish boutique hotel. This was in response to a one hundred percent increase in visitor numbers to Peru over the past ten years, yet a lack of good quality, non-chain accommodation in Lima. They appointed Peruvian Interior Designer, Gianfranco Loli to restore the property. Chimu co-founder Greg Carter explains: "We were looking for a fresh Peruvian designer to give this opportunity to. We wanted someone with good knowledge of the Barranco 'vibe' – its current art scene as well as its traditions. This was key to capturing the character of the hotel." Prior to the restoration process, Australian Prime Minister, Malcolm Turnbull, met with Mr Carter and Mr Carey at the property in 2016 and was given a tour of their latest collaborative venture.
Casa Republica is based in the heart of the Barranco community and is reminiscent in style of the glory days of Peru's Republican era but with all the amenities of a modern hotel. Chimu co-founder Chad Carey says: "We have worked hard to create a property which is true to Lima's heritage whilst still being affordable for the average traveller. We sought feedback from our previous clients on the hotel plans. This award is a fantastic reflection of all the great work that has been done by our outstanding team: Interior Designer Gianfranco Loli, Hotel Manager Rafael Parra and Peru Based Directors, Juan Jose and Nicolas Macciocca." The Prix Versailles recognition will only bolster Casa Republica's already popular reputation amongst guests; the property has one hundred percent five star reviews on TripAdvisor, receiving some excellent guest feedback in the short time it has been open. Joseph from the United States comments: "This is an amazing property in a perfect location. The rooms are beautiful and spacious, the bathroom is luxurious and the public spaces are decorated to perfection."
***ENDS***
For media enquiries and interviews, please contact:
Frances Armitage PH: 02 9458 1200 E: FranA@chimuadventures.com
CHIMU ADVENTURES
Founded in 2004, Chimu Adventures is an Australian owned company offering fully flexible, guaranteed itineraries to Latin America, plus cruises to Antarctica and the Arctic. Catering to clients of all ages, Chimu's philosophy is simple, 'use specialised knowledge to work with our clients, accommodating their individual needs at reasonable prices'.
Our team is committed to the destinations which we operate in and are proud members of the International Association of Antarctica Tour Operators (IAATO), the Council of Australian Tour Operators (CATO) and International Galapagos Tour Operators Association (IGTOA).  For more information visitwww.chimuadventures.com
Follow and Share with Jetsettersblog.