Central America, Secret List of Natural and Cultural Treasures,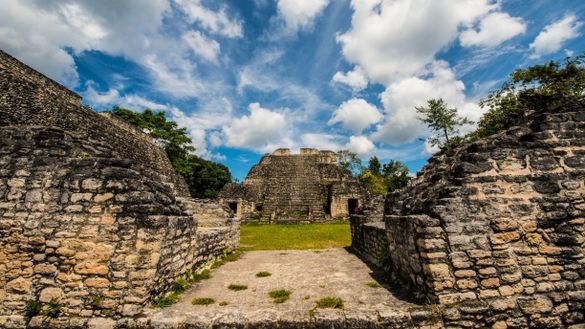 POST LOCKDOWN CENTRAL AMERICA, HAS A SURPRISING
SECRET LIST OF NATURAL AND CULTURAL HIDDEN TREASURES, FOR INTREPID TRAVELLERS
We may not be able to travel immediately post lockdown, but we can still start to plan and discover surprising and different locations across Central America. From the acclaimed Mayan Temples in Belize to the Lake of Yojoa in Honduras and The Redonda Mountain in The Dominican Republic there are some yet undiscovered off-beaten-track natural sites and cultural heritage locations, which are not to be missed.
Discover new sites and locations in your next trip to Central America.
Belize: Maya Temple
Costa Rica: Bajos del Toro
El Salvador: Parque Nacional El Imposible
Guatemala: Laguna Lachuá
Honduras: Lago Yojoa
Panama: Santa Catalina Beach
Nicaragua: Corn Island
Dominican Republic: Montaña Redonda
Belize: Maya Temple
Not to be missed the plethora of Mayan ruins in Belize. Although none boasts the sheer size of Tikal, each is worth exploring individual. Caracol is the largest site; located within Chiquibil Forest Reserve, it includes a 136-foot-high pyramid that remains Belize's highest building to this day. Visit Xunantunich to see Belize's second-largest structure, a temple perched on a cavern, and explore smaller temples at Altun Ha and Lamanai.
Costa Rica- Bajos del Toro
Bajos del Toro is located in a stunning mountainous valley tucked away between extinct volcanoes, luscious green landscapes and stunning hidden waterfall and forest trails, it is well worth a visit to this undiscovered beautiful site
Dominican Republic: Redonda Mountain
Recently discovered the Redonda Mountains has locals and travellers in awe, with its dramatic mountain top views and stunning sea views over beaches. It's well worth the drive to the top.
El Salvador – Parque Nacional El Imposible
The Parque Nacional El Imposible is a tropical forest and El Salvador's largest national park. Named the Impossible for its perilous gorge – now spanned by a bridge, it was decreed a national park in 1989. It encompasses eight rivers, mangrove forests along the coastline and sits in the Apaneca Ilamatepec mountain range.
Guatemala: Laguna Lachuá
Known for its turquoise coloured pristine lakes, Laguna Lachua is located in the middle of Cobán national park covered by a tropical rain forest, northwest of Cobán. This Guatemalan Gem has only recently been discovered by travellers and is now a hot new destination for locals.  The lake is near circular in shape and is 200m deep. The lake water has a slightly sulphurous smell, as the water contains a relatively high degree of calcite and tree branches fallen into the lake are quickly covered with a white calcite layer.
Honduras: Lago Yojoa
The largest lake in Honduras is fast becoming a hot destination for travellers to Central America to visit this biodiverse region. It is truly a spectacular wonder of nature surrounded by mountains and covered in misty cloud, the lake lies deep in a volcano valley. It's the perfect place for an off-the-beaten track tours.
Panama: Santa Catalina Beach
There are several choices to discover Panama and off the beaten path, places namely Volcan, Pinas Bay and Coco Blanco Island, all outside of Panama City, there are friendly small communities, jungle retreats and isolated beaches. One of the less frequented beaches we think is worth a visit is Santa Catalina, to experience some of the country's best Scuba Dive sites and surfing.
Nicaragua: Corn Island
The tranquil beauty of Nicaragua's Corn Island, of stunning Turquoise blue water and swaying palm trees this island is an off-the-radar location, but that's what we like about it. Located 50 miles off the East coast of Nicaragua, there are two islands: Big Corn and Little Corn, both perfect for a hidden getaway, most visitors stay on Little Corn, there are no paved streets, instead tranquil peaceful beaches envelope the islands.
Flights from Europe take approximately 14 hours and it's worth planning an itinerary around at least 3-4 countries to explore some of the less visited and surprising locations which will elate all visitors with their natural sites and wonders; from Mayan temple historic ruins to tropical forests which house waterfalls to palm treed deserted beaches, perfect for exploring off the beaten track and away from other travellers for more unusual adventures in Central America.
Central America Tourism Agency:
Central America is now made up of 8 countries: Belize, Costa Rica, El Salvador, Guatemala, Honduras, Nicaragua, Panama and the Dominican Republic.
www.visitcentroamerica.com
The Central American isthmus is located in the heart of the American continent uniting North and South America, it has 57 million inhabitants in a total area of ​​570,948 square kilometres and is made up of seven countries: Belize, Costa Rica, El Salvador, Guatemala, Honduras, Nicaragua and Panama, complemented by the Dominican Republic. Central America occupies only 2% of the planet's surface, but is home to 12% of biodiversity globally, with more than 550 nature reserves and the largest coral reef system in the northern hemisphere (the second largest in the world) . Today, the region has 25% of the territory declared as a protected area, 22% of the marine area as a natural conservation and 39% of the forest area.
In this natural bridge embraced by the Pacific Ocean and the Atlantic Ocean, not only flora and fauna stand out. Central America integrates a fusion of numerous cultures, ethnic groups, languages ​​and traditions, reflected in their passion, mysticism, nature, culture, sun, sea, sand, lakes and volcanoes, with populations whose lineages come from various ancestral cultures that make Central America a unique and incomparable region. More than 25 indigenous peoples, traditional dances, imposing colonial buildings, mysterious Mayan sites and internationally known writers are part of the magic of an entire region.
To get to know it in depth, the ideal is to undertake a multi-destination trip discovering the secrets and wonders of each of its eight countries, which add up to 18 places declared World Heritage Sites. An adventure that offers a combination of attractions, services and interconnectivity thanks to its 47 seaports and 29 airports that guarantee the flow of cargo and passengers in the region, which undoubtedly enrich the travel experience of all visitors.

Follow and Share with Jetsettersblog.