Winter Sports Across Canada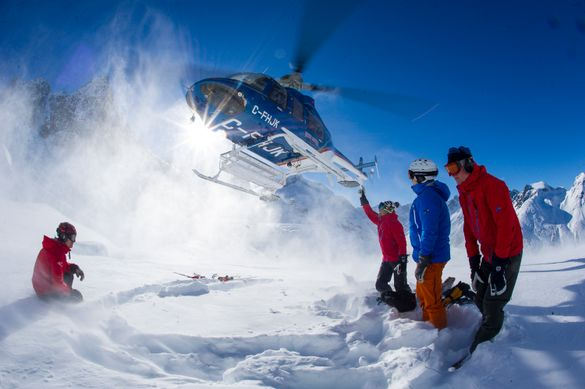 ---
Canada tops: Canada as a brand is among the top-ranked in the world, according to the annual Anholt-Ipsos Nation Brands Index. The report ties the country's reputational strengths to exceptional people and governance, driven by the welcoming nature of Canadians and the competence and honesty of the Canadian government. In travel news, Canada landed on National Geographic's list of "Destinations on the Rise for 2021", with Yellowknife, Northwest Territories and BC's Indigenous experiences lauded as unmissable highlights.
Comic book hero: Edmonton, Alberta artist Kyle Charles was homeless in 2015. Now, he's signed a deal with Marvel Entertainment to be one of the artists involved in Marvel's Voices: Indigenous Voices #1, a comic book collection that celebrates Indigenous talent across North America. For his contribution, Charles illustrated a story featuring Indigenous character Dani Moonstar, a mutant connected to the popular X-Men series. And in other comic book hero news, Teara Fraser, pilot and owner of Iskwew Air in BC, is one of 18 powerful women featured in DC Comics' new graphic novel Wonderful Women of History. The Métis entrepreneur was profiled alongside fellow female powerhouses like Ruth Bader Ginsburg, Beyoncé and Serena Williams.
Leader of the links: Tobiano Golf Course in Kamloops, BC scored a hole-in-one when the annual World Golf Awards named it the best course in Canada. Boasting scenic views of Kamloops Lake, dramatic elevation changes, challenging ravines and undulating greens, Tobiano offers a picturesque retreat for golfers seeking multiple award-winning links.
Here comes the sun: An Indigenous-owned solar farm in northeast Alberta – the largest project of its kind in Canada – opened in November 2020, bringing increased renewable energy independence to Fort Chipewyan, a community long reliant on diesel fuel. The farm's 5,760 solar panels will supply the community with 25 per cent of its energy needs, replacing 800,000 litres of diesel per year – equivalent to approximately 2,376 tonnes of carbon emissions. The project is owned by Three Nations Energy, a joint venture of the Mikisew Cree First Nation, Athabasca Chipewyan First Nation, and the Fort Chipewyan Métis Association.
Zip across the border: The world's first interprovincial zipline, known as Interzip Rogers, will open in spring 2021 between Ontario and Quebec. Thrill-seekers will have the opportunity to soar 120 feet above the Ottawa River as they travel from Ottawa to Gatineau on the dual-line zipline, with stunning views of the cities' skylines, Chaudière Falls and Parliament Hill flashing past.
More kudos: Bella Coola Heli Sports has flown past carbon-neutral and become carbon-positive. After tracking and measuring its entire carbon output, the award-winning helicopter tour agency implemented policies to reduce carbon emissions company-wide and purchased offsets that protect old-growth forests in BC – and, in doing so, achieved a milestone by becoming the world's first carbon-positive heliskiing operation.
Lodging: What's New in Canada's Ski Resorts
Canada's ski season typically stretches from November through April (excluding Sunshine Village Ski Resort in Banff, Alberta, whose season can last up to seven months), which means there's plenty of time to explore alluring ski hills next winter from coast to coast. Whether testing the terrain at Whistler Blackcomb, the biggest ski resort in North America, or dining at Kicking Horse Resort's Eagle Eye Restaurant in Golden, BC, which boasts Canada's most elevated dining experience at 7,700 feet, powderhounds and après-seekers alike will fall in love with Canada's ski action. Here's news to inspire future trips in 2021 and beyond.
First tracks: In Revelstoke, BC, construction has commenced on a luxury hotel sitting pretty at the base of Revelstoke Mountain Resort. Featuring 154 rooms and more than 7,300 square feet dedicated to the restaurant and bar, the property is poised to take the throne as Revelstoke's après action hub when it debuts in time for the 2023/24 season. Plus, it will serve as home base for Selkirk Tangiers Heli Skiing – connecting small groups to vast, unexplored terrain – with three helipads adjacent to the property. On the mountain, visitors can venture into new ski areas, thanks to the recently installed Stellar Chair, a fixed grip quad leading to six runs and 426 feet of vertical. Another reason to visit Revelstoke: in November 2020, it was voted the best ski resort in Canada by the prestigious World Ski Awards.
Pow power: Over in Rossland, BC, RED Mountain is every skier's dream come true with more than 4,000 skiable acres – the most acreage per skier in North America – and ski-in, ski-out access courtesy of The Josie Hotel, a luxury property that woos guests with slopeside cedar barrel saunas and dazzling mountain vistas. For a more rustic getaway, RED recently introduced The Constella: A Cabin Collective, a collection of eco-friendly cabins and central clubhouse situated in Granite Mountain's Paradise Basin, granting visitors direct access to the chairlift come sunrise.
Super bowls: Across the border in Lake Louise, Alberta, the new Lake Louise Ski Resort Summit Chair is taking the mountain by storm: a four-minute ride brings skiers to the peak of Whitehorn Mountain, where exhilarating runs await. Also new is the front side West Bowl, an all-natural landscape selectively maintained with picturesque tree glading; here, intermediate to expert skiers can follow endless routes and fall lines through steeps, powder bowls and glades. Visitors who prefer sightseeing to shredding can take a ride on the Sightseeing Gondola, which ascends to breathtaking panoramas of the Rocky Mountains.
Seasonal: Yep, It's Still Winter
Travel inspiration for the time of year
Canada does winter like no other destination, with residents eagerly embracing the cold, snow and ice to dive into some of the best adventures of the year
Big chill: The coldest place in Canada is Eureka, Nunavut, where temperatures settle around –19.7˚C (–3.5˚F) – and, indeed, residents of the North are typically treated to below-freezing winters. However, coastal destinations like Victoria and the Sunshine Coast in BC rarely dip below freezing, even on the coldest days of the year (thanks to Pacific Ocean currents). Despite its range of winter temperatures, Canada has emerged as a global leader in perfecting cold-weather play: here, you can explore shimmering ice caverns that form on the shores of Lake Superior, Ontario, when the temperature falls below freezing for more than 24 hours; trek among frozen waterfalls and ice fossils in Jasper National Park, Alberta; and stay in a hotel carved entirely out of ice in Quebec. So, cozy up in your Canada Goose parka or patriotic Peace Collective sweats, and check out these seasonal experiences that prove Canada shines its brightest in winter.
Frosty white: At the sprawling Peller Estates Winery in Niagara-on-the-Lake, Ontario, liquid gold awaits at the igloo-like 10Below Icewine Lounge. Constructed out of 13,607 litres of ice – including an ice bar and ice benches – the lounge is kept at a chilly –10˚C (–14˚F), the ideal temperature for harvesting ice wine grapes. Here, visitors can sip on sweet nectar produced from grapes that have been frozen on the vine, and learn fascinating facts about Canada's ice wine industry (did you know Canada produces more ice wine than any country in the world?).
Frozen falls: Niagara Falls, Ontario is particularly beautiful in winter as ice buildup creates the illusion of frozen waterfalls, frozen mist blankets the surrounding trees, and nightly illumination contributes to a mesmerizing façade as colours sparkle off the ice. Check out the Thrill of the Chill, a series of itineraries spotlighting the region's year-round attractions that are perfect for winter touring, including the spectacular Journey Behind the Falls; the tropical Bird Kingdom and Butterfly Conservatory; and even an indoor waterpark.
Skiing, with a twist: You're probably familiar with curling… but how about skijoring? Once a mode of Nordic winter travel, the now-competitive sport involves a skier pulled along the snow by horse, dog or snowmobile. Skijor Canada hosts several skijoring events each year, including the popular SkijorDue in Millarville, Alberta, which encompasses skijoring races and stunts, fondue and poutine, craft beer and cocktails, and an epic après party.
Captured effervescence: Prepare to be dazzled in David Thompson Country, Alberta, where guests can chase magical ice bubbles (created from water-dwelling bacteria expelling methane gas) and icefalls on an excursion with Pursuit Adventures. Tours begin with a guided snowshoe or winter hike through fragrant pine forest, towards a scenic viewpoint overlooking the Cline River Canyon. After snapping selfies, head into the canyon itself, marveling at surrounding icefalls and hunting for ice bubbles on Abraham Lake. A picnic lunch, hiking poles and ice cleats complete the ethereal winter experience.
Take a bath: Fancy a winter swim? Across Canada, residents seeking a rejuvenating pick-me-up are trying ice swimming – and it's no quick dip. The extreme sport involves distance swimming in water –5˚C (23˚F) or colder, with serious competitors aiming to complete the ambitious Ice Mile: swimming one mile (1.6 kilometres) in frigid waters (fun fact: the International Ice Swimming Association aims to grow ice swimming into a globally recognized Olympic sport). Take the plunge in Lake Ontario, Joffre Lake in BC, or Beachy Cove in St. John's, Newfoundland.
Skating on thick ice: In the Kootenay Rockies, BC, the Lake Windermere Whiteway ( Nordic Skiing & Lake Windermere Whiteway | Invermere Panorama) the longest skating trail in the world at more than 30 kilometres – offers a glacial paradise connecting the lakeside towns of Invermere and Windermere, at the base of the towering Canadian Rockies. The sheer size of the trail makes it ideal for physical distancing, with winter activities ranging from skating and ice fishing to Nordic skiing and fatbiking.
Fat oysters: Tranquility Cove Adventures' Ice Fishing for Oysters experience treats guests to an all-you-can-eat adventure along the Brudenell River on Prince Edward Island. Participants wield chainsaws and oyster tongs to cut through the ice and reach the coveted crustaceans, then clean, shuck and eat them beside a blazing bonfire. Since oysters fatten up to hibernate through the colder months, they're particularly plump and juicy in winter.
For more information on Canada go to www.explore-canada.co.uk
PHoto Location : Mystery Mountain Lodge, Bella Coola Heli Sports , Photo Credit: ERIC BERGER
For more media information please contact singh.nim@destinationcanada.com (Not for publication).  Images and story ideas are available through www.destinationcanada.com/media

Follow and Share with Jetsettersblog.