Queensland – Bundaberg's Favourite Boutique Distillery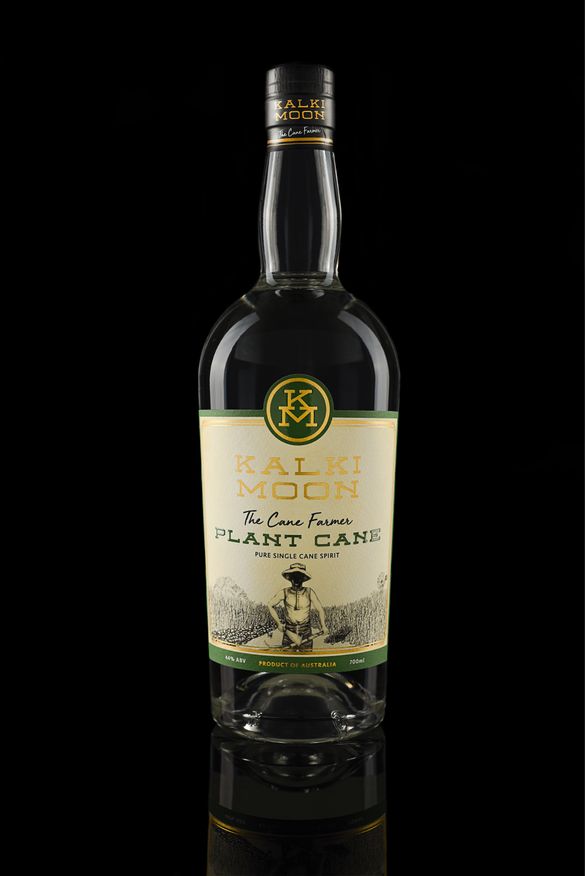 International-award winning Bundaberg artisan distillery Kalki Moon has announced the long-awaited release of the first of their Cane Farmer Series of premium rums and cane spirits – Plant Cane.
Founded in 2017 by former Bundaberg Rum Master Distiller Rick Prosser, Kalki Moon Distilling & Brewing Co is Bundaberg's most exciting artisan distillery and is owned and operated by the multi-generational Prosser family.
With a vision to always be a small batch rum producer, Kalki Moon has built their reputation with their internationally-lauded gins, whilst quietly developing their rums and cane spirits over years since they opened.
Inspired by the rich agricultural community of the Bundaberg region, the first of these is Plant Cane, a premium Australian cane spirit
The lovely light-coloured spirit delivers the trademark flavour of Bundaberg's red soil sugar cane with a light finish that nods to the easy Southern Great Barrier Reef climate.
"The Cane Farmer Series pays homage to the men & women who have farmed our great land and growing sugarcane in the Bundaberg region for over a century," said Rick Prosser.
"The region is built on the back of our agricultural industry and our farmers here in Bundaberg feed the nation from our rich red soils," Mr Prosser said.
"All of our most famous exports have been born from the sugar cane, and it's always been my calling since I learned my craft from the legendary local distillers to have my own range of spirits to pay tribute to my hometown of Bundaberg," he said.
A perfect base for light summer classics like mojitos and daiquiris, Plant Cane will also hold its own in a Light & Stormy, complementing the rich gingers of the region's iconic brewed drink, or in colas.
The Cane Farmer series will join Kalki Moon's range of premium small-batch sprits, as well as their popular range of gins, vodkas and liqueur.
The distillery's gins have been awarded medals at Australian Distilled Spirits Awards and International Wine & Spirits Competition and draw on iconic Bundaberg and native Australian ingredients such as ginger, finger limes, lemon and cinnamon myrtles for their botanicals
Plant Cane goes on sale Saturday 19 December 2020 from the Distillery Cellar Door or online at kalkimoon.com.
– Ends –
Please Note: Plant Cane is a Premium Australian Cane Spirit and Kalki Moon's first product that will sit in the rum portfolio.  Legally it is not classed as a rum in Australia, as Australian legislation requires rum to age two years in oak.  International exports to the US and UK will see it recognised as a White Rum.
ABOUT KALKI MOON DISTILLING & BREWING CO
Kalki Moon is located in Bundaberg, the popular tipple-tourism destination and nation's food bowl on the Southern Great Barrier Reef, just a 4 hour drive north of Brisbane.  Founded in 2017 by former Bundaberg Rum Master Distillery Rick Prosser, Kalki Moon is 100% family owned and operated company focusing on quality over quantity.
The distillery's portfolio includes award winning gins, vodkas & liqueurs, as well as limited releases such as barrel aged gins, spirits inspired by local produce, and the Speakers Gin for the Queensland Parliament.  Kalki Moon Premium Gin won gold at the prestigious Australian Distilled Spirits Awards and Silver at the International Wine & Spirits Competition in 2018, and Kalki Moon Classic Gin won Gold at the International Wine & Spirits Competition in 2018.
The range is distributed through major resellers throughout Queensland, at the cellar door and online at kalkimoon.com.  The Speakers Gin is only available to purchase at Parliament House in Brisbane.
ABOUT THE CELLAR DOOR
Situated just 1km from the Bundaberg airport or 5km from the Bundaberg CBD, Kalki Moon's popular cellar door offers guided tours of the working distillery with the experienced, family-led team 7 days a week.  See how the Prosser family make their award-winning spirits for yourself before tastings.  Walk ins welcome for groups under 10, tours begin every 30 minutes and go for approximately 1 hours.  For bookings of more than 10 guests, please email info@kalkimoon.com or call (07) 4151 0396
The full range of hand-crafted spirits and merchandise is available for purchase along with some limited releases exclusively available at the distillery.

Follow and Share with Jetsettersblog.