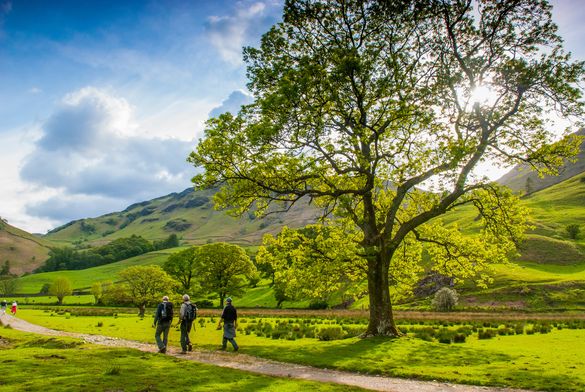 ---
A walking holiday ticks all the boxes for a healthy start to 2020, from keeping fit to relieving stress and burning off the excesses of Christmas. Ramblers Walking Holidays (01707 331133, www.ramblersholidays.co.uk) offer the perfect way to combine all the wellness benefits that walking brings with exploring some wonderful destinations both off and on the beaten track with a group of likeminded companions.
Their choice of Hassness Country House breaks, based from their property in the Lake District, make a great start for someone wanting to try a walking holiday for the first time. With a choice of durations and grades, there are also themed breaks such as Mindfulness in the Mountains and a Women's Activity Break where walking is mixed with other healthy activities.
Or choose from a tempting range of  European walking holidays that take in ancient pilgrimage trails such as the Route St Jacques to Santiago de Compostela or the new St Paul's Trail & Taurus Mountains holiday. For many walkers, this type of trail can be personally quite transformative.
Hassness Country House 
Perfectly situated in its own extensive grounds on the shores of Buttermere in the heart of the Lake District with wonderful lake and mountain views in all directions, Hassness Country House is an ideal spot to partake in some of the country's best walks and a bit of wild swimming.  Remote and unspoilt, set against a tranquil area of dramatic fells, farms and woodland, it offers a genuine opportunity to 'get away from it all' with one of the best round-the-lake walks in the Lake District right on the doorstep. Catering to all levels of fitness ranging from ambles around the valley floor and its three lakes, Buttermere, Crummock Water and Loweswater to adventurous high peak challenges on the summits and ridges of the Western Fells, it offers an extensive on-going walking programme complemented by comfortable accommodation and with locally sourced home cooked meals.
Ramblers Walking Holidays (01707 331133, www.ramblersholidays.co.uk) 3 nights breaks start from £260/person including half board accommodation (except for one dinner) and lunches on walking days.
Mindfulness in the Mountains (Grade 4, Moderate)
Away from everyday distractions, where being stressed has so often become the norm, escape to the Lake District to replenish diminished energy by giving yourself time to contemplate life and develop some tried and tested coping strategies.   On the shores of Buttermere with enthralling lake and mountain views, Mindfulness in the Mountains provides the opportunity to live in the moment through a programme of walking and reflection in restorative countryside.   Following trails such as Haystacks and Rannerdale knots, some walking will be silence with targeted activities to help connect with the surroundings and yourself.  With resources to help familiarise yourself with techniques and theoretical concepts, there will also be gentle yoga and short meditations sessions.
Ramblers Walking Holidays (01707 331133, www.ramblersholidays.co.uk) 3 night break starts from £295/person and includes accommodation all meals (expect for one dinner), meditation and yoga sessions and transport to and from trails.  Departures 2 June, 11 August, 10 October 2020.
Women's Activity Week (Grade 5, moderate)
Staying in Hassness Country House on the shores of Buttermere – a tranquil area of dramatic fells, farms and woodland, encompassing three lakes, Women's activity week is the perfect antidote to modern city living.  Designed to get some of that refreshing Cumbrian air into your lungs, relax with other like-minded women and perhaps try out something new, the week takes advantage of the superb setting with a daily selection of hill and Nordic walks, a half day kayaking on Derwentwater and the optional promise of a bracing morning dip. Interspersed with yoga and Pilates to restore and unwind, days hiking with some added circuit training or aerobics, are well rewarded with home cooked meals.
Ramblers Walking Holidays (01707 331133, www.ramblersholidays.co.uk) Women's Activity Week 7 night holiday starts from £679/person including accommodation and all meals (except for one dinner), lakeland hill walking, yoga and Pilates sessions, introduction to Nordic Walking, aerobics and circuit training, half day kayaking and transport for activities.  Departures: 13 June, 15 August & 12 September 2020.
St Paul's Trail & the Taurus Mountains (grade 6, Moderate) New for 2020
As the apostle Paul would have done nearly two millennia ago, explore deep canyons, historic sites and ancient villages, hiking along river courses and deep forest tracks through dramatic and varied scenery, following Turkey's wild and little frequented St Paul's Trail. Turkey's second long-distance trail at 500km, this ancient route winds from Perge (near the coast and Antalya) through the Anatolian wilds to an elevation of 2200m and culminates in the city of Yalvaç.  Accompanied throughout by a local specialist guide, follow the course of Köprülü Canyon taking the opportunity to swim in deep river pools, hike across spectacular limestone ridges, through indigenous oak forest, past shepherds huts and open pasture towards Serpil.  Meander through the ancient ruins of the Pisidian city of Prostanna and bask in expansive vistas of Eğirdir lake atop of Sirvi Hill before entering Yalvaç along the ruins of the Roman aqueduct just as St Paul would have done.
Ramblers Walking Holidays (01707 331 133, www.ramblersholidays.co.uk) 14 night St Paul's Trail & the Taurus Mountains starts from £1999/person, full board en suite accommodation with dinners at the hotel or local restaurants, picnic lunches, English speaking guide, local transport and an experienced leader.  Departs 10 April, 15 May, 4 September and 18 September 2020.
Ends
Follow and Share with Jetsettersblog.