Ramblers Walking Holidays Mountain Hikes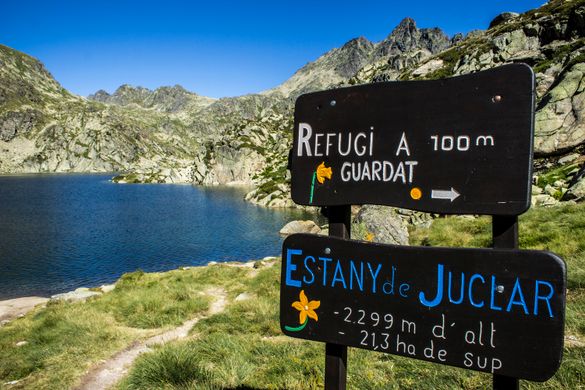 ---
If lounging on the beach in the sweltering heat isn't your idea of a holiday, why not head to the mountains this summer and challenge yourself on a high grade hike in pristine wilderness with the original small group expert-led specialists Ramblers Walking Holidays.
Enjoying the natural high of fresh mountain air, panoramic vistas and sunny trails dotted with alpine flowers, add the extra exhilaration, and literal feeling of being on the top of the world, walking along some of the most spectacular and challenging high altitude paths in Europe. With over a dozen higher grade walks to choose from, itineraries include new challenges such as the Andorran Coronallacs– a walk tipped to rival Tour du Mont Blanc, perfect picture postcard hikes through Austria'smountain villages to spectacularpeaks and ancient mule trails through hidden away high country in Andalucia.
With the more challenging walking holidays graded from grades 7 through to 9, Ramblers Walking Holidays also offer a selection of flexible multi-grade moderate and challenging itineraries.  Featuring two leaders and the option of two different less and more challenging walks each day, they are an ideal way for walkers to improve their walking or for walkers of differing abilities to holiday together.
Extremely rewarding on many levels, step up on one of the following this summer:
A new hutting high for 2018…
Andorra Mountain Trek(grade 8 challenging)
Andorra has long been a favourite for Ramblers Walking Holidays, but the introduction of the new high altitude Grade 8 Andorra Mountain Trek takes it to new levels. Following the Coronallacs – literally the Crown of Lakes – the holiday is being tipped to become a new classic, rivalling Tour du Mont Blanc, The Haute Route and Alta Via I. In a constantly changing background, ranging from woodlands and alpine meadows to waterfalls, lakes and snowy peaks, challenge one's fitness with an adrenalin-packed five day hike staying in remote mountain refuges. Enjoying staggering sunrises over the peak of Comapedrosa, uplifting views of the Incles Valley and walks along the steep slopes of Els Aspres path, hut down each night in a charmingly rustic retreat where peak sunsets are perfectly complemented with a healthy helping of delicious Catalan food.
Ramblers Walking Holidays (01707 331 133; ramblersholidays.co.uk) Andorra Mountain Trek starts from £1265/person including return flights, airport transfers, dormitory accommodation with breakfasts and dinners in the hotel/huts, six packed lunches, leader, local mountain guide and all transport costs locally. Departs 18 July, 25 July 2018.
Perfect Austrian summer walking holiday…
Tirolean Summer  (grade 5 moderate; grade 6 moderate; or 6 & 8 moderate & challenging)
With the option to spend a week or two in the Stubai valley over summer, enjoy the choice of two different walks each day under the expert guidance of two leaders exploring some of Austria's most picturesque woodlands and high alpine pastures in early summer bloom before embarking on a choice of harder hikes to the surrounding summits.  Offering an almost endless selection of trails, opt to take the scenic balcony walk from Muttereralm, the high level circuit to the Starkenburger hut or step up to the accent of Peiljoch for a more challenging Grade 8 walk up to the snout of a glacier.  With the Stubai Valley Super Card included in the price of the holiday, the trip also takes cable car rides to the Kreuzjoch above Fulpmes and the Dresdner Hut at the southern end of the valley, opening up the magical world of the high Alps to all grades.
Ramblers Walking Holidays (01707 331 133; ramblersholidays.co.uk) 7 or 14 night Tirolean Summer starts from £885/person or £1485/person respectively including flights, airport transfers, Stubai Valley Super Card, Half board en suite accommodation, afternoon  coffee & cake, two walks, two leaders and two grades on some of the departures. Departs 30 June, 7 July, 14 July, 21 July, 4 August, 11 August.
A Ramblers' classic…
Hiking in Andorra (grade 6 moderate or grade 6 & 8 moderate and challenging)
One of the Ramblers Walking Holidays original walks, Hiking in Andorra is still as good as it was 70 years ago when the programme first launched.  Surrounded by magnificent Pyrenees peaks towering to 3000m, lush green valleys strewn with wild flowers and remote mountain lakes, breath-taking trails remain pristine with some of Europe's rarest and most colourful mountain flora lining the way.  Combining quiet rambles through the Sorteny meadows and Val de Inches with more strenuous hikes to the World Heritage listed Val Madriu, every step is photographically stunning. With a selection of the departures featuring two leaders, walkers can choose to take either a level 6 or 8 trail making it ideal for those with slightly different fitness levels to holiday together.
Ramblers Walking Holidays (01707 331 133; ramblersholidays.co.uk) Hiking in Andorra full board one-week holiday starts from £735/person including return flights, full board accommodation, and all local transport. 7 night departures: 24 June; 15, 22 & 29 July; 5 &12 August 2018 and
14 night departures: 17 June; 15 & 29 July; 5 August 2018.
On ancient trails in Andalucia…
High in the Alpujarras(grade 7 challenging)
Clinging to the southern flanks of the Sierra Nevada, the mountain region Las Alpujarras makes an ideal walking destination in spring with warming temperatures melting the snow, bringing into blossom the many almond and cherry trees and awakening the poppies and other wild flowers in the deep, sheltered valleys that run down towards the Mediterranean. To a backdrop of rugged ranges including Spain's highest still snow-capped mountain Mulhacen, sun-kissed spring days are spent traversing narrow stony trails and old mule paths through fertile terraced lands that were transformed by the Moors into a garden paradise of orchards, vines and olives over two centuries ago.   Heavenly in many ways, highlights include staying in Capileira – a tranquil whitewashed with cobbled streets perched at some 1400m above the Poquiera Gorge, walks in and around the gorge, the ascent Peña Bon above Trevelez, relaxing in some of the highest sunshine hours in Spain and tucking into the local jamon – prized for being some of the best in Spain.
Ramblers Walking Holidays (01707 331 133; ramblersholidays.co.uk) High in the Alpujarras starts from £1025/person including half board accommodation with dinner in local restaurants, flights, transfers, all local transport and services of a tour leader.  Departures: 7 October & 22 December 2018. 
Alpine walking in Austria's Salzburgerland…
Maria Alm(grade 4 moderate; grade 6 moderate; grade 7 challenging; or 6 & 7 moderate/challenging)
Close to the border with Germany and dominated by Austria's impressive Hochkönig Massif, Maria Alm offers a picture postcard base from which to explore some of the valley's 220 miles of well marked and maintained hiking paths.  With panoramic peak views and glimpses of marmots and deer along the floral alpine trails in early summer, cover much of the 45 miles of the Königsweg long distance trail taking in the spectacular chiselled pathway through the Seisenberg Gorge, pretty mountain villages of Hinterthal, Dienten and Mühlbach and, for stronger walkers, the opportunity to yodel from over 2000 metres at Hundstein peak and walk to the Klingspitz for more spectacular valley views.  With rustic mountain huts enhancing the trails also enjoy welcome rest stops for coffee and apple strudel, or an afternoon beer, along the way.
Ramblers Walking Holidays (01707 331 133; ramblersholidays.co.uk) 7 or 14 night Maria Alm starts from £985/person or £1585/person respectively including flights, airport transfers, Half board en suite accommodation, two leaders and two grades on some of the departures, lift pass and local transport. Departs 11 July, 1 August, 8 August and 22 August 2018
Remote and scenic Majorca…
Walking for Puerto de Soller(grade 4 moderate or grades 4 & 7 moderate and challenging)
Following remote coastal and mountain paths on the North West of Majorca bordering the Sierra de Tramuntana range, Walking from Puerto de Soller coversaromatic trails through fertile hills cultivated with olive, carob, fig groves and sweet smelling citrus orchards.  Based in the picturesque coastal port of Puerto de Soller, where the mountains meet the sea, access to some of the islands best walks are literally on the doorstep.  Highlights include rambling through the lemon and orange groves in the beautiful small village of Soller, a walk through farmland and along the cliff tops with great sea views to one of the island's best beaches Cala Tuent and the hike down the gorge Es Barranc along the old Pilgrim's Way.
Ramblers Walking Holidays (01707 331 133; ramblersholidays.co.uk) Walking from Puerto de Soller one week half board holiday starts from £1155/person including return flights, en-suite B&B accommodation, dinner at hotel and local restaurants, all local transport costs.   22 September 2018, 6, 13 & 22 April 2019 and 4, 11, 18 May 2019.
For more details on Ramblers Walking Holidays, click here.
For images, click here.
– Ends –
For further media information and images contact:  Anthea Yabsley or Judith Watson on pr@rwhtravel.comor Salvatore (Tony) Maniscalco on salvatore.maniscalco@rwhtravel.com
Or call: 
Anthea Yabsley: 020 8578 6777
Judith Watson: 020 7372 7732
Tony Maniscalco: 01707 386755
Notes to Editors:
Company Background:
Ramblers Walking Holidays is the core brand for RWH Travel, the experts in guided walking adventures. Having celebrated its 70th Anniversary of holiday operating in 2017, other brands within the group include Adagio holidays – leisurely walking and cultural holidays at a gentle pace and Ramblers Cruise & Walk Holidays – in association with Fred. Olsen Cruise Lines. In total, the company operates over 200 holidays across over 60 countries.
Walking Grades:
Each of the Ramblers Walking Holidays has been graded to help clients choose their preferred pace, with categories ranging from Grade 1-3/Leisurely (usually two hours walking); to Grade 4-6/Moderate (a combination of full and half day walks); and Grade 7-9/Challenging (full day walks where stamina is key).
On some holidays, there is the chance to experience more than one walking grade with two leaders. Perfect for couples and friends who prefer to walk at a different pace or have different walking abilities.
Adagio holidays are largely ungraded.
Special Interest
To help clients choose the type of walking holiday that will appeal to their interest, Ramblers Walking Holidays also uses symbols that depict the main interest, style or theme of the walks. Categories include: Pioneer; Continuous Walks; Flora & Walking Holidays; Bird Watching & Walking; Lifestyle, Culture & Natural History; Hutting; Rail & Walk; Sightseeing.
Company Mission
The company's mission is to generate funds for walking charities by the provision of outstanding outdoor activity holidays worldwide.
With its not-for-profit philosophy, the company contributes monies to the Ramblers Walking Holidays Charitable Trust which supports walking related and environmental projects in the UK. The company also funds Heart & Sole – an initiative managed by company staff, with the aim of reaching into the heart of the communities visited both in the UK and overseas.
RWH Travel also runs The Walking Partnership – an initiative which champions walking at the 'grass roots' level by providing funding and support to walking groups and clubs throughout the UK.
Ramblers Walking Holidays is the Walking Holiday Partner of the Ramblers, Britain's walking charity which has been pioneering and championing walking and 'rights of way' for over 70 years across England, Scotland and Wales.
Customers travelling on all holidays operated by RWH Travel are fully protected via the company's membership of ABTA & ATOL. RWH Travel is also a member of AITO.
Follow and Share with Jetsettersblog.